Houston is a fickle sports city.
When the professional and college teams are winning, the locals are all in – filling the stadiums, having tailgate parties, and wearing team paraphernalia.
But when the teams have losing records, Houstonians become disinterested and move on to other activities such as dining out.
Tom Ryan, Co-Founder of Tom's Watch Bar, recognized a unique opportunity to keep the flames of fandom alive, utilizing the powerful tool of culinary excellence to anchor fans to their beloved local sports scene.
"The expansive bar offerings and modern menu are designed with all fans in mind," Ryan expressed, embodying the ethos that binds the community together through the universal language of good food and great sports.
I visited Tom's Watch Bar Houston to see if it lived up to the hype and I have to say I was impressed.
The Atmosphere at Tom's Watch Bar Houston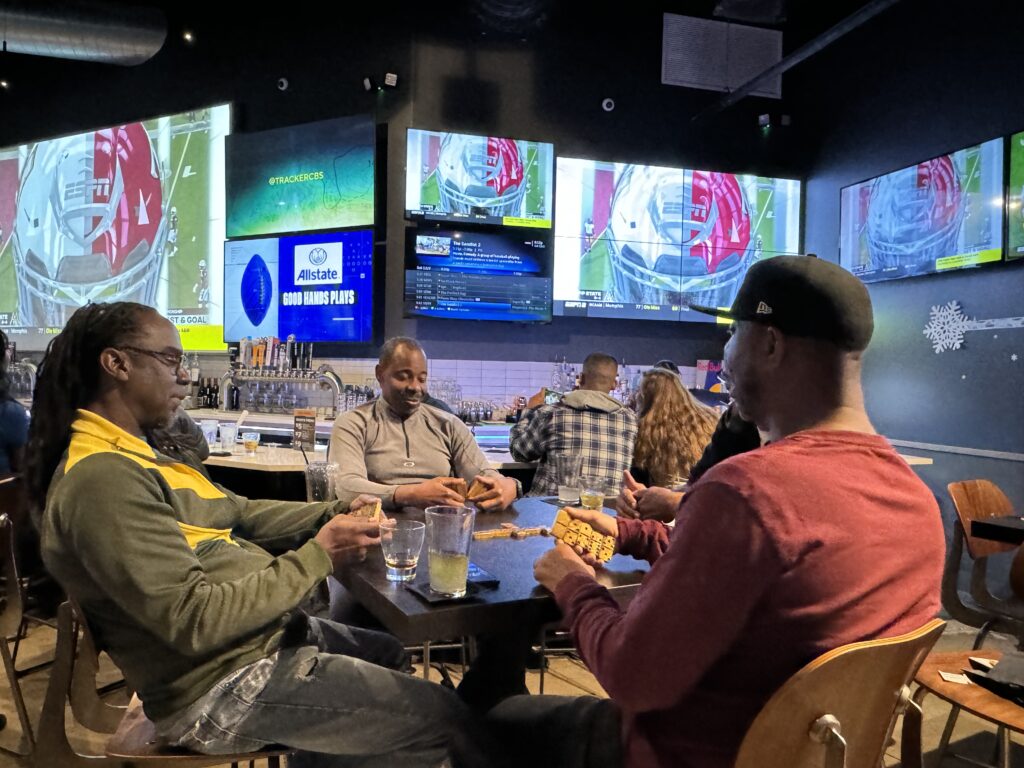 The colossal 6,600-square-foot bar and restaurant is located in the heart of Downtown Houston a few blocks away from Toyota Center and Minute Maid Park.
When I walked in, I was greeted by 75 high-definition screens strategically placed throughout the bar, including some massive 'stadium' screens.
Each table is equipped with personalized audio, creating an immersive experience.
On the night I went, there was a good mix of genders, races, and ages which let me know that Tom's Watch Bar is a sports bar where anyone can feel comfortable.
The bar can seat 300 guests and offers indoor and patio seating.
The Food at Tom's Watch Bar Houston
Tom's Watch Bar's food menu features elevated sports bar fare and signature dishes that would impress any foodie.
Although the menu includes over 40 starters, entrees, and desserts, you will be able to find something you like.
They also have vegetarian and vegan options, but they do come with the following disclaimer: While items marked "Vegetarian" or "Vegan" are made without meat or stock from an animal, Tom's Watch Bar uses communal cooking equipment and prep areas for all of our menu offerings.
There is even a Kid's Menu if you want to bring your little sports fans.
I sampled six of Ryan's recommended dishes. But before ai give you my impression of the food, let me tell you a bit about Ryan.
Ryan is a food scientist, earning bachelor's, master's, and doctorate degrees in Flavor and Fragrance Chemistry from Michigan State University.
Beginning his career at Proctor & Gamble and Pillsbury, Ryan moved on to Pizza Hut, McDonalds, and Quiznos, where he launched iconic products from each restaurant.
In 2007, Ryan co-founded Smashburger.
Ryan has won countless awards for best burgers, which earned him a spot on Gourmet Magazine's "25 Top Food Entrepreneurs of the Last 25 Years" list.
Now on to the food at Tom's Watch Bar.
Deep Dish Nachos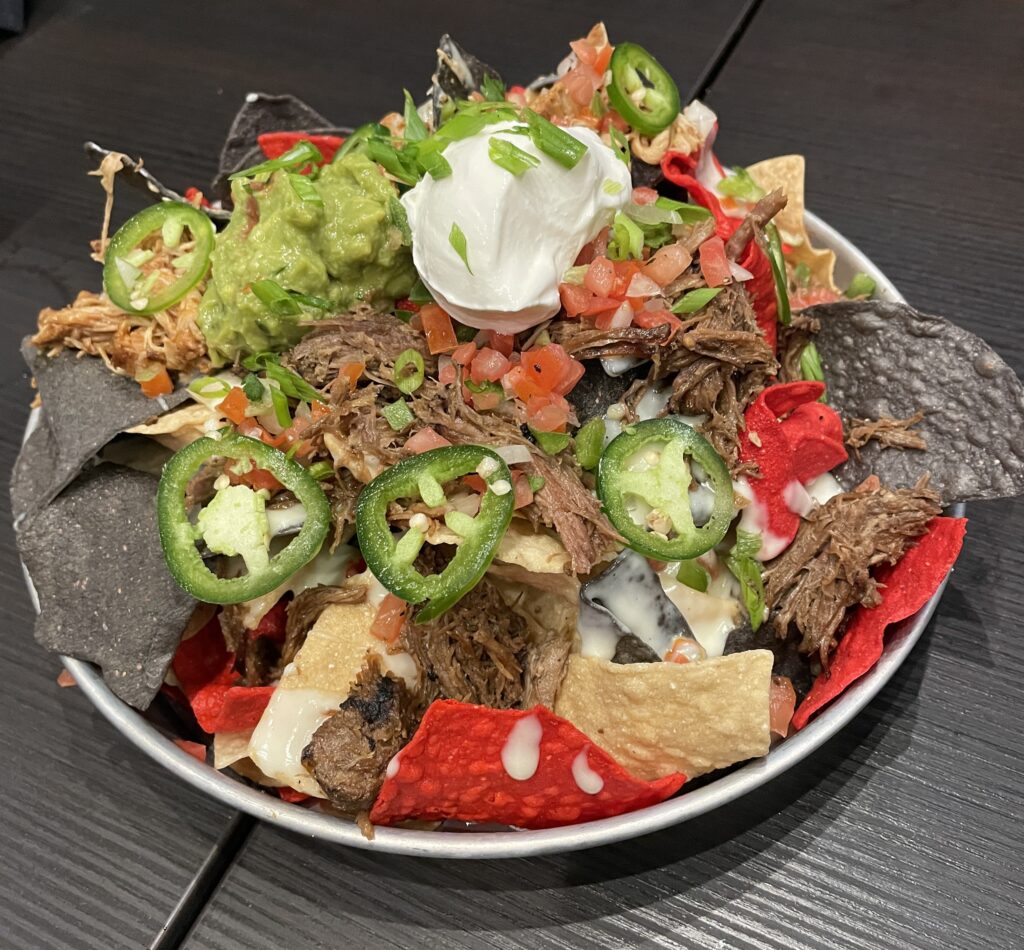 The first dish I tried was the Deep Dish Nachos with layers of tortilla chips, queso, pico de gallo, jalapenos, guacamole, and sour cream. I added Adobo Chicken and Braised Short Ribs.
Without the proteins, the nachos were basic fare you'd expect at a sports bar.
I especially enjoyed the bites with the tender, juicy braised ribs.
I just wish the nachos had a bit more queso because I got several bites of plain chips.
Ahi Tuna Tower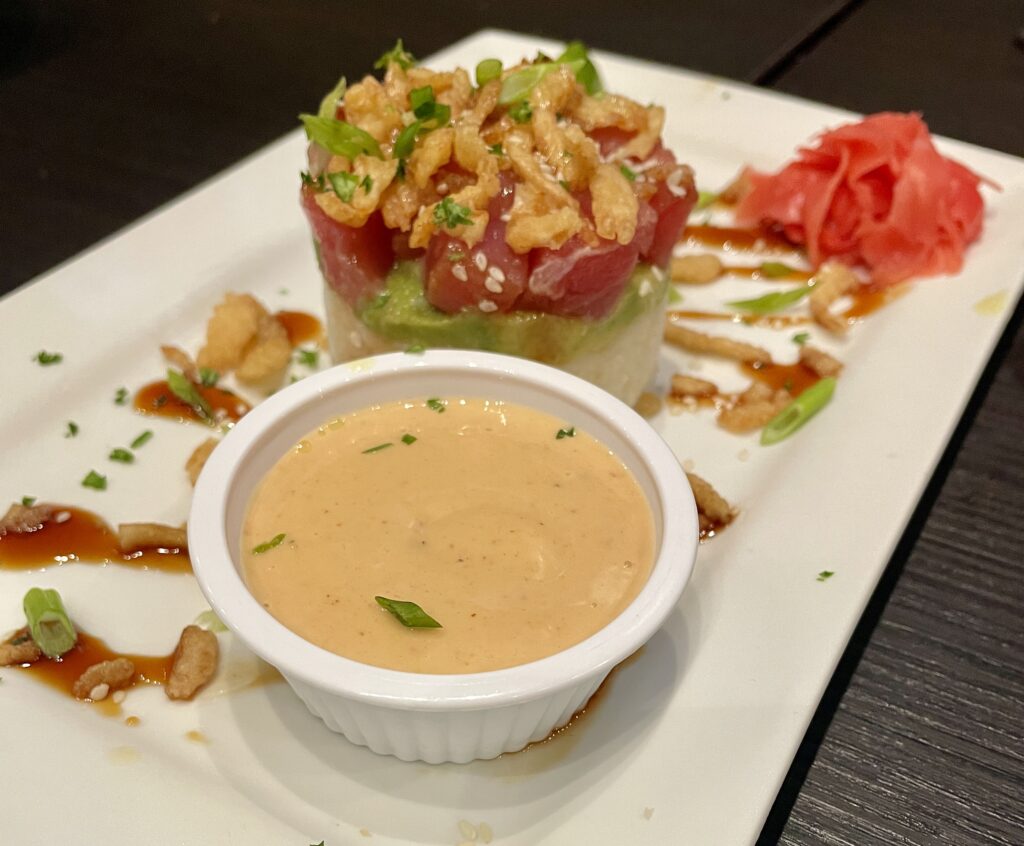 The Ahi Tuna Tower was the dish that surprised me the most.
Never would I have expected sushi-grade tuna and rice in a sports bar.
The dish consists of ponzu marinated ahi tuna, jasmine rice, avocado, truffle oil, sesame seeds, and crispy onions.
The presentation was beautiful and the meal was delicious.
All of the ingredients fused perfectly to create a delightful dish that I will order again.
Crispy Chicken & Cornbread Pancake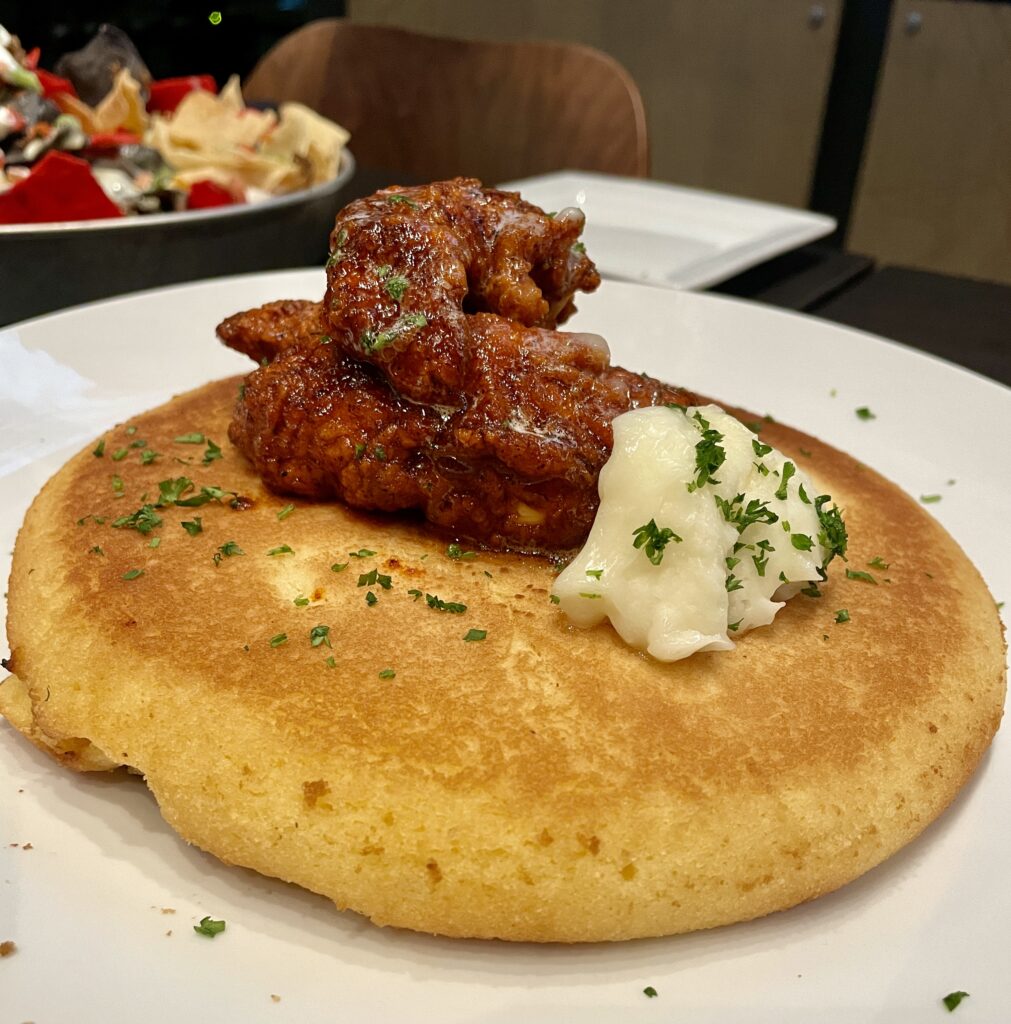 Ryan said this dish was inspired by the Nashville hot chicken recipes at the famous Hattie B's restaurant.
He spent time with the owner learning the cooking techniques so he could share this dish with Houstonians.
Although they nailed the chicken (it was tangy and spicy), I was not a fan of the cornbread pancake.
It was a bit too dense and sweet for my taste.
Also, there was too much pancake for the amount of chicken on the dish.
Chicken Wings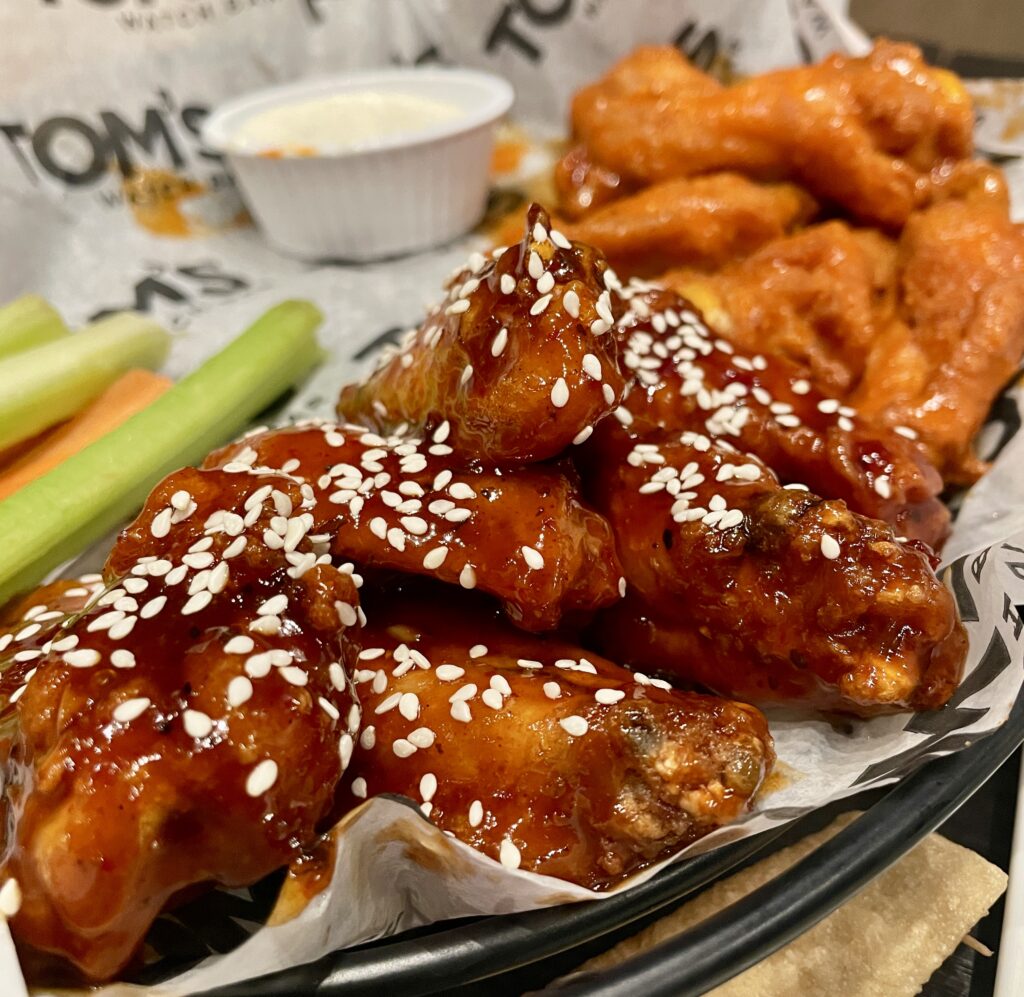 No sports bar menu is complete without chicken wings.
Tom's Watch Bar offers five flavors: Buffalo, Honey BBQ, Nashville Hot, Jamaican Jerk, and Korean BBQ.
I tried the Korean BBQ and Buffalo Wings.
While the Buffalo Wings were okay, I enjoyed the sweet and spicy Korean BBQ Wings.
Butter-Poached Lobster & Shrimp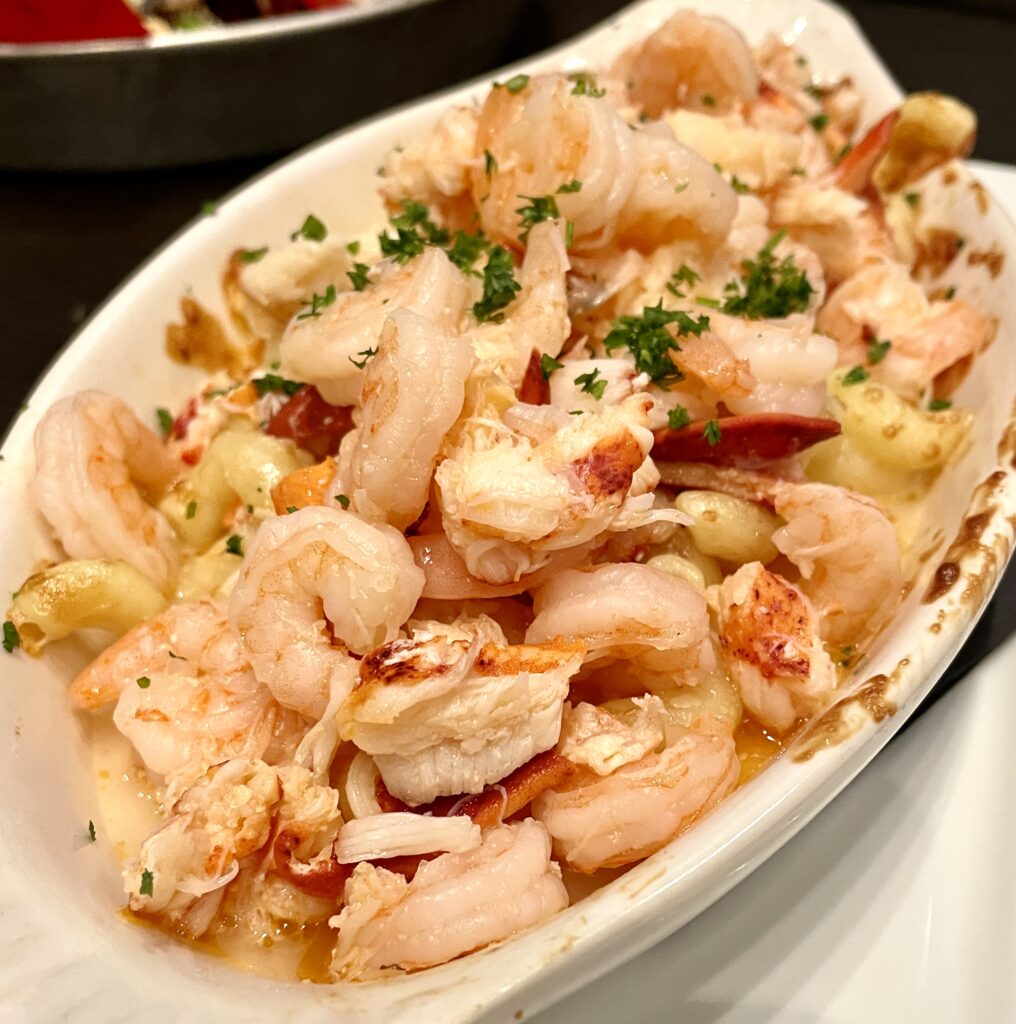 Once again, Tom's Watch Bar surprised me with this decadent version of Mac & Cheese.
This rich, creamy, savory dish felt luxurious with generous amounts of lobster and shrimp.
My only criticism is I wish it were just a bit cheesier.
Tom's Famous Prime Rib Dip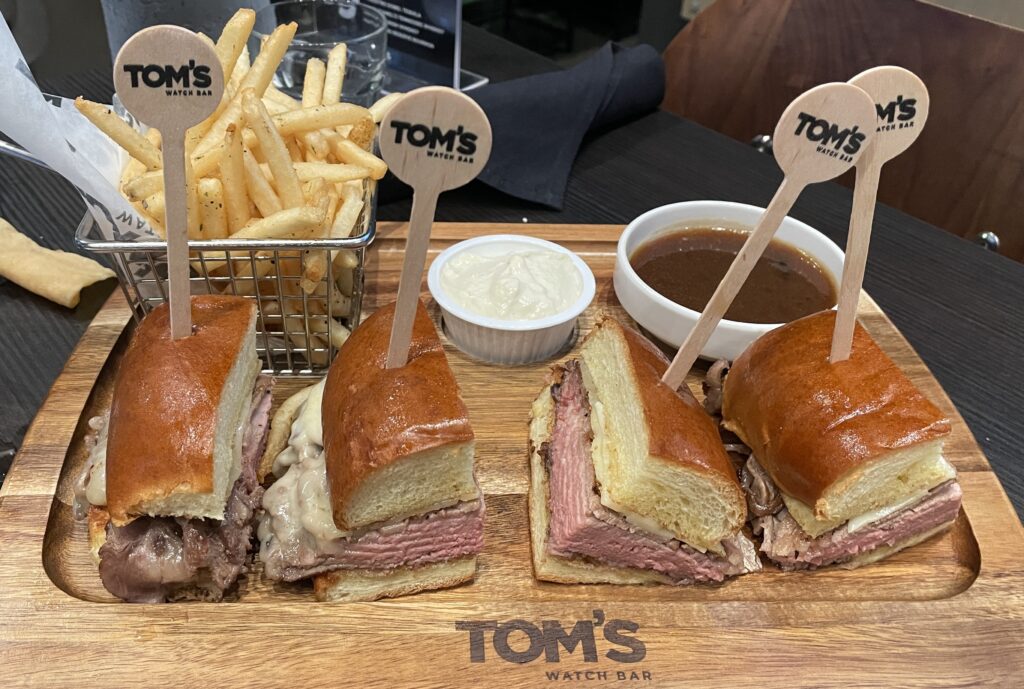 My favorite dish of the night was Tom's Famous Prime Rib Dip.
It consists of shaved prime rib, Havarti, horseradish cream, and a toasted brioche roll.
When I dipped the sandwich in the demi-glace and took a bite, my tastebuds sang with joy.
This was the best sandwich I've had in a while. I also enjoyed the garlic fries that come with the meal.
If you've ever eaten the fries at Smash Burger, you will notice that these have a similar flavor.
The Drinks at Tom's Watch Bar Houston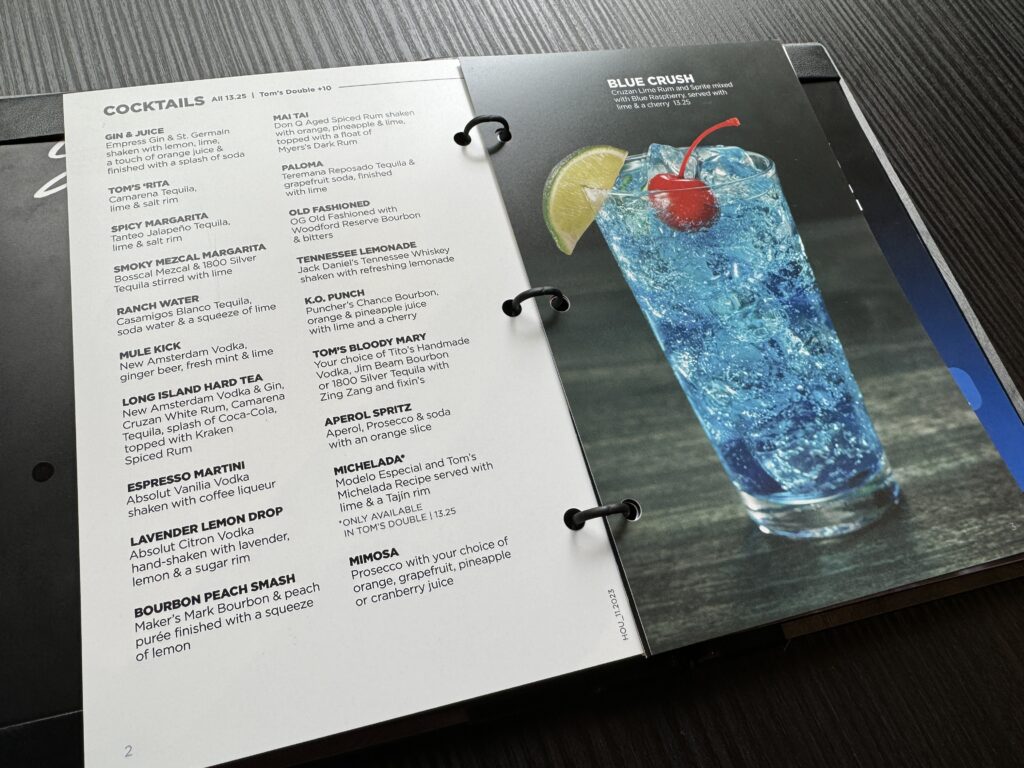 Tom's Watch Bar will offer an array of domestic, imported, craft seasonal, and local beers.
Rounding out the bar menu is a selection of craft cocktails and $5/$7/$9 shots.
Ryan made sure the cocktails were top-notch to attract clientele who wanted to experience more elevated drinks.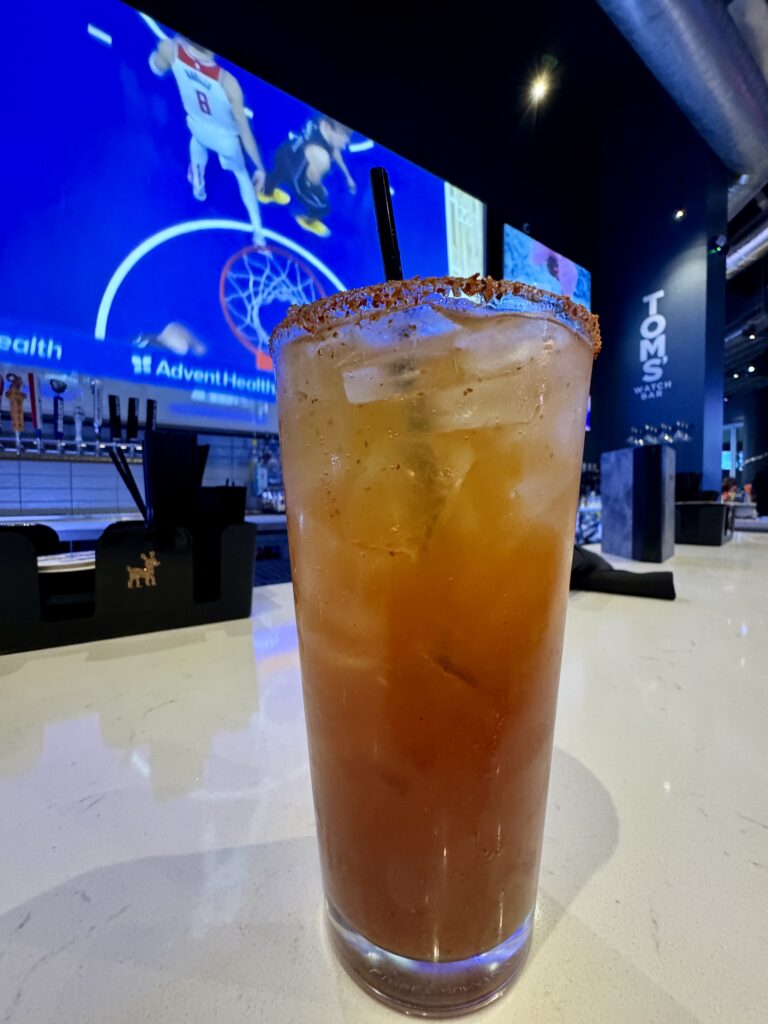 My table mates and I sampled a few of the drinks and our favorites were the Old Fashioned, Gin & Juice, Spicy Margarita, Michelada, and White Gummy Bear Shot.
Tom's Watch Bar also has an approachable wine list. As a wine lover, I had to try a glass.
I picked the Elway's Reserve Cabernet Sauvignon, a medium to full-bodied wine with rich black fruit and oak flavors.
Occasionally, the manager will have the staff pass out free shots to all the patrons.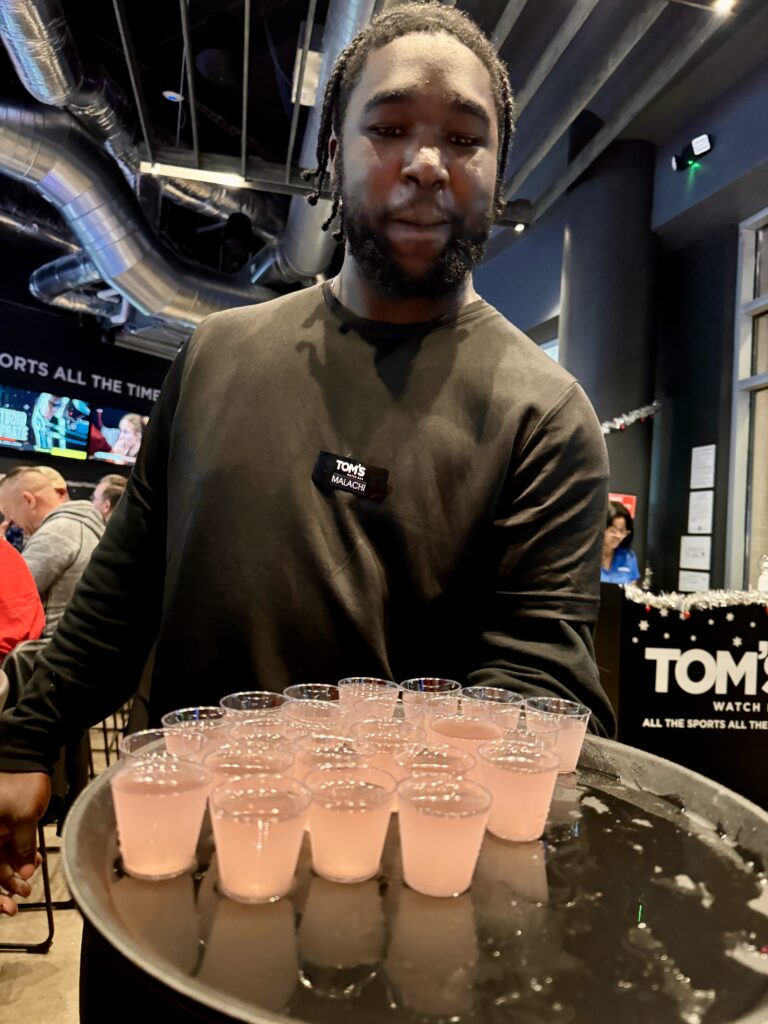 This is a nice touch that immediately energizes the atmosphere.
Final Impressions of Tom's Watch Bar Houston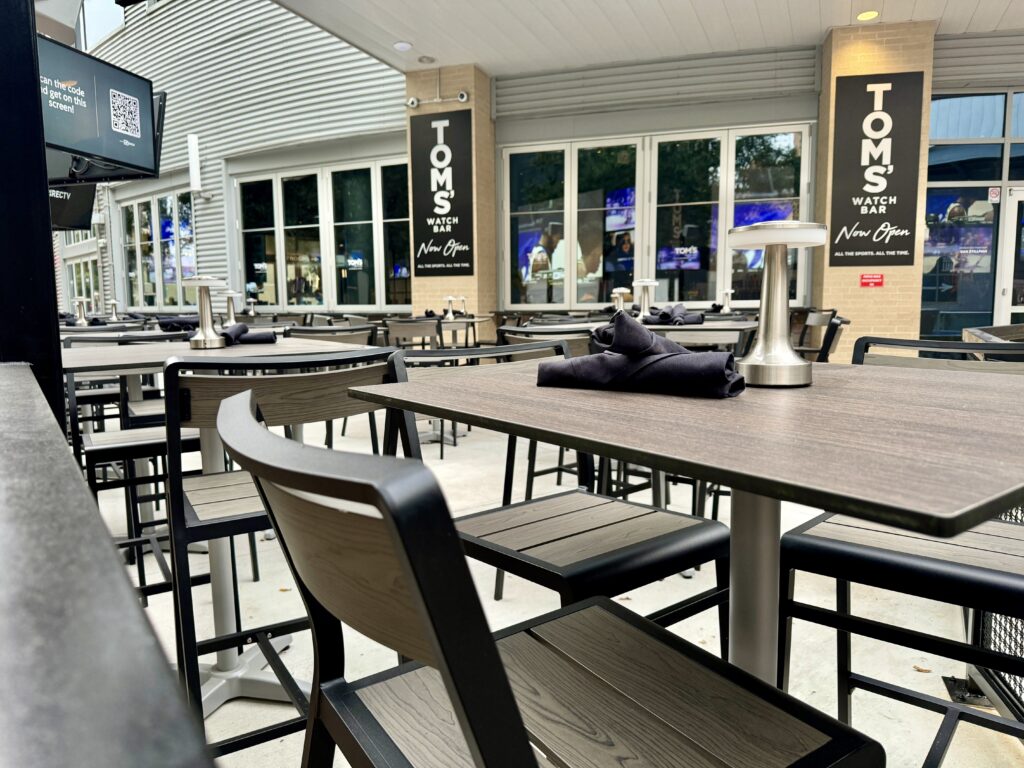 Tom's Watch Bar is a great place to go to support your favorite team, have a delicious meal, and enjoy some nice drinks.
The waitstaff and bar staff are friendly and helpful. The kitchen staff is fast and efficient.
Tom's Watch Bar hosts a full calendar of watch parties for local teams and special sporting events, such as UFC fights and World Cup soccer.
These watch parties are emceed and often include Tom's Watch Bar's Legends of the Game events allowing sports fans to meet and greet with icons from their favorite teams, as well as provide photo opportunities.
Tom's Watch Bar Watch Parties also include team mascots, cheerleaders, team paraphernalia, and ticket giveaways.
In addition to the Houston location, Tom's Watch Bar has locations in Denver Las Vegas, Las Angeles, Minneapolis, Washington, D.C., Pittsburgh, and Sacramento.
Tom's Watch Bar Houston is located at 1201 Caroline St., Suite 161, Houston, TX 77002 in the Greenstreet complex.
It is open from 3 p.m. to midnight Monday through Thursday, 11 a.m. to midnight on Friday and 8 a.m. to midnight Saturday and Sunday.
Frederick J. Goodall is the Editor-in-Chief of Mocha Man Style, media spokesperson, event host, photographer, and a top social media influencer in Houston, TX. He likes to write about fashion, cars, travel, and health.