Jump to Recipe
A few years ago, I dined at Michael Symon's Roast in Detroit.
I had Filet Mignon with a side of Brussels Sprouts and Walnuts. The meal was exquisite.
Symon is a culinary genius when it comes to preparing meat (he's pretty good at brussels sprouts too).
Symon takes meat to the next level in his new cookbook, Playing With Fire.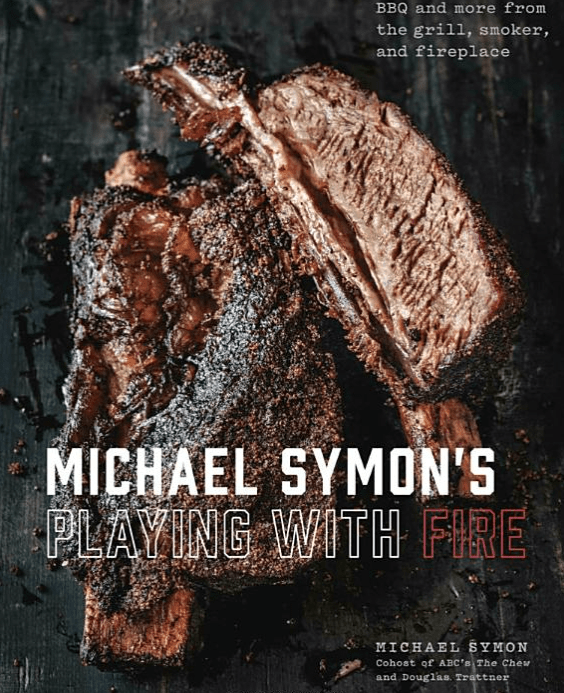 In his first cookbook focused on barbecue and live-fire grilling, Symon draws inspiration from his favorites, including dry ribs from Memphis, wet ribs from Nashville, brisket from Texas (the best version of BBQ), pork steak from St. Louis, and burnt ends from Kansas City as well as the unique and now signature Cleveland-style barbecue he developed to showcase the flavors of his hometown.
"Playing With Fire" features over 70 recipes inspired by Symon's newest restaurant, Mabel's BBQ.
Symon offers expert guidance on working with different styles of grills and smokers, choosing aromatic woods for smoking, cooking various cuts of meat, and successfully pairing proteins with rubs, sauces, and sides.
If you're a fan of grilling, you'll want to have this book in your collection.
One of my favorite recipes from Playing with Fire is the Smoked Prime Rib.
According to Symon, "the only thing better than roasted prime rib is smoked prime rib."
After trying this smoked prime rib recipe, I agree. The smoke and spices mingle with the flavorful beef to create a delicious dish that you will dream about.
Give it a try and let us know what you think.
Michael Symon's Smoked Prime Rib Recipe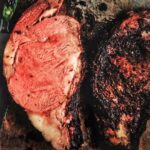 Michael Symon's Smoked Prime Rib
If you're looking for a real showstopper of a dish to impress guests, this smoked prime rib recipe is sure to be a hit. The smoke and spices mingle with the flavorful beef to create a dish of epic proportions.
Cook Time
3
hours
30
minutes
Total Time
3
hours
45
minutes
Ingredients
1/4

Cup

Kosher Salt

1/4

Cup

Freshly Ground Black Pepper

1

Tbsp

Yellow Mustard Seeds

1

Tbsp

Sugar

5

Lbs

Dry-Aged Bone-in Prime Rib

3

Tbsp

Horseradish Mustard
Instructions
Prepare and preheat your smoker to 325 degrees F.

In a small bowl, mix to combine the salt, pepper, mustard seeds, and sugar. Pat the prime rib dry with paper towels and evenly coat the exterior of the meat with the horseradish mustard. Season on all sides with the spice mixture.

When the temperature in the smoker reaches 325 degrees F and the smoke is running clear, add the meat. Cook until the beef reaches an internal temperature of 125 degrees F for rare to 135 degrees F for medium, depending on your desired doneness (total cooking time about 3-1/2 hours). For the best results, use a probe thermometer to continually monitor the meat's temperature.

Transfer the beef to a cutting board and let rest for 20-30 minutes. Slice to desired thickness and serve.
Recipe Notes
Reprinted with permission from Michael Symon's Playing With Fire. Copyright © 2018 by Michael Symon. Photographs copyright © 2018 by Ed Anderson. Published by Clarkson Potter/Publishers, an imprint of Penguin Random House LLC.
Best Grill to Cook Michael Symon's Smoked Prime Rib
If you're looking for the best grill to cook this delicious smoked prime rib, we recommend the Traeger Ironwood Pellet Grill ($1,499 on Amazon).
With it, you can grill, smoke, bake, and barbeque over a wood smoke fire at the push of a button.
However, if you need something more economical, try the Weber 721001 Smokey Mountain Cooker 18-Inch Charcoal Smoker ($399 on Amazon).
This smoker features two 17-1/2 inch diameter steel-plated cooking grates ideal for smoking all types of meats. A porcelain-enameled water pan adds steam to the smoking process so your meat stays moist and tender.
Best Side Dish to Serve with Michael Symon's Smoked Prime Rib
You can accompany this smoked prime rib with our Soulful Smoky Collard Greens recipe.
---
Tweet us @mochamanstyle or leave a comment on our Facebook Page to share your thoughts on this article. Follow us on Instagram @mochamanstyle
Frederick J. Goodall is the Editor-in-Chief of Mocha Man Style, media spokesperson, event host, photographer, and a top social media influencer in Houston, TX. He likes to write about fashion, cars, travel, and health.