I live in Texas where everybody loves a big truck. They even add giant tires and lift kits to make them even bigger.
If your truck doesn't have the payload capacity to carry two tons of concrete or the towing capacity to pull the Astrodome, can you really call it a truck?
Thankfully, Ford has recognized that there is a market for smaller trucks, even in Texas.
The 2023 Ford Maverick XLT Hybrid is a compact pickup truck that is designed to be affordable, fuel-efficient, and versatile.
If you're in the market for a small no-frills truck with surprising capabilities then the Ford Maverick may be right for you.
History of the Ford Maverick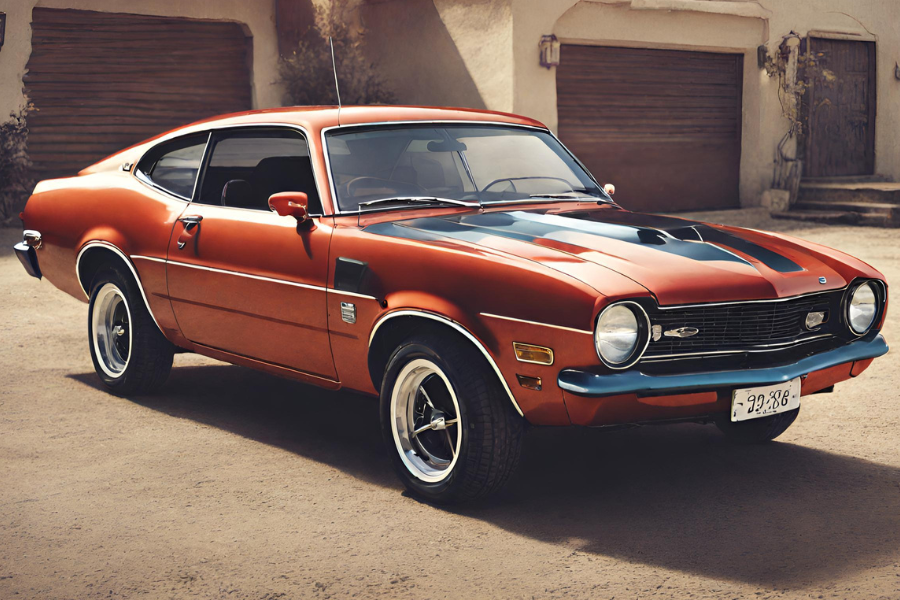 The Ford Maverick has an interesting history that spans several decades.
Ford introduced the Maverick in April 1969 as a 1970 model.
It was designed to compete in the compact car market, which was gaining popularity in the United States due to rising fuel prices and changing consumer preferences.
The original Ford Maverick was a compact, rear-wheel-drive car available as a two-door or four-door sedan.
The Maverick offered a range of inline-six and V8 engines, catering to different performance preferences.
Over the years, Ford introduced various special editions and performance-oriented variants, including the Maverick Grabber and Maverick GT.
The Maverick enjoyed significant sales success during its production run, with Ford selling hundreds of thousands of units.
The original Ford Maverick was discontinued after the 1977 model year as consumer preferences shifted towards smaller, more fuel-efficient vehicles.
The Ford Maverick's revival in the 2020s as a compact pickup marked an interesting shift in Ford's product lineup, catering to consumers looking for practicality, affordability, and fuel efficiency in a truck.
The revival aimed to capture the spirit of the original Maverick by offering a value-oriented vehicle for a new generation of buyers.
2023 Ford Maverick XLT Hybrid Overview
I've driven all types of full-size and mid-size trucks, but driving the Ford Maverick was a much different experience.
Since the Maverick is smaller than traditional pickup trucks, it is more maneuverable and easier to park in urban settings. This really makes a difference when trying to squeeze into tight parking spaces.
Although it still feels like a truck, it handles well on the road without jostling the occupants.
Not only does the Maverick feel good, it also looks good.
This video will give you a quick look at the interior and exterior of the 2023 Ford Maverick XLT Hybrid.
2023 Ford Maverick XLT Hybrid Exterior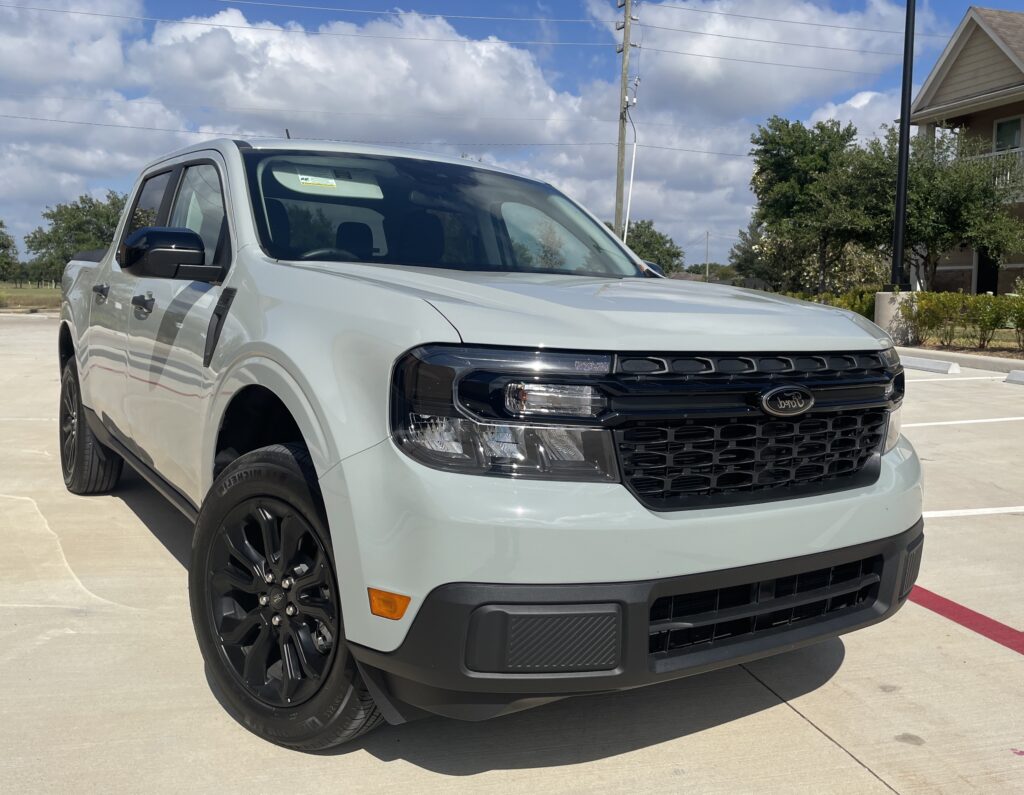 Overall, The 2023 Ford Maverick XLT Hybrid is a nice-looking truck.
I like the design of the grille and headlights, but I really like the Black Appearance Package. It goes well with the Cactus Grey paint and gives it a bit of a rakish appeal.
The bed is designed to be versatile, with features like a multi-position tailgate and various tie-down points.
2023 Ford Maverick XLT Hybrid Interior
The 2023 Ford Maverick XLT's interior is a combination of durable materials and comfortable finishes.
The seats are made from a two-tone textile and the other surfaces are a mix of vinyl and plastic.
Despite the use of inexpensive materials, the interior does not feel or look cheap. Ford's attention to detail gives the truck's interior a premium.
Ford claims that the Maverick offers comfortable seating for up to five passengers.
This is not true.
Although you can technically squeeze five people into the vehicle, it becomes quite cramped in the back seat with more than two people.
If you want everyone to be comfortable, limit the number of passengers to four.
The truck is equipped with an infotainment system centered around an 8-inch touchscreen infotainment system.
Features like Apple CarPlay and Android Auto compatibility are included for seamless smartphone integration.
You also get six speakers throughout the cabin.
USB A and C ports are available for charging devices and connecting peripherals.
The soft-touch steering wheel includes controls for audio, phone, and cruise control, enhancing convenience while driving.
the Maverick XLT includes a range of driver-assistance features like back up camera, adaptive cruise control, lane-keeping assist, and blind-spot monitoring to enhance safety.
2023 Ford Maverick XLT Hybrid Powertrain and Performance
The 2023 Ford Maverick XLT Hybrid combines a 2.5-liter hybrid engine and an auto CV transmission to deliver 191 horsepower and 173 lb-ft of torque.
This version of the Maverick is designed to be highly fuel-efficient, with an estimated EPA rating of around 40 miles per gallon (mpg) in the city.
But in EPA testing it actually beat this estimate, earning official ratings of 42 mpg city, 33 mpg highway, and 37 mpg combined.
This makes it one of the most fuel-efficient pickups on the market.
While the Maverick is not a hardcore off-road truck like the Ford Raptor, it does offer all-wheel drive (AWD) for better traction in adverse conditions.
The truck's payload capacity is 1,500 pounds, but I cannot confirm this because I did not carry anything in the bed except for groceries.
I doubt anyone who buys this truck plans to use it to haul serious payload, but it will be useful if you need to help a friend move a few boxes or if you need to pick up your new 70″ TV from Best Buy.
The towing capacity on the hybrid is about 2,000 pounds which is on par for a vehicle this size. I wish I had this truck when I owned my jet ski. It would have been perfect to tow it to the lake on weekends.
2023 Ford Maverick XLT Hybrid Monroney Label and Pricing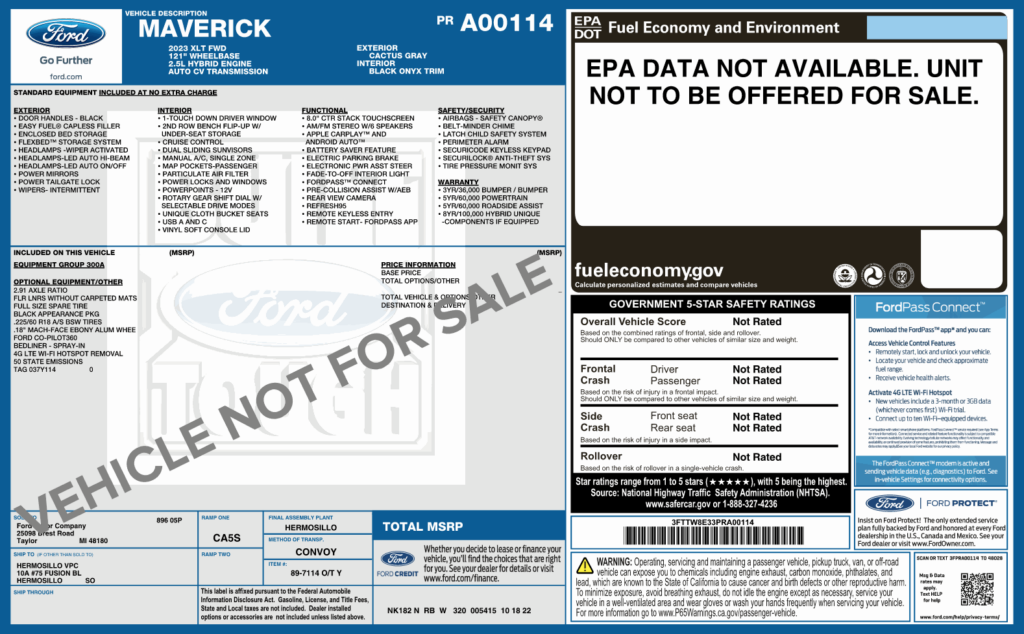 Whenever possible, I like to include the Monroney label of vehicles I review.
A Monroney Label is a reproduction of the original factory window sticker. These stickers contain mandatory information about the vehicle including:
Manufacturer's suggested retail price (MSRP)
Engine and transmission specifications
Standard equipment and warranties
Optional equipment and pricing
Fuel economy ratings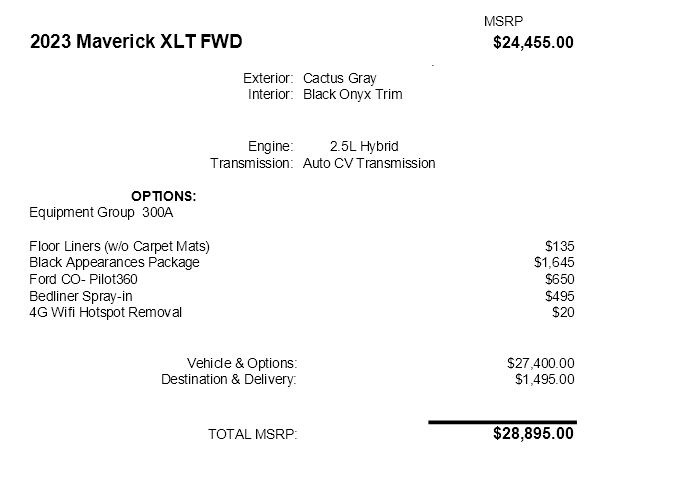 The base price of the 2023 Ford Maverick XLT Hybrid is $24,455.
The model I tested was priced at $28,895 with the following options: Floor Liners, Black Appearance Package, Ford CO-Pilot 360, and Bedliner Spray-in.
Final Thoughts on the 2023 Ford Maverick XLT Hybrid
The 2023 Ford Maverick XLT Hybrid is a cool little compact truck.
It is fuel-efficient, well-designed, and comfortable. And if you need to haul or tow things, it can do that too.
It is also an incredible value especially when you consider the price of full-sized trucks which can be upwards of $70,000.
Frederick J. Goodall is the Editor-in-Chief of Mocha Man Style, media spokesperson, event host, photographer, and a top social media influencer in Houston, TX. He likes to write about fashion, cars, travel, and health.