Updated: July 12, 2022
Being the king of your own nation has its perks. Especially when your kingdom is home to the only deposits of the world's most precious metal.
T'Challa (aka Black Panther), ruler of the fictional African nation, Wakanda, has an estimated worth of $500 Billion thanks to his country's Vibranium deposits.
His wealth would make him, not only the richest superhero but also the world's richest person.
But Iron Man and Batman would have no problem landing on the Forbes Richest People on the Planet list.
Tony Stark and Bruce Wayne would rank close to well-known billions such as Jeff Bezos, Elon Musk, Bill Gates, and Mark Zuckerberg with respective net worths of $100 Billion and $80 Billion.
Check out the list below to see how these and other superheroes rank in terms of wealth.
Who is The Richest Superhero?
1. Black Panther $500,000,000,000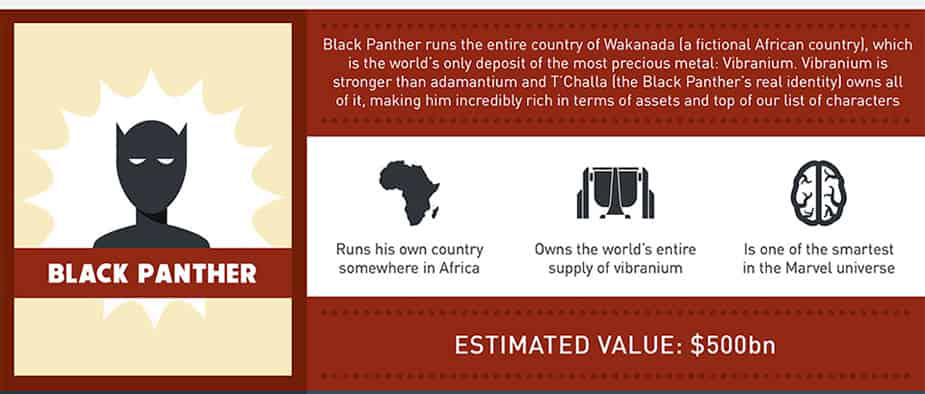 Black Panther rules the country of Wakanda (a fictional African Country), which is the world's only deposit of the most precious metal: Vibranium. As king, Black Panther (King T'Challa) owns it all and the wealth associated with it.
2. Iron Man $100,000,000,000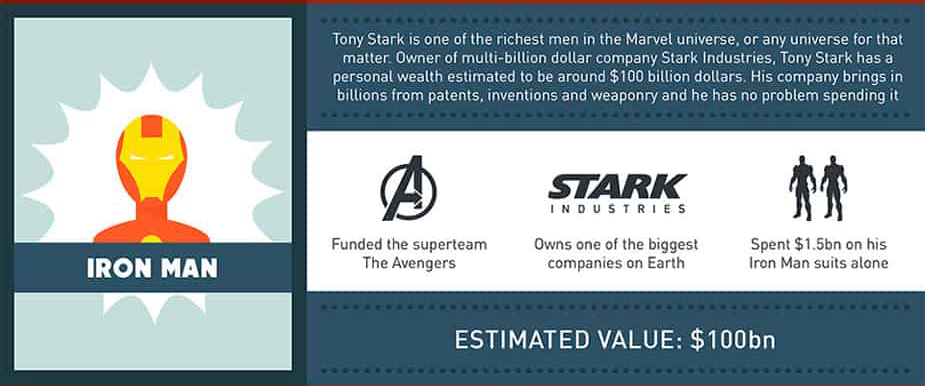 Tony Stark (Iron Man) is one of the richest men in the Marvel Universe. His company, Stark Industries brings in billions from patents, technology, and weaponry. His Iron Man suits probably cost around $1.5 billion each.
3. Batman $80,000,000,000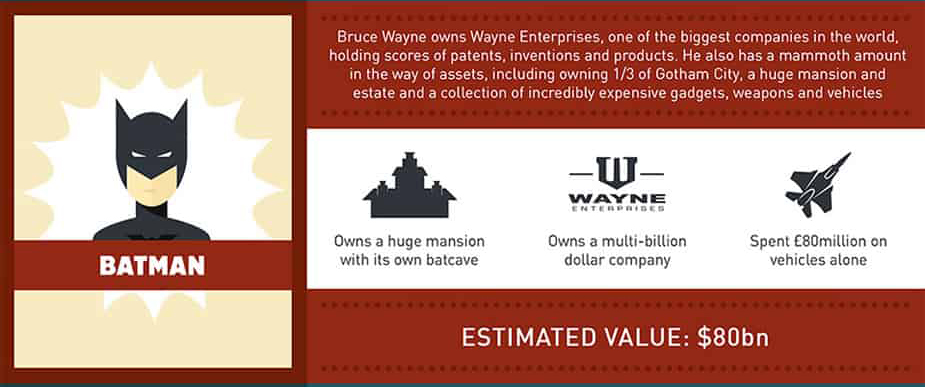 Bruce Wayne (Batman) owns Wayne Enterprises, one of the biggest companies in the world, holding scores of patents, inventions, and products.
He also has a mammoth amount of assets including owning 1/3 of Gotham City, a huge mansion and estate, and an incredibly expensive collection of gadgets, weapons, and vehicles.
4. Green Arrow $7,000,000,000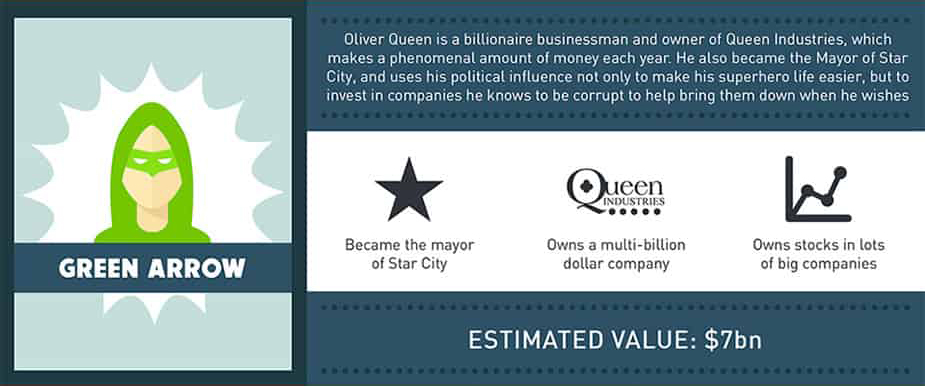 Oliver Queen (Green Arrow) owns the multi-billion dollar company Queen Industries as well as a healthy stock portfolio.
5. Professor X $3,500,000,000
Charles Xavier is the founder and leader of the X-Men.
He was born into a wealthy family and his inheritance made him rich at an early age.
He has built up his wealth with a series of shrewd investments and patents.
He also owns several valuable assets such as a mansion and jet.
---
Tweet us @mochamanstyle or leave a comment on our Facebook Page to share your thoughts on this article. Follow us on Instagram @mochamanstyle.