TAG Heuer has been making luxury timepieces since 1860.
Their watches are coveted by enthusiasts and collectors because of their high-quality craftsmanship and avant-garde design.
But today's constantly-connected consumers want their watches to do more than just tell time. TAG Heuer has addressed this demand with the TAG Heuer Connected, the world's first luxury smartwatch.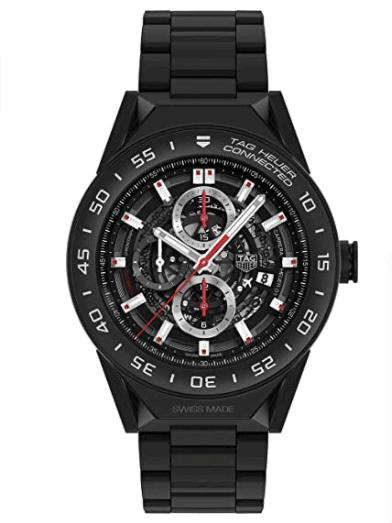 TAG Heuer worked closely with Intel and Google to create a luxury watch that combined connectivity and computing intelligence with Swiss watchmaking heritage.
The watch features an Intel Atom processor Z34XX and runs the Android Wear platform.
Intel engineered the intelligence inside the watch to optimize performance and enable a multitude of connectivity options including audio streaming, Bluetooth, and Wi-Fi as well as allow users to harness the full range of features offered by the Android Wear operating system.
With 4 GB of memory and all-day battery life thanks to its latest-generation lithium battery, the TAG Heuer Connected is equipped with a small microphone to communicate via Google voice control and a sapphire crystal touchscreen – the indispensable complement to the crown at 3 o'clock which also houses controls.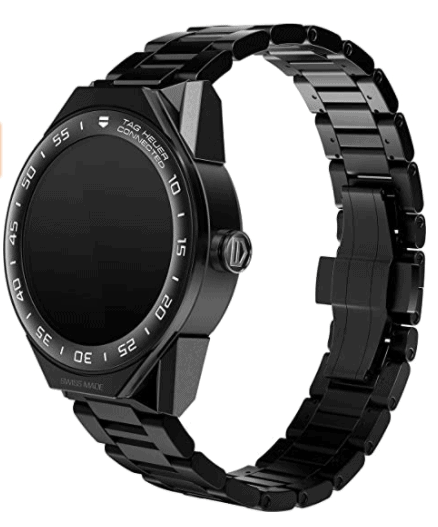 The entire piece has been made water-resistant for everyday use and is IP67 water resistance rated.
Thousands of Android applications are already available for the TAG Heuer Connected watch user to download.
The key applications, currently used by millions, such as Google Fit, Google Translate, Google Maps, and Google Search with your voice are already available on the watch and show you information with just a glance.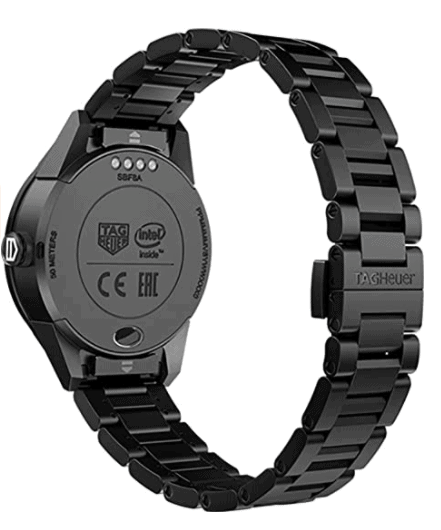 The watch can also be easily synced with a phone running either on Android 4.3+ or iOS 8.2+. It is charged using a contact charger. Simply place the watch on top to recharge it.
At 46 mm in diameter, the design of the TAG Heuer Connected is primarily that of a true chronograph, with a case, back and lugs made from grade 2 titanium, a contemporary material ensuring the watch is lighter and more resistant to impacts than a traditional material such as steel or gold.
Completed by a textured black rubber strap (six other colors – red, blue, white, orange, green, and yellow – are available, sold separately) with a deploying buckle made of grade 2 titanium as well, it has all the elegance, characteristics and level of finish expected from a fine wristwatch.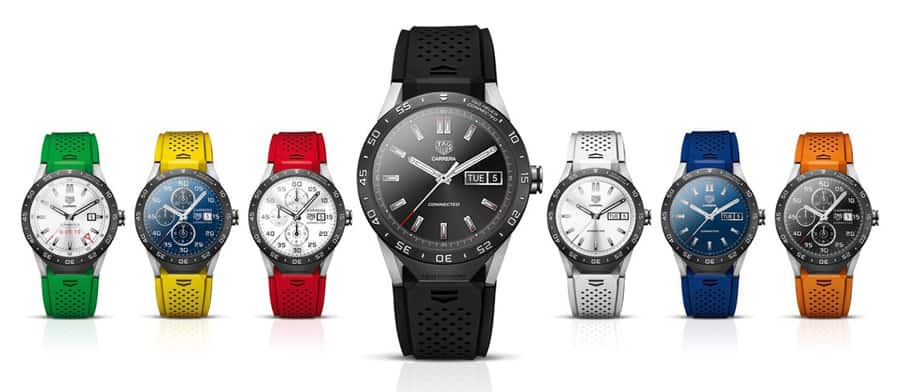 The watch will feature three digital watch faces, which feature the immediately recognizable design codes of TAG Heuer's Carrera collection: the chronograph dial, the 3-hand dial, and the GMT dial, all of which display the date and are available in a choice of three colors (black, deep blue or pearl white), faithfully reproducing the appearance and functions of a true dial, with shadows under the hands and the beautiful sunburst effect of the light.
And because the TAG Heuer Connected is above all a watch, the digital hands and indexes remain visible at all times, even when the watch is in ambient energy-saving mode.
In addition to the standard watch faces, the TAG Heuer Connected also has an exclusive collection of watch faces co-designed by 10 prestigious ambassadors for the "TAG Heuer Connected" watch.
Cristiano Ronaldo (Soccer), David Guetta and the Nervo Sisters (Music), Tom Brady (Football), Kei Nishikori (Tennis), Giancarlo Stanton (Baseball), Jeremy Lin (Basketball), Jessica Korda (Golf), G.E.M. (Music) etKai Lenny (Surf) took a pencil and – together with Jean-Claude Biver, TAG Heuer CEO & President of the LVMH Watch Division – designed a watch face which is not only personalized and exclusive but also contains cues to their individual universe.
These original watch face designs are available on the exclusive TAG Heuer Connected app.
At the end of the connected watch's two-year warranty period, customers can go to the TAG Heuer store of their choice to exchange the TAG Heuer Connected watch for a mechanical Swiss Made Carrera watch.
Also made from grade 2 titanium, this mechanical watch has been exclusively developed and reserved for owners of connected watches.
The Tag Heuer Connected watches start at $1,500.
---
Tweet us @mochamanstyle or leave a comment on our Facebook Page to share your thoughts on this article. Follow us on Instagram @mochamanstyle.
Frederick J. Goodall is the Editor-in-Chief of Mocha Man Style, media spokesperson, event host, photographer, and a top social media influencer in Houston, TX. He likes to write about fashion, cars, travel, and health.