If you've ever wanted to drive a real race car, you have to get behind the wheel of the new Porsche 911 GT3 RS.
It breaks down the barrier between sports cars and race cars with the maximum amount of motorsport technology that is currently possible in a street-legal vehicle.
The Porsche 911 GT3 RS is powered by a four-liter six-cylinder 500 hp engine that delivers 338 lb.-ft. of torque.
With all of this power underneath the hood, the Porsche 911 GT3 RS can accelerate from zero to 60 in 3.1 seconds and fly across a quarter-mile track in 11.2 seconds.
With a Nuerburgring Nordschleife lap time of seven minutes and 20 seconds, the new Porsche 911 GT3 RS surpasses the 911 GT3 by five seconds, making it the fastest current generation 911 on the famous German racetrack.
The chassis of the Porsche 911 GT3 RS has been tuned for maximum driving dynamics and precision. Rear-axle steering and Porsche Torque Vectoring Plus with fully variable rear axle differential lock increases agility and dynamics, and the wider track in front and at the rear reduces body roll.
In addition, the Porsche 911 GT3 RS comes with the widest tires of any 911 model and delivers more agile turn-in characteristics, sharper steering response, and greater cornering speeds.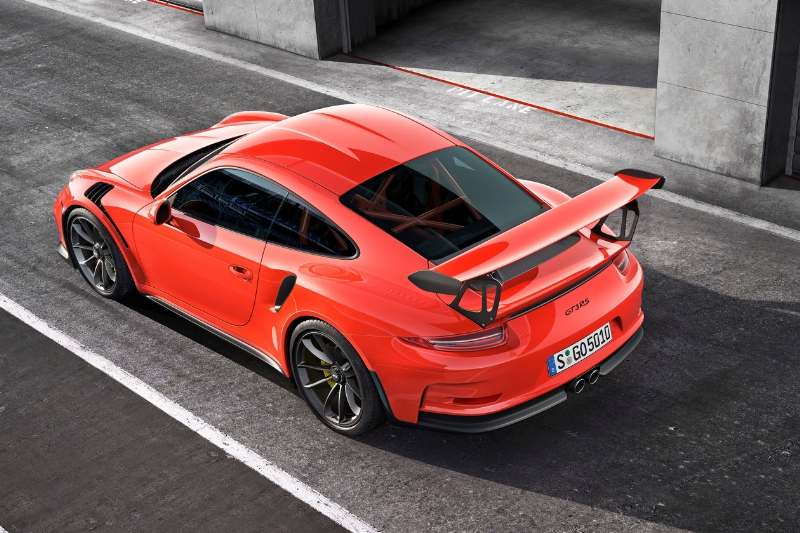 The car's lightweight body design also contributes to its superior performance.
The roof is made of magnesium; carbon fiber is used for the engine and luggage compartment lids, and other components are made of weight-saving materials.
These enhancements make the RS model around 22 pounds lighter than the 911 GT3. Furthermore, the lightweight roof lowers the vehicle's center of gravity which improves its already excellent lateral dynamics.
Another characteristic of the car's design is the unique front wheel arch air vents that extend into the upper section of the fenders – just like on purebred race cars.
They increase downforce at the front axle. The front spoiler lip, which sits close to the ground, and the large rear wing reinforce its dominant look.
The Porsche 911 GT3 RS can be ordered now, and it will launch in the U.S. in early July of 2015. In the United States, the MSRP is $175,900.
Tweet us @mochamanstyle or leave a comment on our Facebook Page to share your thoughts on this article. Follow us on Instagram @mochamanstyle
The Porsche 911 R Delivers a High-Performance, Unfiltered Driving Experience