Although I'm a proud Texan, I have a secret crush on California.
I love the scenery, weather, beaches, and laid-back vibe. Over the years, I've visited all of the major cities, except for one – Santa Barbara. Last month, I finally got the chance to visit the city that is known as the American Riviera.
I arrived at the Santa Barbara airport around 2 pm in the afternoon. The airport can only be described as cute and I'm not the type of guy who uses cute to describe things.
After dealing with major airports around the world, walking through the Santa Barbara airport was a refreshing change.
I met my driver outside and she tossed my luggage into the trunk of my chariot – a 2014 Toyota Avalon.
About 30 minutes later, we arrived at the Canary, a quaint, boutique hotel located in the heart of downtown Santa Barbara within walking distance of several restaurants, cafes, and shops.
I dropped my bag in my room and met my friend and fellow Houstonian, Gabriel, for lunch. We grabbed a couple of sandwiches and sat on the hotel's balcony to chat and admire the city.
Later that evening we met for drinks on the 6th floor Rooftop Perch.
Every day from 5-6 p.m., the hotel offers a hosted Wine Hour with complimentary wines hand-selected by their master sommelier.
Gabriel and I lounged by the pool and enjoyed a couple of glasses of Pinot Noir as the sun set behind the gorgeous mountain view.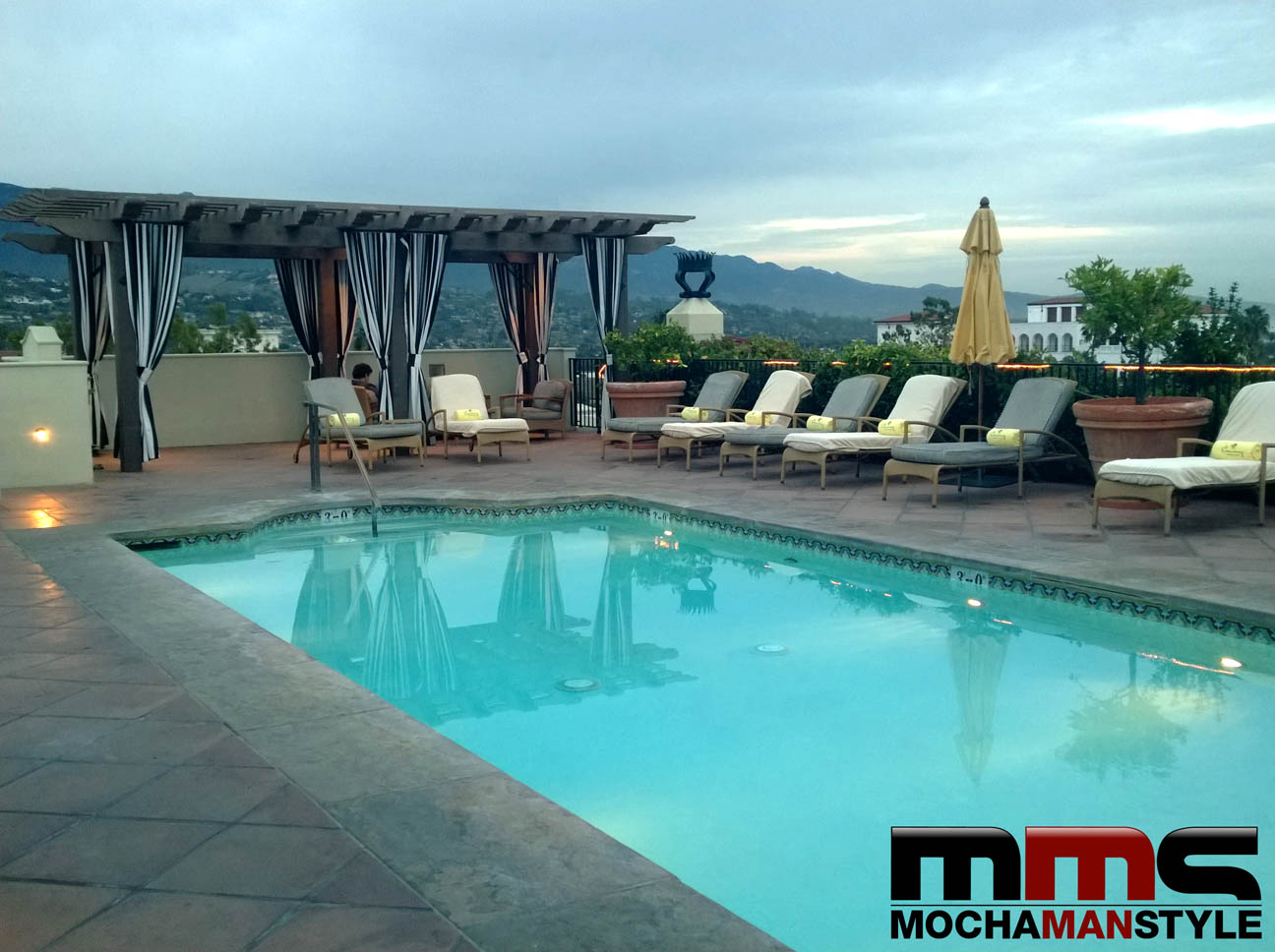 Afterward, we headed over to the Santa Barbara Historical Museum to have dinner and get a first look at the 2014 Toyota Highlander (disclosure: Toyota paid for all of my travel expenses).
Founded in 1932, the museum is located in Santa Barbara's historic El Pueblo Viejo district and houses over 500 years of art and artifacts with collections from the Chumash, Mexican, Spanish, and American periods.
Before our meal was served, the museum's director gave us a brief history of Santa Barbara.
The city was affected by two major earthquakes – one in 1812 and the other in 1925. While the 1812 quake was bad, it did not cause as much destruction as the 1925 one. It destroyed much of Santa Barbara and killed 13 or 14 people.
The residents and local government saw the rebuilding process as an opportunity to rebrand the city and decided to unify the city around a Spanish Colonial style.
Chef James Siao from Finch & Fork prepared a delicious three-course meal that consisted of Braised smoked pork cheek with butternut squash puree, radish salad, chili caramel sauce; Seared strip loin & jumbo (headless) prawns with roasted cauliflower, creamy potato, baby carrots, chimichurri, tomato demi; and Honey lavender crème brulee with fresh berries, and honeycomb. I was in foodie heaven.
With my belly full of good food, I was eager to go back to the hotel and fall asleep in my luxurious four-poster bed.
The next morning, I met Gabriel for a hearty breakfast at Finch & Fork. After filling up on bacon, eggs, and coffee we set out to explore the city in a Toyota Highlander.
Our first stop was the Old Mission Santa Barbara.
Founded in 1786 by Friar Fermín de Lasuén, the Mission is the chief cultural and historic landmark in the city of Santa Barbara and home to a community of Franciscan friars.
In addition to serving as a church with an active parish, the mission has a retreat center, a museum, a cemetery and mausoleum, and ten acres of beautifully landscaped gardens.
I'm a history buff and I'm especially interested in Mexico's cultural impact on border states such as Texas and California.
I would have spent the rest of the day at the mission, but Gabriel didn't share my passion. He was more interested in looking for the set of "Two and a Half Men."
"I think they film it here," he said. "That's my favorite show. Maybe we can see a live taping."
"I thought that show was canceled after they fired Charlie Sheen," I said.
My ignorance promoted Gabriel to give me a long lecture on the merits of "Two and a Half Men" and why is the best show on TV.
When I could take no more, I pulled out my phone to find out where the show was set. A quick web search revealed that the show is set in Malibu, CA. Crisis averted.
With that settled, we took a short drive to the beach and Stearns Wharf where we strolled along the beach and took some photos at the pier.
We shared stories about our families (Gabriel runs a family-owned publication and has many amusing stories about those experiences), compared Texas beaches to Cali beaches (sorry Texas, Cali wins), and planned our next stop.
"Let's ditch our agenda and drive into the mountains," I suggested.
"Sounds good to me," Gabriel said. "Let's go."
We drove through the winding roads and quickly found ourselves several hundred feet above sea level. Seeing Santa Barbara from this perspective was a wonderful experience.
"This is a beautiful city," Gabriel said. "If I lived here, I'd be outside all the time." I agreed.
After driving aimlessly for about 45 minutes, I realized that I had no idea where we were. Thankfully, the Highlander's navigation system guided us back to the hotel.
I dropped off Gabriel (he had to catch a flight back to Houston) and drove to Santa Ynez for lunch at S.Y. Kitchen.
Along the way, I got a first-hand account of the devastation that the drought had caused. Whereas the landscape would have been green and lush, it was brown and brittle.
Despite the lack of rain, the California terrain is still scenic. It was hard for me to keep my eyes on the road because I kept being seduced by the beauty of nature that surrounded me.
At the restaurant, my group and I enjoyed a family-style meal of Fresh Pea and Baby Artichoke Salad with Arugula and Ricotta Salata; Fusilli with Roasted Vegetables and Pesto; Salmon filet with Puttanesca Sauce; and Tiramisu.
As I ate my lunch, I lamented the fact that I would be leaving soon. Twenty-four hours wasn't nearly enough time to fully explore Santa Barbara. The city has made my California crush grow even stronger.
---
Tweet us @mochamanstyle or leave a comment on our Facebook Page to share your thoughts on this article. Follow us on Instagram @mochamanstyle
Frederick J. Goodall is the Editor-in-Chief of Mocha Man Style, media spokesperson, event host, photographer, and a top social media influencer in Houston, TX. He likes to write about fashion, cars, travel, and health.