For much of my life, I bought cheap sunglasses.
If they were good enough for ZZ Top, they were good enough for me. But I soon realized that cheap sunglasses were costing me a lot of money.
Because the sunglasses cost just a few bucks, I was careless with them. I lost or broke 2-3 pairs of sunglasses each month, and replaced them with more cheap sunglasses.
This cycle repeated itself for several years until I decided to do the math. Buying 2-3 pairs of sunglasses each month at $10-$15 a pop didn't seem like a great deal anymore.
When I factored in the additional costs associated with going to the mall and the extra time I was wasting, these cheap sunglasses became quite expensive.
I decided to spend my money more wisely and invest in a pair of well-made sunglasses that were built to last.
My search led me to Maui Jim.
I must admit that I had never heard of this brand until I started researching premium sunglasses.
Maui Jim got its start in 1980 as a small company selling sunglasses on the beach in Lahaina, Hawaii (BTW – I'm a sucker for all things Hawaiian because I fell in love with the state after spending my honeymoon on the Big Island).
Seeing a need in the market for technology that could combat intense glare and harmful UV while bringing brilliant colors to life, the company engineered the revolutionary PolarizedPlus® lens.
With a dedicated cult following, Maui Jim is now the fastest growing premium polarized sunglass maker in the world.
Maui Jim Sunglasses – Wanderers
After visiting their website, I decided to select the Maui Jim Wanderers.
These modified aviators stylishly cover the complete periphery of your eye without dwarfing your face and making you look like a bug-eyed alien.
I picked the Matte Espresso frames with the HCL® Bronze lenses because I like my sunglasses to have a warm, subtle tint. These lenses also provide superior glare and UV protection.
When I took them out of the case, I immediately knew that these weren't a pair of flea market sunglasses.
Although they were lightweight, they felt solid in my hand and are comfortable enough to wear for long periods of time.
Cheap sunglasses would often irritate the bridge of my nose and make my eyes tired if I wore them for too long. I didn't have these problems with my Wanderers.
I also discovered how durable these sunglasses are. While exiting my vehicle, they slipped out of my hand and landed on the pavement.
I cringed and expected the worse when I bent down to retrieve them. I was pleasantly surprised to see that the Maui Jim sunglasses survived unscathed.
Does Maui Jim Make Prescription Sunglasses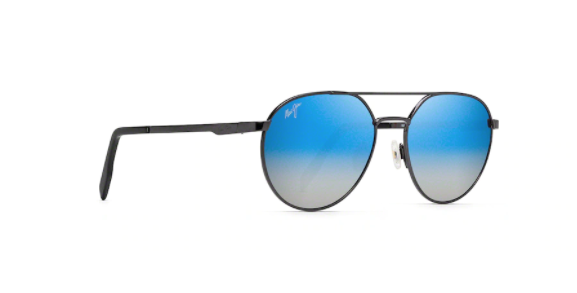 More than 95% of Maui Jim's sunglasses are available in prescription.
Utilizing digital lens design and cutting-edge direct surfacing technology, their MauiPassport lenses deliver the widest possible field of view for incredible visual acuity across the entire lens.
This process also produces prescriptions that are 10 times more accurate than those of conventional labs, and maintains the highest optical and quality standards in the industry.
In addition to helping you see more clearly, the PolarizedPlus2 technology shields your eyes from glare and harmful UV while enhancing the world's vibrant colors and intricate details.
How to Order Maui Jim Prescription Sunglasses
Unfortunately, you cannot order prescription sunglasses directly from Maui Jim's website.
After I discovered this news, I started a chat with a Maui Jim service agent and she gave me this explanation:
"Since our prescription lenses are considered a medical device, they cannot be ordered directly through our website. However, Maui Jim has a network of authorized retailers that will be able to assist you in checking the compatibility of your prescription with Maui Jim sunglasses, purchasing a pair of authentic Maui Jim prescription sunglasses, pricing questions, lens colors, and frame styles availability."
To order my prescription sunglasses, I clicked on the Find a Retailer link on the top right corner of the Maui Jim website and entered my zip code. I received 15 nearby retailers who could help me with my prescription.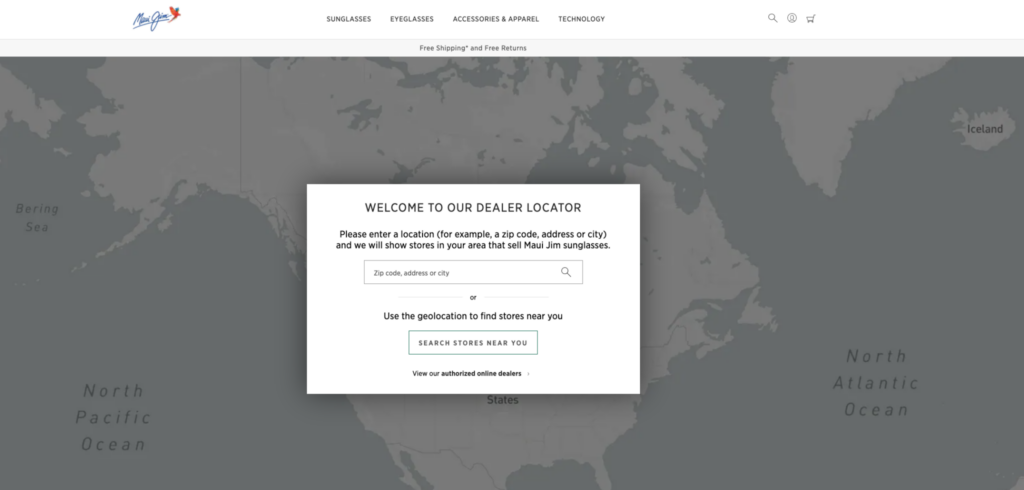 At the store, I provided my prescription, selected my frames, gave them my shipping address, and made payment.
My sunglasses arrived in about 10 days.
If you need additional help when ordering your prescription sunglasses, you can call the Maui Jim phone number 1-888-628-4546 or fill out the form on the Contact Us page.
Maui Jim Prescription Sunglasses – Waterfront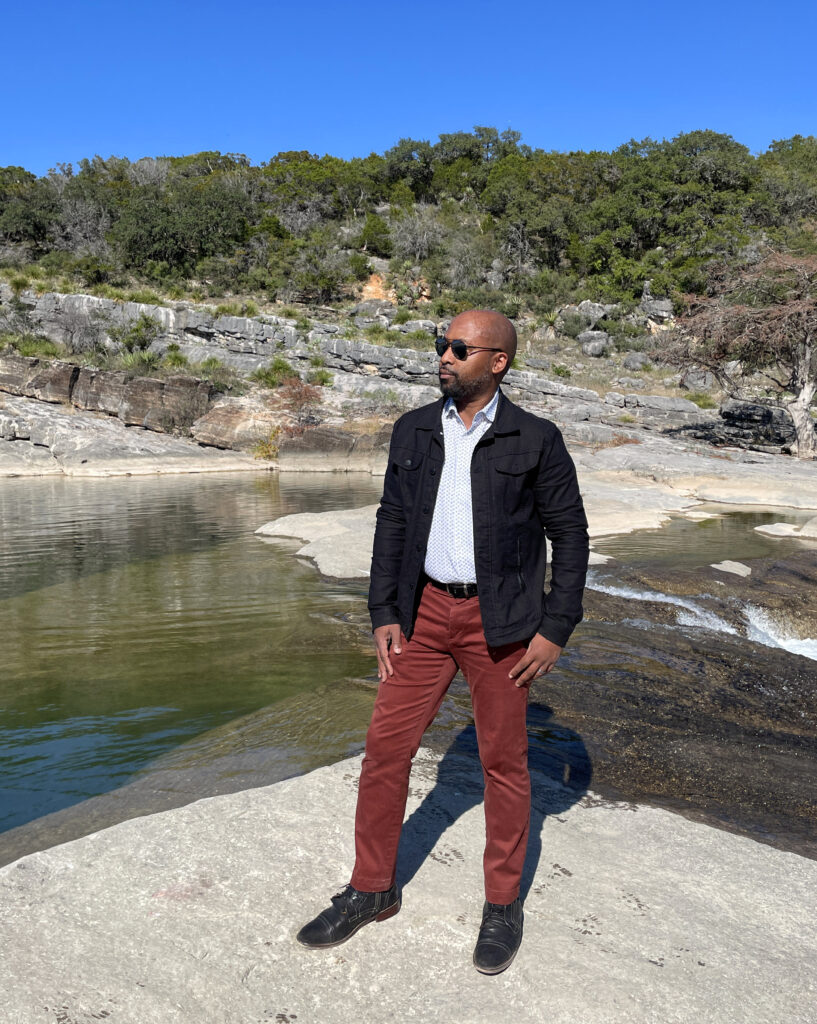 I ordered the Waterfront sunglasses because I like their classic styling.
The sunglasses have a solid monel metal frame, molded into a round shape with a prominent brow bar.
The frame is black and the lenses are Brilliant BiGradient Neutral Grey.
These sunglasses are comfortable and fit well. They are my go-to driving glasses, but I also wear them on any other occasion.
Whenever I wear them I always get so many compliments and they go well with a variety of outfits from casual to formal.
All versions of the Maui Jim Waterfront sunglasses offer the brand's unique Dual Mirror effect over proprietary SuperThin Glass lenses.
Maui Jim Warranty
Maui Jim sunglasses are warranted for two full years from the date of purchase against any defect in materials and workmanship when purchased from the Maui Jim website or an authorized Maui Jim reseller.
The warranty is void if the original lenses or frames are altered in any way.
Maui Jim will repair or replace any pair of Maui Jim sunglasses found to be defective—exclusive of damage caused by improper or unreasonable use.
The warranty does not apply to normal wear, including lens scratching or accidental breakage.
Final Thoughts on Maui Jim Sunglasses
Try a pair of Maui Jim sunglasses for yourself.
They will impress you with their quality, design, and fashion-forward island style.
After wearing a pair of these, you'll never buy another pair of cheap sunglasses.
---
Tweet us @mochamanstyle or leave a comment on our Facebook Page to share your thoughts on this article. Follow us on Instagram @mochamanstyle
Frederick J. Goodall is the Editor-in-Chief of Mocha Man Style, media spokesperson, event host, photographer, and a top social media influencer in Houston, TX. He likes to write about fashion, cars, travel, and health.