Russell Simmons
, the hip-hop impresario and business mogul, and
Rev Run
of Run DMC.
Simmons is also the co-founder and Chairman of Rush Philanthropic Arts Foundation and the co-executive producer of "Def Poetry Jam."
MMS recently sat down with Danny Simmons to talk about art, his famous brothers, and life in general.
Mocha Man Style: How do you describe your art?
Danny Simmons: I describe it as neo-African abstract expressionism.
MMS: How were you exposed to art?
Simmons: My mother was an artist. Not a professional painter but she painted very well.
The experience was more about seeing the joy she had while painting than anything she actually taught me.
Painting took my mother out of her day-to-day life to someplace else.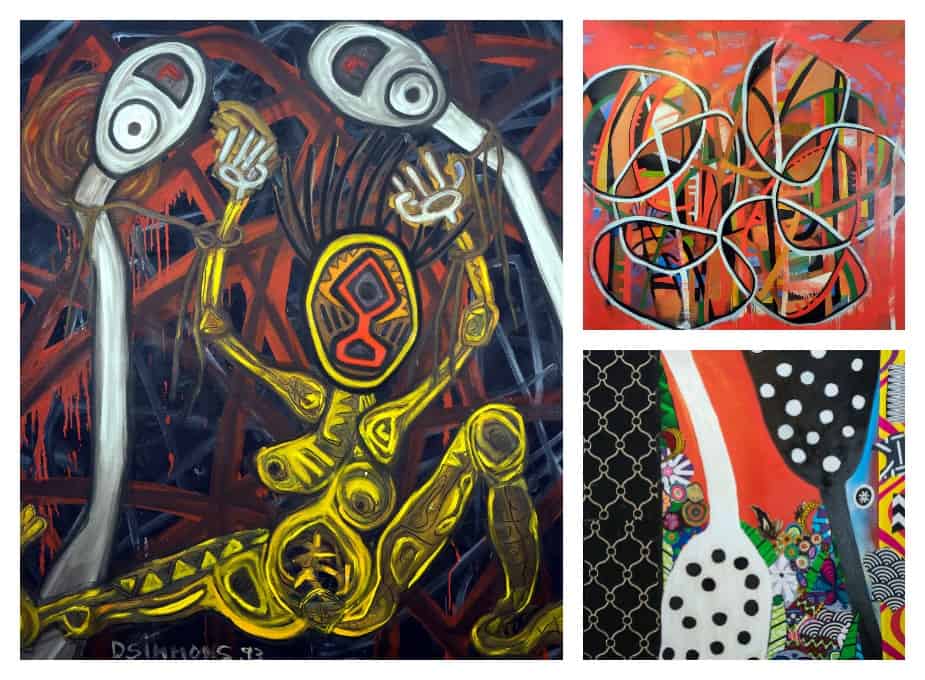 MMS: You have a degree in Social Work from NYU and a Master's in Public Finance from Long Island University. You actually worked for the city?
Simmons: Yes. I worked for the city of New York. That was largely because my dad said go to college. Get a good job. Get a pension and the creative stuff you do on the side because that's not going to pay your bills.
He threw the artist Romare Bearden up in my face. Romare Bearden was a social worker at one point.
When my father first came to New York, before he joined the Board of Education, Black people could always work for the department of social services. Romare Bearden and he were desk mates. They faced each other. Bearden was on this side of the desk and my father was on that side.
Romare would show my dad pictures of his paintings and talk about them.
My father would say Romare worked until the end. Look how he turned out. You can still be a great painter later on.
So I kept my job as a social worker. I made sure people got payments for their landlords. I made sure people got their benefits and I made sure there was no fraud going on. I did that for 8 years.
MMS: When did you become a full-time artist?
Simmons: I was about 34. I'm not shy about this, but I was getting high, using drugs, sniffing cocaine. The whole thing that was going on in the '80s.
At 37, Russell said this is enough of this shit Danny. We decided I was going to go to rehab. I went away for 30 days and got myself together in a place in Minnesota. I came back and attacked my art career in earnest.
I filled my time with really becoming an artist.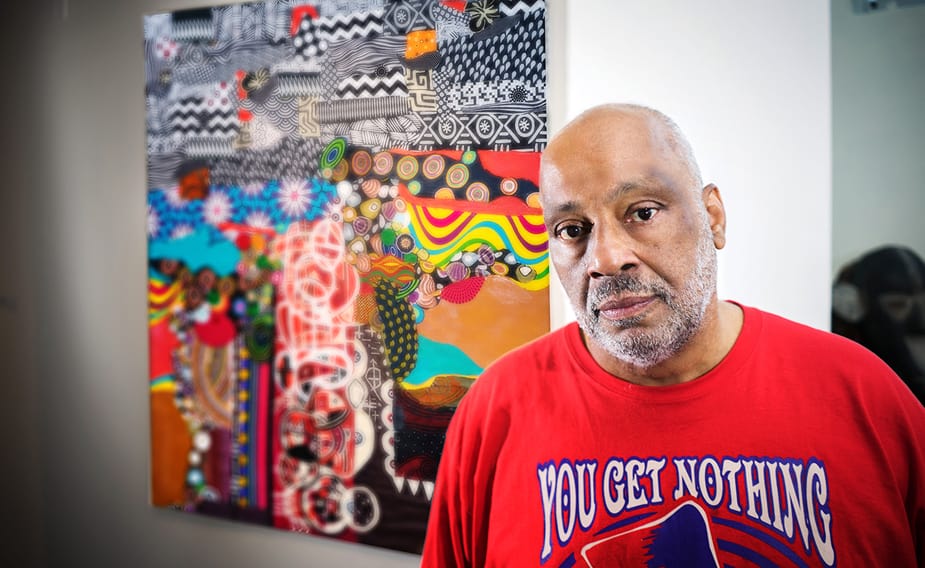 MMS: You, as an artist, seem to have a fascination with Africa. Why is that?
Simmons: It's a romanticized fascination with Africa. It started in my teens. The search for the liberation of Black identity that happened here in the U.S. during slavery and beyond.
My father, being an ardent civil rights person and a Black history professor, always talked about there being a Black history beyond these shores.
He told us there was more to Black people than George Washington Carver. That we had a long history. I began to ask myself who are we?
Then I realized great artists like Picasso and Dali got their inspiration from African art. I decided to go to the source and see what they saw. I went directly to African art and started to get inspiration from there.
A lot of my art has African influences. I also started looking deeper into African American art. I decided at that point, it was the spirituality of those objects that was the underpinning, the religious, spiritual objects, the textiles, the love of patterns.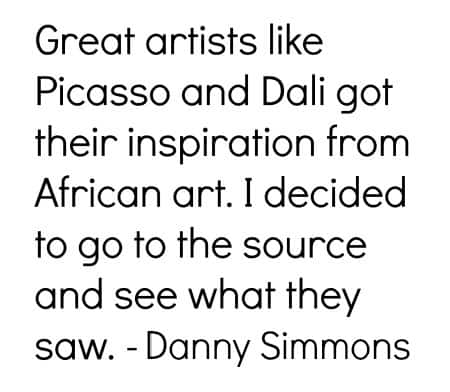 MMS: Who buys your works of art?
Simmons: It's working people. Usually, a woman who has to convince her husband that spending $7,000 or $8,000 on a painting is worth it.
There are museums and art collectors who buy my paintings, but the typical buyer is a Black person who doesn't have a lot of money. I would say my pieces range from maybe $4,000 up to $27,000.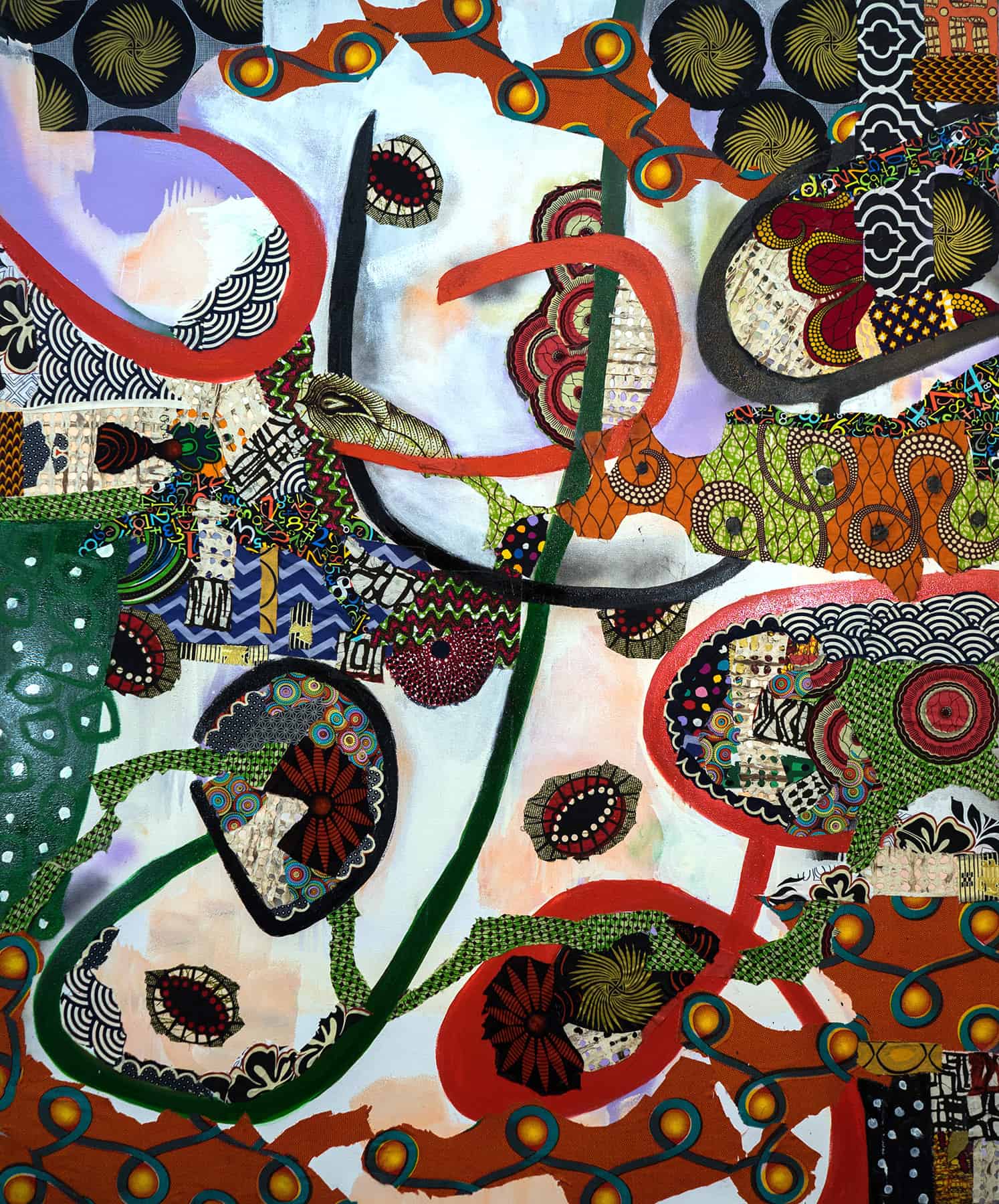 MMS: What is it like having two famous brothers?

Simmons: I spend more time with Russell than with Run. Russell and I had bunk beds together. Run is 11 years younger than me. We have a big brother, little brother relationship that's really strong. That's not like two guys in the same bedroom who hang out a lot together.

Sometimes it's really, really hard, especially on the Russell tip. Because he's a producer everybody comes to me for access to Russell. It's a pain in the ass.

However, Russell has been so supportive of my projects with his influence.

Def Poetry was my idea, but it was Russell's influence with HBO that got it done.

The foundation for the Rush Philanthropic Arts Foundation was my idea but it was Russell's connections with rich people that got it off the ground. He stands by my projects.

I love to see how Russell, in particular, uses his influence beyond that for social causes. He's on five different boards, into yoga and he's vegan.

He's evolved into a really, really conscious human being. A lovely human being. He admits that had it not been for my ideas, he would never have thought about them. He gives me credit.

I was the hippie kid or the revolutionary kid in the family. Russell says he would have been a greedy entrepreneur if I had not started the things I did. When somebody says that publically about you, you got to like them.

When we won the Tony for Def Poetry, Russell said we wouldn't be here had it not been for Danny and his vision.

Photos by Grady Carter

Tweet us @mochamanstyle or leave a comment on our Facebook Page to share your thoughts on this article. Follow us on Instagram @mochamanstyle

Danny Simmons is a New York-based artist, poet, and philanthropist. He is the oldest of three boys, two of which you may know –