This post is sponsored by Ozarka. All opinions are my own.
I am a Texan. Born and raised. Although I've lived all across the U.S.A and traveled around the world, the Lone Star State keeps drawing me back.
Texas is unlike any place on the planet. With its diverse cultures, friendly people, breathtaking landscapes, innovative music, and delicious food, Texas has everything you'd want to live a happy life.
Speaking of food, our cuisine is top-notch. Drawing from Mexican, Cajun, Creole, German, Czech, and Native American influences, Texas cooking is truly unique.
When I cook, I like to use locally sourced products. From Houston to El Paso, Texas produces a wide range of specialty products that chefs love to use. To highlight some of my favorite local products, I've created a fantastic meal using the best ingredients Texas has to offer.

Texas Style Sweet & Spicy Strip Steak with Chili-Lime Corn on the Cob and Chips & Queso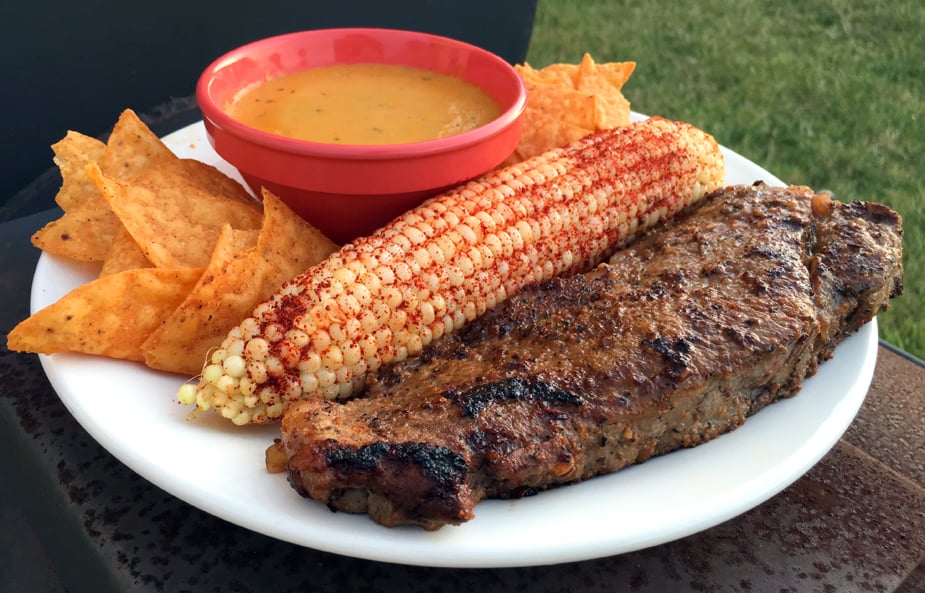 This simple recipe is packed with Texas-sized flavor. It is great for cookouts, picnics, or special occasions.
Texas Style Sweet & Spicy Strip Steak
Ingredients
2 Strip Steaks
Grape Seed Oil
1/2 Stick of Butter
Cast Iron Skillet
for Marinade
The Jelly Queens Garlic Rosemary Sauce (An award-winning Dallas and Austin-based artisan food company that was born out of a love for sustainable food, delicious flavors, and words of encouragement).
Snow's BBQ Sauce (Texas Monthly magazine named Snow's BBQ as the best in Texas. With complex Texas flavor, it is excellent on any cut of beef)
Yellowbird Jalapeno Sauce (This totally natural, spicy pepper sauce is made in Austin, TX)
Spice Kings Juicy Steak Spice Rub
Garlic Powder
Instructions
Mix the marinade ingredients until they form a thin paste.
Rub the marinade on the strip steaks and let sit in refrigerator at least 4 hours.
Remove steaks from the refrigerator and allow to reach room temperature.
Place a cast-iron skillet on the burner and pour grapeseed oil to cover the bottom.
Place steaks into skillet and cook each side for 3 minutes before flipping.
Add butter to the skillet and cook steak for another 2 minutes on each side.
Remove steak from skillet, place on a plate, and let rest for 5 minutes.
Chili Lime Corn on the Cob
Ingredients
2 Ears of Fresh Corn
1 Lime
Fiesta Brand Chili Lime Seasoning
Instructions
Shuck corn.
Boil corn for 10 minutes.
Place corn on a plate to drain and wipe away excess water.
Cut the lime in half and squeeze juice over corn. Turn corn for even distribution.
Sprinkle Chili Lime Seasoning over corn turning to coat.
Chips & Salsa
Ingredients
Paqui's Tortilla Chips (Paqui sells great tasting tortilla chips that are crafted by stone grinding corn and adding mouth-watering flavors using high-quality ingredients, such as fire-roasted jalapenos, fresh cilantro leaves, buttermilk, pumpkin, and other spices and flavors).
Cookwell & Company Queso con Salsa Escabeche (This product is built around a flavorful blend of cheddar and blue cheeses combined with fire-roasted tomatoes, onions, diced jalapeños, and fresh-squeezed lime juice).

Instructions
Pour queso into small bowl and heat in the microwave for 1 minute.
Serve with tortilla chips
Finally, plate all components of the meal and serve with an ice-cold bottle of Ozarka Brand Natural Spring Water, another locally sourced product that comes from 3 Texas springs and has a uniquely Texan fresh taste.
Now that I've shared some of my favorite things about Texas, it's your turn to tell me why you love where you live. Share some of your favorite places, pastimes, and people that make your community unique.
Tweet us @mochamanstyle or leave a comment on our Facebook Page to share your thoughts on this article. Follow us on Instagram @mochamanstyle
Frederick J. Goodall is the Editor-in-Chief of Mocha Man Style, media spokesperson, event host, photographer, and a top social media influencer in Houston, TX. He likes to write about fashion, cars, travel, and health.