The all-new 2017 Alfa Romeo Giulia Quadrifoglio is the epitome of Italian beauty and power. With exquisite design and cutting edge engineering, the Giulia Quadrifolio is destined to make its mark in the premium sport sedan segment.
Alfa Romeo designers styled the proportions of the Giulia Quadrifoglio to have commanding presence and a menacing face. A large signature "shield" grille is elegantly sculpted within the front fascia to form the signature "Trilobo," a signature of Alfa Romeo design. Flanking the signature grille with the all-new Alfa Romeo logo are bi-xenon projector headlamps, which include an adaptive front-lighting system to better adjust to the curvature of the road, while LED daytime running lights provide a signature appearance.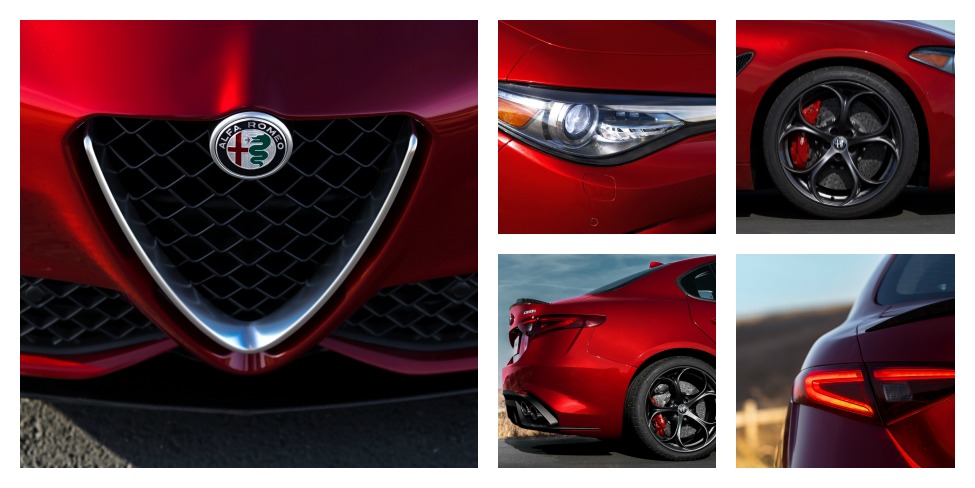 Short overhangs and deck lid further emphasize the Alfa Romeo Giulia Quadrifoglio's muscular rear fender forms and road-holding stance. Elegantly shaped tail lamp features are drawn horizontally to highlight the sedan's width, while LED rear light clusters further highlight Giulia's use of advanced technologies. Like the front, the rear of the Giulia Quadrifoglio also manages airflow with its integrated diffuser, which helps channel air and provides additional stability at high speeds and downforce in corners. Finishing off the rear is a sport, dual-mode exhaust system with quad tips that delivers a signature Alfa Romeo exhaust note. Up to seven exterior colors are available and include Rosso Alfa (Red), Vulcano Black Metallic, Silverstone Grey Metallic, Montecarlo Blue Metallic, Vesuvio Grey Metallic, Trofeo White Tri-Coat, and Rosso Competizione Tri-Coat (Red).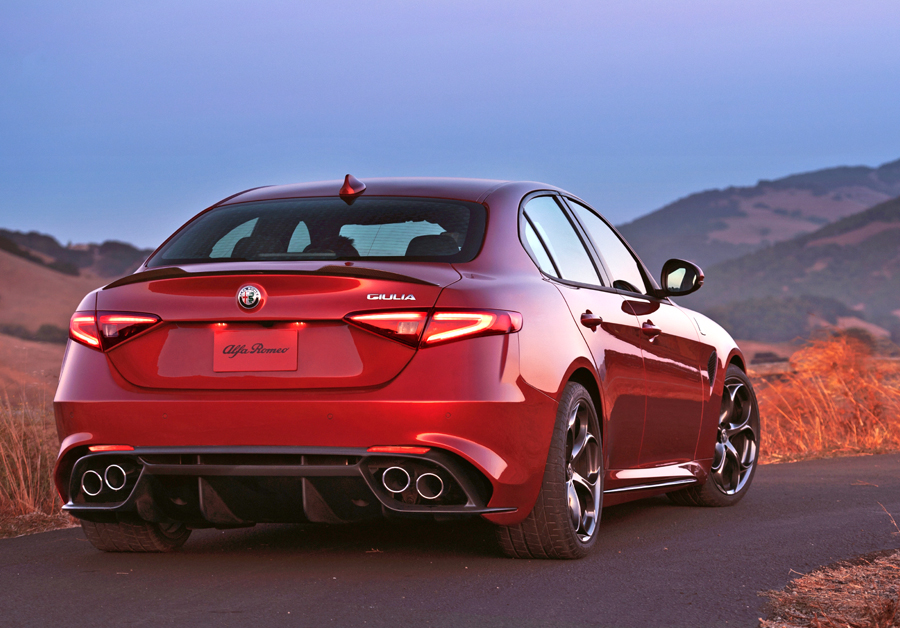 Incorporating next-level technologies, the Giulia Quadrifoglio features a Ferrari-derived 505-horsepower bi-turbo V-6 engine – Alfa Romeo's most powerful production car engine ever – plus cylinder deactivation and a carbon-fiber active aero front splitter for improved handling at high speeds. Race-inspired performance is achieved courtesy of the Giulia's extensive use of ultralight, high-strength materials, which include a carbon-fiber driveshaft, hood, roof, and more. These enhancements allow the Giulia Quadrifoglio to go from 0 to 60 in a mere 3.8 seconds.
An Alfa Romeo exclusive double-wishbone front suspension with a semi-virtual steering axis guarantees rapid and accurate steering feel. With the most direct steering in the segment, Alfa Romeo Giulia Quadrifoglio can tackle high lateral accelerations. At the rear, an Alfa-link rear axle design with vertical rod ensures top performance, driving pleasure and passenger ride comfort. An innovative active damping suspension adapts to driving conditions and can be adjusted by the driver via the Alfa DNA Pro selector with four drive modes:
Dynamic: Delivers sharper brake and steering feel with more aggressive engine, transmission and throttle tip-in calibrations
Natural: Comfort setting for balanced daily driving
Advanced Efficiency: Enables cylinder deactivation to reduce fuel consumption
Race: Activates the over-boost function, opens up the two-mode exhaust, turns ESC off and delivers sharper brake and steering feel with more aggressive engine, transmission and throttle tip-in calibrations
Inside, the Giulia Quadrifoglio's high-level of craftsmanship starts with an asymmetric-styled instrument panel, featuring a driver-focused cockpit. Wrapped in ultra-premium leather and Alcantara, and highlighted by authentic carbon fiber, aluminum, and accent stitching, the Alfa Romeo Giulia features a bespoke look. A Formula-1 inspired steering wheel features a thick-rim profile that transmits the chassis' direct-steering feel and neatly groups the vehicle controls and the red engine start button. Behind the steering wheel, the Giulia Quadrifoglio features a full-color 7-inch driver information display cluster straddled by two large white-on-black face analog gauges.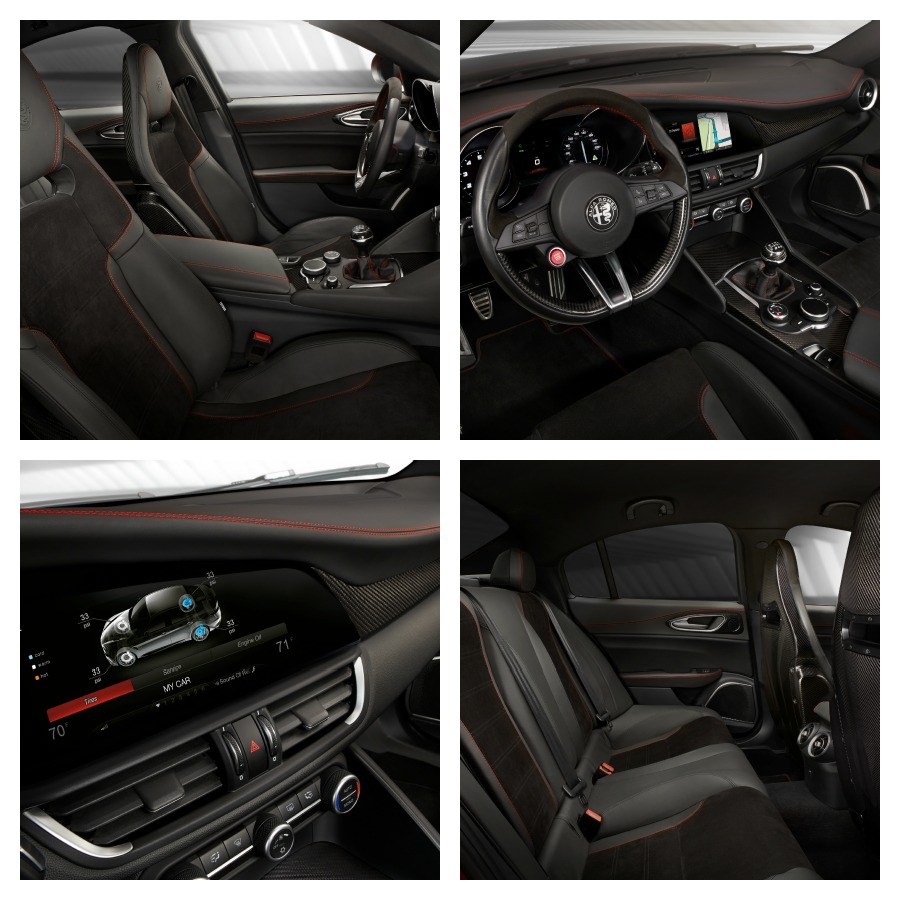 At the center of the interior, the 3-D Navigation offers an intuitive, yet sophisticated series of features, including a high-resolution 8.8-inch widescreen display with real-time vehicle performance pages and telemetry, plus 3-D graphic navigation. A short-shift six-speed manual shifter elevates proudly in the center console, while the all-new and ergonomically located Alfa Rotary Pad offers a gesture recognition system, allowing the driver to interact with the 3-D Navigation system simply by moving fingers on the pad.
An array of five premium leather and Alcantara interior combinations are available on Alfa Romeo Giulia Quadrifoglio. First, an all-Black interior with a choice of Black, White, and Green or Red accent stitching. A two-tone Black with Red interior with Red accent stitching further highlights the brand's Italian design. For a bespoke look, Alfa Romeo Giulia Quadrifoglio also offers a two-tone Black with Ice interior combination with signature Green and White Quadrifoglio accent stitching that pulls from Alfa Romeo's historic and high-performance logo.
The 2017 Alfa Romeo Giulia Quadrifoglio begins production for North America late in the second quarter of 2016 with a starting U.S. Manufacturer's Suggested Retail Price (MSRP) of around $70,000.
Tweet us @mochamanstyle or leave a comment on our Facebook Page to share your thoughts on this article. Follow us on Instagram @mochamanstyle
Frederick J. Goodall is the Editor-in-Chief of Mocha Man Style, media spokesperson, event host, photographer, and a top social media influencer in Houston, TX. He likes to write about fashion, cars, travel, and health.