McLaren has a long legacy of building amazing race cars. But their cars aren't just nice to look at, they are also built to win.
Throughout the 1960s and 70s, McLaren established itself as a powerful contender in the most extreme form of motorsport, Can-Am.
The Can-Am series, or Canadian-American Challenge Cup, was a no-holds-barred battle of power and speed around some of the most iconic circuits in North America and Canada.
The championship started in 1966, only a year after Bruce McLaren Motor Racing was established. McLaren went on to win five consecutive championships between 1967 and 1971.
In honor of the 50th anniversary of the 1966 inaugural season, McLaren has created the limited production McLaren 650S Can-Am which takes its inspiration from the race cars of this golden age of motorsport.
"Can-Am racing is a major part of McLaren heritage, and this latest model pays homage to the cars and the racers who played a key role in making the championship such a spectacle during the 1960s and 70s," said Paul Mackenzie, Executive Director of McLaren Special Operations.

Where lightweight materials such as aluminum and mallite were used in the construction of yesterday's racers, the modern-day version features extensive carbon fiber in the construction of its lightweight MonoCell chassis, retractable hardtop, hood, Airbrake, front splitter, rear bumper center, and door blades.
McLaren has also created a unique set of lightweight forged alloy wheels with a gloss-black finish on each of the five spokes and a diamond cut rim. Held in place by titanium bolts, the wheels are adorned with Pirelli P Zero™ Corsa tires. Carbon-ceramic brakes with black painted calipers are standard equipment.
The car will be offered in three bold colors: Mars Red, Papaya Spark, and Onyx Black. Each is additionally available with a corresponding racing livery to give an even closer visual association with the historic Can-Am series.
Further unique features include carbon fiber louvered front wings and a new quad-exit, polished stainless steel exhaust system.
The louvers are designed to reduce pressure over the front wheels and increase downforce, while the four circular tailpipes at the rear of the car housed within a new visual carbon fiber rear grille echo the aggressive throttle of the historic models.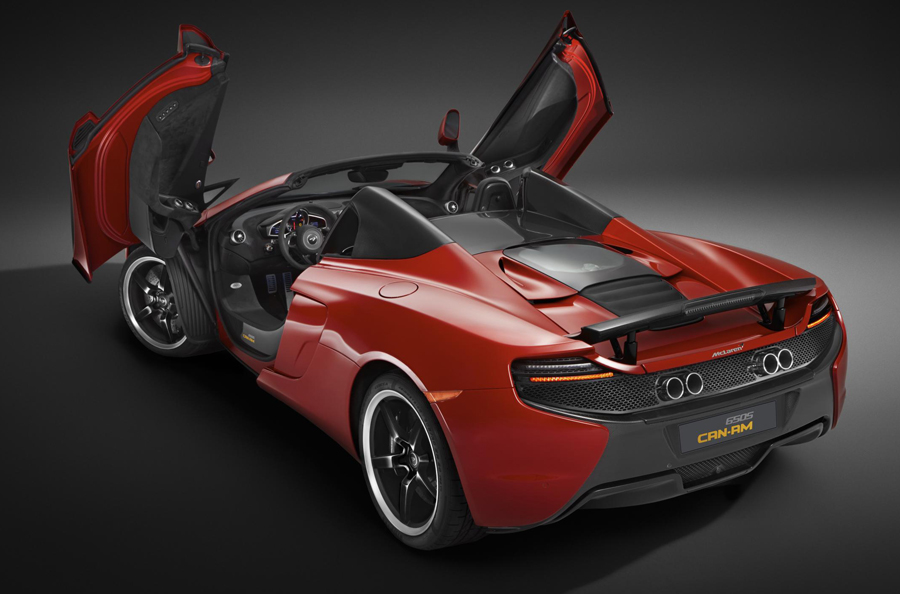 Like the McLaren 650S Spider, this limited production model features the award-winning 3.8-liter twin-turbo V8 which produces 650PS (641bhp) and 678Nm (500 lb ft) of torque.
The McLaren 650S Can-Am zips from zero to 60 mph in a mere three seconds and its top speed is 204 mph.
Inside, the standard sports seats are upholstered with leather and Alcantara which complement the exterior.
Carbon fiber naturally features extensively throughout the cabin while a further bespoke Can-Am touch is the unique dedication plaque on the driver's door.
The McLaren 650S Can-Am will be priced around $390,000 with deliveries set to commence in the spring of 2016. Order yours today because McLaren will only produce 50 cars globally.
Tweet us @mochamanstyle or leave a comment on our Facebook Page to share your thoughts on this article. Follow us on Instagram @mochamanstyle
Frederick J. Goodall is the Editor-in-Chief of Mocha Man Style, media spokesperson, event host, photographer, and a top social media influencer in Houston, TX. He likes to write about fashion, cars, travel, and health.