Houston is home to several craft breweries. One of my favorites is Saint Arnold's. It is not only the oldest brewery in the city, but it is also the best.
They have a wide variety of brews that will appeal to several tastes, and they often host fun and exciting events. I love to hang out there with friends, listen to music, and enjoy some great craft beer.
But sometimes, I don't feel like driving all the way across town to partake in one of Saint Arnold's libations.
The brewery is nearly 15 miles from my house, and Houston's traffic is horrendous. Sometimes it takes me more than 35-minutes to get there.
Fortunately, I don't have to make that long journey to enjoy a good beer because my local ALDI store has a full lineup of excellent brews (Click here to check availability at your local store. Available while quantities last. Items may not be available in all stores. Labels may vary by location. Prices may vary due to state and local laws.)
Okay, I know what you're thinking, "ALDI doesn't even have grocery bags. How can they have good beer?"
I must admit that I was skeptical at first. But when I entered the store and saw the wide selection of specialty beers on display, I was impressed.
Let's take the Boot Tread Belgian Amber Ale (5.20% alcohol), for example.
Imported from Belgium, this well-balanced amber ale is brewed with fresh Cascade and Saaz hops, biscuit malts, moderate bitterness, and a touch of roasted caramel in the finish.
It pairs well with steak, poultry, lamb, game, fish, pasta, pizza, and cheddar cheese.
I also sampled the Kinroo Blue Belgian White Ale. Also imported from Belgium, this beer is a perfect balance of orange peel, coriander, and hints of lemon citrus with a crisp, refreshing finish. Garnish with an orange peel to add to your taste experience.
It pairs well with light salads, seafood, bratwurst, mild cheeses, light desserts, or on its own.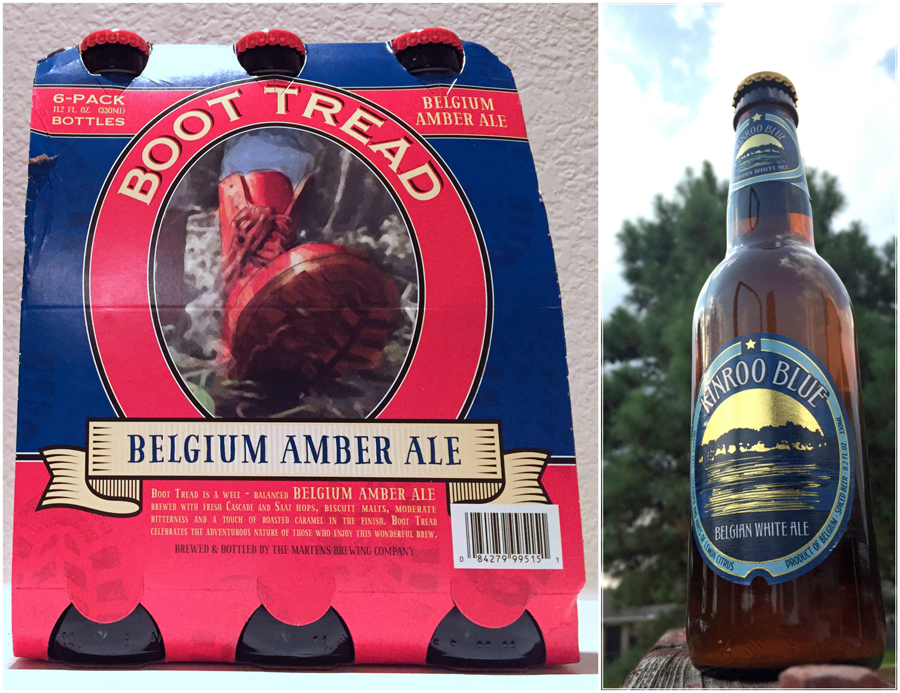 Since I love to cook, I decided to use these beers to create a delicious meal. Below you will find the recipe for my creation.
Seared Sirloin Steak with Poblano Peppers Recipe
Prep Time: 30 minutes
Cook Time: 30 minutes
Servings: 2
Ingredients
Main Course
1 Bottle of Boot Tread Belgium Amber Ale

2 8 oz Sirloin Steaks

1 Package of poblano peppers

1 t. Stonemill Essentials Garlic Powder

1 t. Stonemill Essentials Allspice*

Stonemill Essentials Peppercorn Premium Grinder*, to taste

Stonemill Essentials Sea Salt Grinders, to taste

2 T. Countryside Creamery Unsalted Butter

2 T. Carlinin Pure Olive Oil
Side Dishes
2 sweet potatoes

1 Kinroo Blue Belgian White Ale

Salt/Pepper, to taste

1 t. Stonemill Essentials Cinnamon

1 T. Country Creamery Unsalted Butter

Asparagus bunch
*Available while quantities last. All products may not be available in all stores. Prices subject to change.
Directions
Main Course
Place steak in a baking dish and season steak with allspice, peppercorns, sea salt, and garlic powder.

Pour Boot Tread Belgium Amber Ale beer over steak, cover dish with foil, place in refrigerator and marinate overnight.

When you're ready to cook steak the next day, remove from refrigerator at least 30 minutes before cooking.

Heat oven to 325 degrees.

Slice one whole poblano pepper, place in baking dish, coat with olive oil and place in the oven to roast for 20 minutes.

Heat cast-iron skillet on stove until extremely hot and add olive oil.

Place both steaks in the skillet and sear each side for 30 seconds.

Reduce heat and continue cooking steaks. Flip steaks with tongs every minute for even cooking.

Add about a 1/4 stick of butter and sliced poblano peppers to the skillet.

Baste steak with butter and cook until desired doneness (rare, medium, well done, etc).

Remove steak from heat and allow to rest for 3 minutes.
Side Dishes
Peel sweet potatoes and dice.

Heat skillet on the stove. When skillet is hot add butter and sweet potatoes.

Season potatoes with salt, pepper, and cinnamon.

Sautee the potatoes until they start to get tender.

Add beer and continue cooking until beer evaporates

Roast asparagus with salt, pepper, and olive oil.
Although this meal took some time to prepare, it was well worth the wait. Because sirloin steak is so lean, it can be tough and dry if it isn't prepared correctly. Marinating it in the Boot Tread Belgium Amber Ale not only made the steak tender and juicy, but it also gave it a bold flavor profile that worked well with the seasoning and poblano peppers.
The sweet potatoes also benefitted from being cooked in the beer. Kinroo Blue Belgian White Ale added an element of sweetness and citrus which was a perfect contrast to the steak's spiciness.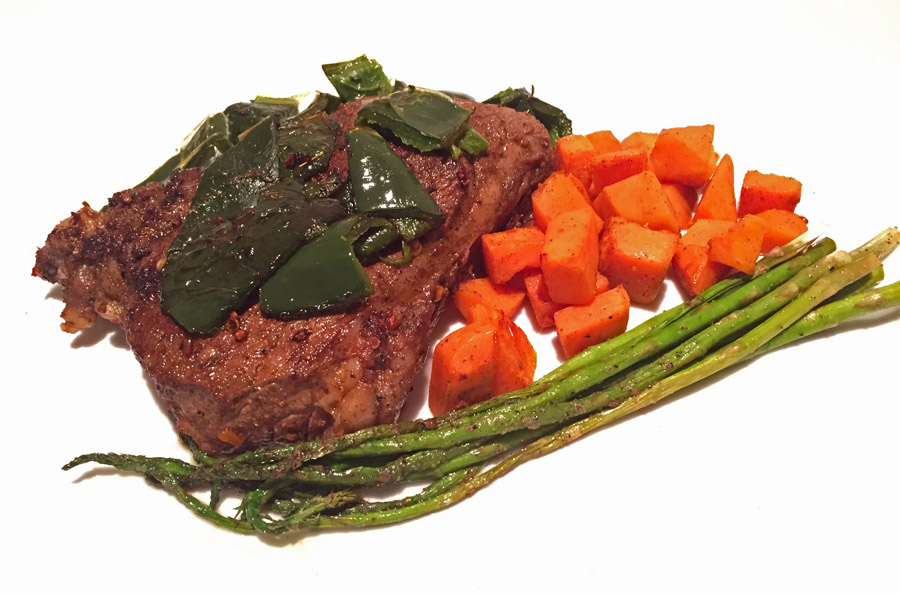 Whether you want to channel your inner Bobby Flay or simply enjoy a cold beer in your living room, the selection of specialty beers at ALDI will satisfy even the most ardent beer connoisseur.
Tweet us @mochamanstyle or leave a comment on our Facebook Page to share your thoughts on this article. Follow us on Instagram @mochamanstyle