Mopar continues to release new performance enhancements to the line already muscular Dodge vehicles. Earlier this year, they revealed the Limited Edition Performance Kits for the 2015 Dodge Charger R/T. Mopar's latest offering is the Mopar Dodge Challenger Drag Pak, a factory-prepped package car specifically geared for drag racing.
The new Mopar Dodge Challenger Drag Pak is designed for passionate Sportsman racers who compete in nationally sanctioned drag racing series, such as the National Hot Rod Association (NHRA). The new generation Drag Pak combines the latest in Sportsman racing technology, a host of upgrades and improvements from the previous generation Drag Pak and unique heritage design cues.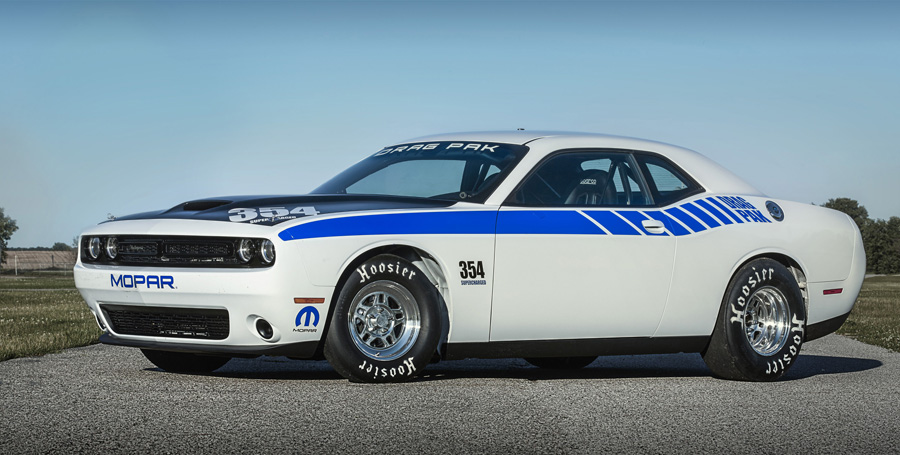 Under the hood is the supercharged 354 HEMI engine, with a cast-iron block, forged steel crankshaft, Mopar spec camshaft, and a custom performance engine calibration. Another engine option is the naturally aspirated 426 Race HEMI engine that is built off of a Mopar aluminum block with pressed-in steel liners and aluminum cylinder heads. Like the supercharged engine, the 426 HEMI also includes a custom engine calibration. The new Drag Pak features a race-prepped automatic transmission, upgraded from the previous generation vehicle, for both the 354 and 426 engine options. Each engine version carries a unique graphic identification package. The supercharged hot rod displays a Mopar Blue stripe and a "354 Supercharged" graphic insignia, while the naturally aspirated (N/A) Drag Pak sports a horizontal black stripe along its side with a 426 HEMI engine graphic identification.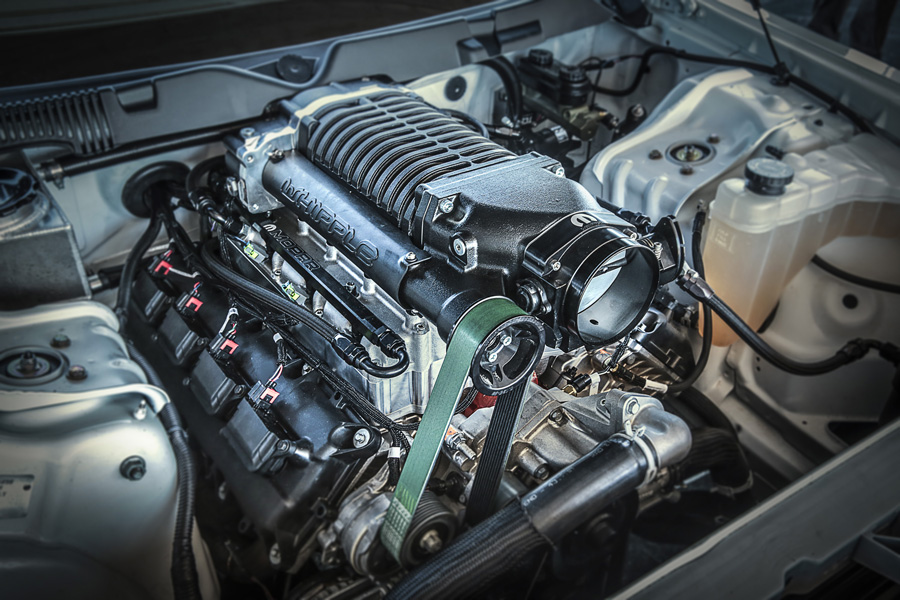 The vehicle's front suspension sports a unique Mopar K-Member and suspension geometry, with double adjustable compression and rebound struts. At the back of the car is a four-link suspension with Panhard bar, Strange Engineering 4-inch solid axle with a 9-inch aluminum third member, 40-spline gun-drilled axles, shocks with adjustable compression and rebound and an anti-roll bar. The rear axle mounting has been strengthened from the previous generation Drag Pak to help the car launch faster and harder.
The Mopar Drag Pak is equipped with 15-inch front and rear lightweight wheels displaying the unique Mopar logo. Mounted on those wheels will be Hoosier drag radials with front tires that measure 28 inches in diameter by 4.5 inches wide, and rear tires that are 30 inches in diameter by 9 inches wide. The car will also feature slotted front and rear brake rotors, with race-specific calipers and master cylinder.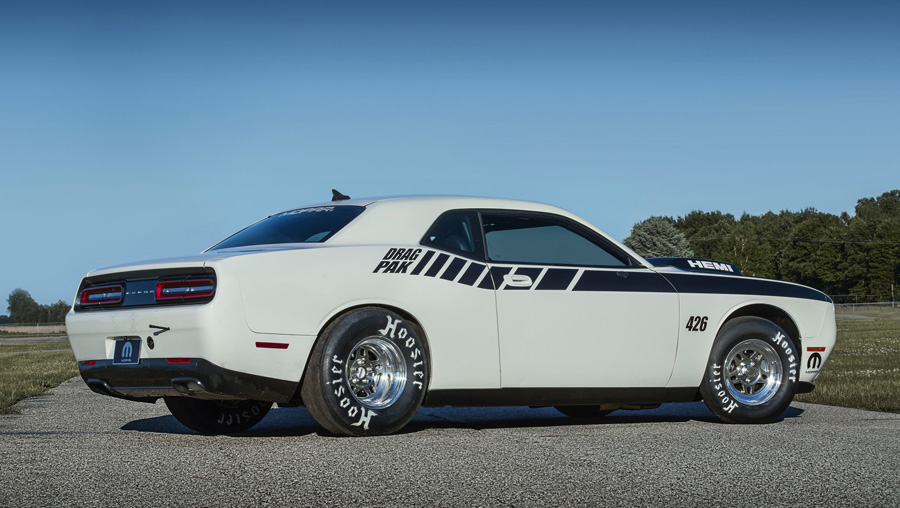 The cockpit reflects the Dodge Challenger interior, but with the addition of a Mopar gauge pack, driver, and passenger lightweight racing seats, along with a safety net and a five-point harness.
The Mopar Dodge Challenger Drag Pak will be open for ordering through authorized Dodge dealerships, beginning July 23. The MSRP for the naturally aspirated 426 version of the Mopar Challenger Drag Pak is a "cubic inch appropriate" $99,426, with the 354 supercharged race car available for $109,354 MSRP.
Tweet us @mochamanstyle or leave a comment on our Facebook Page to share your thoughts on this article. Follow us on Instagram @mochamanstyle
Frederick J. Goodall is the Editor-in-Chief of Mocha Man Style, media spokesperson, event host, photographer, and a top social media influencer in Houston, TX. He likes to write about fashion, cars, travel, and health.