Building a supercar that offers on-track speed, performance, and handling while remaining street-legal has been a challenge to car makers. However, Dodge has cracked the code with the hand-built 2016 Dodge Viper ACR. Certified for public roads and engineered to wring every last hundredth of a second out of road course lap times, the 2016 Dodge Viper ACR combines the latest in aerodynamic, braking and tire technology.
At the heart of the 2016 Viper ACR is the handcrafted, all-aluminum 8.4-liter V-10 overhead-valve engine, rated at 645 horsepower and 600 lb.-ft. of torque. Unique exhaust tips have been added to the side-mounted exhaust pipes to provide reduced exhaust pressure. Power reaches the pavement through the standard Tremec TR6060 six-speed manual transmission.
To bring all of that power to a stop, the 2016 Dodge Viper ACR features new Brembo Carbon Ceramic Matrix brakes for optimum braking performance with unprecedented brake fade resistance, and greater handling capability. The system uses 390-millimeter (15.4-inch) two-piece front rotors and 360-millimeter (14.2-inch) two-piece rear rotors. Front brakes use six-piston Brembo calipers while the rear brakes use four-piston calipers. The brakes work in conjunction with ABS and ESC specifically tuned for ACR to take into account the extra grip provided by the additional aero and specifically designed Kumho tires. Detachable front brake ducts provide additional cooling to the brake calipers for optimum track performance.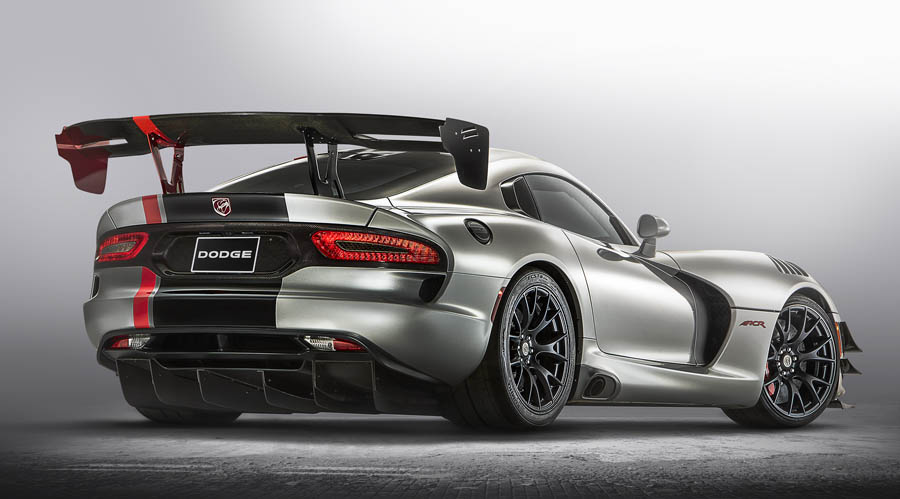 The high-performance Kumho Ecsta V720 tires have a unique tread pattern that produced laps times 1.5 seconds faster than off-road only race tires. Low-profile front tires measure 295/25/19 and are mounted on wider 11-inch wide wheels and when combined with the 355/30/19 rear tires provide the largest combined tire patch available on any production car. On the sidewall of the new tires is a unique raised ACR logo.
The Viper ACR's ABS and five-mode Electronic Stability Control system (Full-on, Sport, Track, Rain, Full-off modes) are specifically tuned for the car to take into account the extra grip offered by the extreme aerodynamic and tire package.
Aluminum bodied, double-adjustable coil-over Bilstein race shocks are designed specifically for the Viper ACR and work in conjunction with ride height adjustment for optimal control of weight transfer and handling performance. Each shock provides independent 10-way rebound and compression adjustability. The suspension package also provides more than 3 inches of ride height adjustment.
Front springs are rated at 600 lbs./in. and rear springs at 1,300 lbs./in., more than double the suspension stiffness of the Viper TA model. With unique race alignment and 1.4 degrees more negative camber than the entry SRT model, the 2016 Dodge Viper ACR is capable of sustaining more than 1.5 g on high-speed turns due to the combined chassis and aerodynamic improvements.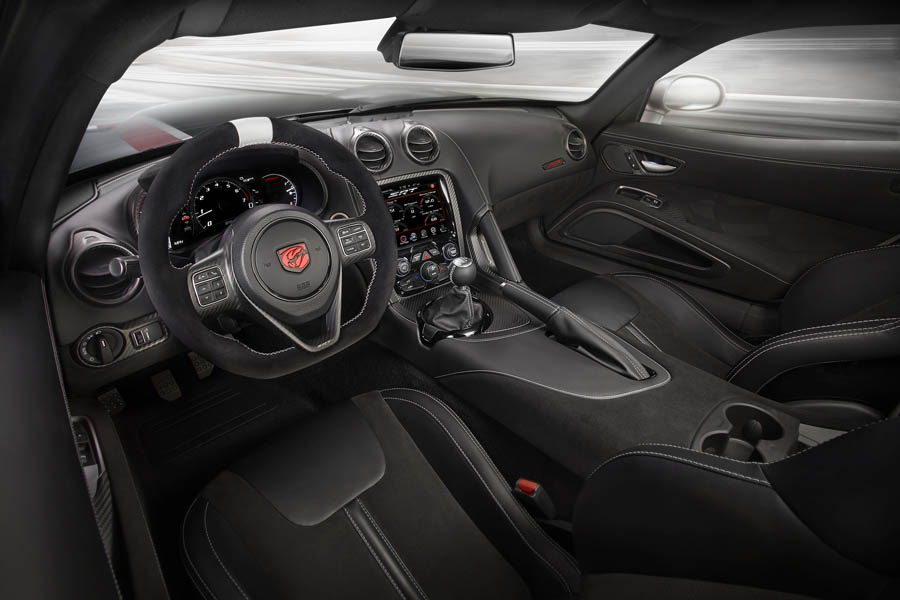 The inside of the new Viper is just as impressive. The instrument panel cluster hood, lower instrument panel and door armrest panels of the race-inspired interior are wrapped in unique Alcantara suede. A new, ACR-exclusive Alcantara wrapped high-grip steering wheel with color racing stripe and unique badging sets the ACR apart from other production models. New high-grip seats also carry the Alcantara inserts, while the unique dash plaque is finished in carbon fiber. You can choose between silver or Header Red accent stitching throughout the interior.
Applying Viper's exclusive '1 of 1' customization program to Viper ACR allows you to create your one-of-a-kind Snake from the ground up. With 8,000 exterior color options, 24,000 custom stripe colors, 11 wheel options, 16 interior trims and seven aero packages, three brake packages, and four suspension options there are more than 25 million ways for you to customize your 2016 Dodge Viper.
The 2016 Dodge Viper ACR goes on sale in the third quarter of 2015.
Tweet us @mochamanstyle or leave a comment on our Facebook Page to share your thoughts on this article. Follow us on Instagram @mochamanstyle
Frederick J. Goodall is the Editor-in-Chief of Mocha Man Style, media spokesperson, event host, photographer, and a top social media influencer in Houston, TX. He likes to write about fashion, cars, travel, and health.