The Mercedes-Benz Concept GLC Coupé is an expressive vehicle that combines stylistic features of a coupé with the design idiom of an SUV. At the front, a short, crisp overhang with upright radiator grille and twin-blade louver gives a first indication of the sporty philosophy behind the Concept GLC Coupé. The interplay with the high beltline, wide shoulders, and accentuated wheel lips gives rise to extreme proportions that lend the Concept GLC Coupé a thrilling dynamism.
A clear indication of the more prominent SUV genes is given by sill extensions reminiscent of the side running boards on a classic SUV. Flush with the outside edge of the body, wide 21-inch wheels with large, heavily profiled tires combine with the relatively high ground clearance to endorse the sportily dynamic off-road ambitions of the Concept GLC Coupé. But it is the styling of the rear end that most clearly accentuates the coupé genes of the concept vehicle. Narrow, split tail lights, centrally positioned brand star, and a sharp spoiler lip emphasize a design line that made its debut with the S‑Class Coupé and which all Mercedes-Benz coupé models have since followed.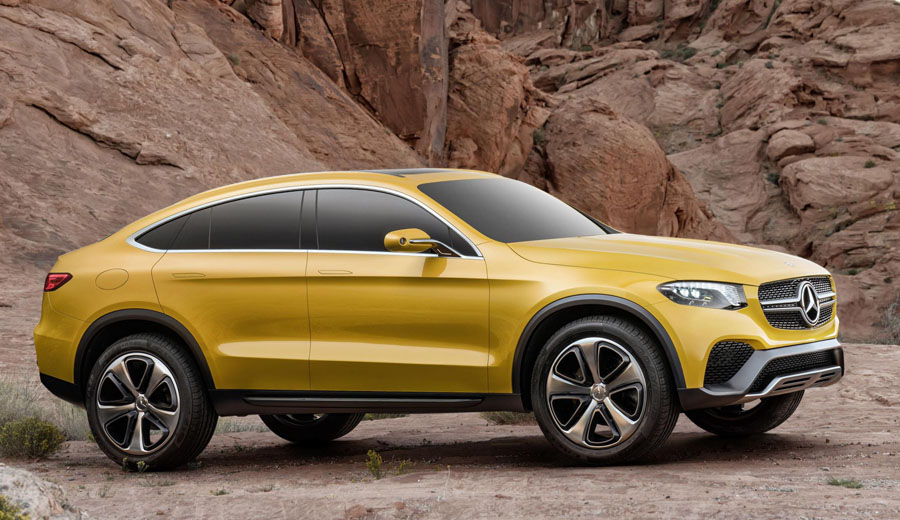 Reminiscent of light sculptures, striking LED headlamps decisively shape the expressive face of the Concept GLC Coupé. All functions are united in one housing: for illumination, the daytime running lamps and turn indicators use the upper strip inserts, dubbed "eyebrows" by the designers. Below them are three rotating lenses, which appear to positively float in the deep, three-dimensional space and which adapt to the situation to optimally illuminate the road or terrain.
The drive technology aboard the Concept GLC Coupé matches the vehicle's looks. A V6 engine delivering 367 hp makes for a highly sporty level of performance. Familiar from AMG sports models, the direct-injection biturbo engine is teamed with a 9G-TRONIC nine-speed automatic transmission and 4MATIC permanent all-wheel drive to provide the car with emphatic acceleration while at the same time giving an acoustically audible note to the impressive performance. Depending on the transmission mode setting, the tailpipes give off either a commandingly subdued rumble or the passionate sound of a high-powered sports car.
Mercedes-Benz has not indicated whether they will go to production with the Concept GLC Coupé. In any case, the Concept GLC Coupé will definitely have a huge influence on the Mercedes-Benz line-up possibly even spawning entirely new classes of vehicles.
Tweet us @mochamanstyle or leave a comment on our Facebook Page to share your thoughts on this article. Follow us on Instagram @mochamanstyle