People love all things Italian. The food, fashion, and design are coveted around the globe. Italian cars are in a class of their own and Fiat has been making swoon-worthy vehicles for decades. The brand's most iconic car is the Fiat 500 which helped to make Italy one of the leaders in auto design.
The Fiat Nuova 500 was "the right car at the right time," and on July 4, 1957, the hatchback marked the rebirth of FIAT and its product range. Exactly 3,893,294 examples of the historic Cinquecento were built between 1957 and 1975, helping to provide an attainable car for Italians and numerous other Europeans. Nearly 60 years later, Fiat commemorates its roots with the release the Fiat 500 1957 Edition.
Based on the Fiat 500 Lounge model, the 1957 Edition enhances its iconic silhouette with a vintage look, thanks to classic exterior colors for this limited-edition Cinquecento, including Bianco (white), Verde Chiaro (light green) or Celeste (celestial blue). Inspired by the 1957 Fiat "Nuova" Cinquecento, an exclusive 16-inch retro wheel design features a wide chromed lip, body-color accent, and large center cap with a historic "FIAT" emblem. For improved handling, a sport-tuned suspension and all-season performance tires are standard. Completing the look are throwback "FIAT" badges on the front fascia and rear liftgate.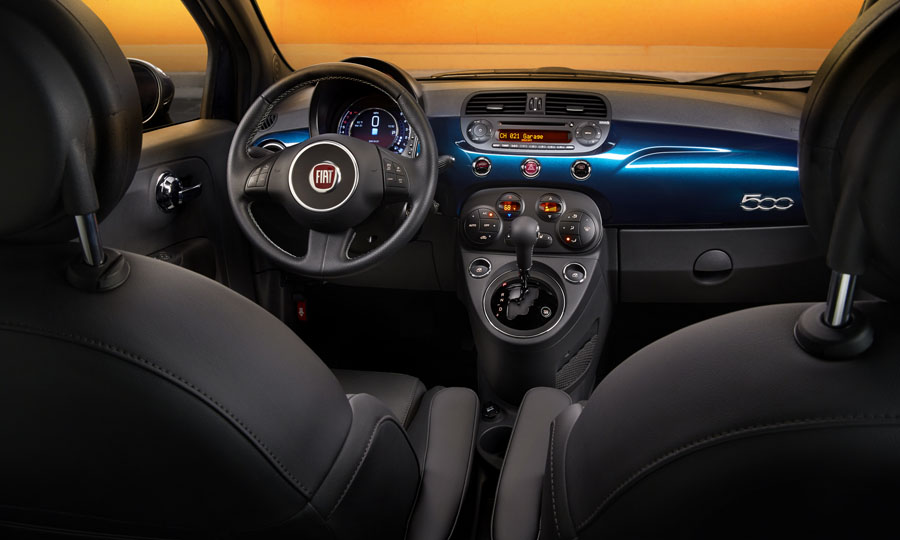 Continuing the 1957 Edition's vintage look is an Avorio (ivory) interior environment contrasted by premium Marrone (brown) leather seats. Avorio accent stitching crosses the seatbacks and seat cushions, while detailed stitching at the perimeter adds to the Cinquecento's craftsmanship. For added contrast, Grigio (grey) door panels feature a unique Avorio inner panel, while Marrone door armrests are color-keyed to the leather seats for a harmonious look. An exclusive Avorio leather-wrapped steering wheel is hand-stitched with Marrone leather on the "inner ring," and features a retro "FIAT" badge. Adding to the historic theme is a uniquely styled key fob with Marrone casing and Avorio-painted "1957" graphic. For driving enjoyment, the six-speaker and 276-watt FIAT premium audio system with SiriusXM Radio is also included.
The Fiat 500 1957 Edition features the innovative 1.4-liter MultiAir engine and C514 five-speed manual transmission, delivering an EPA estimated 31 miles per gallon (mpg) city and 40 mpg highway. With all FIAT products, engaging dynamics are essential, and the 1957 Edition includes a driver-selectable "Sport" mode on the instrument panel to unleash a more aggressive throttle map. Additionally, an optional six-speed automatic transmission with driver-selectable gear changes is also available.
Pricing for the well-equipped limited-production Fiat 500 1957 Edition starts at $24,700.
Tweet us @mochamanstyle or leave a comment on our Facebook Page to share your thoughts on this article. Follow us on Instagram @mochamanstyle
Frederick J. Goodall is the Editor-in-Chief of Mocha Man Style, media spokesperson, event host, photographer, and a top social media influencer in Houston, TX. He likes to write about fashion, cars, travel, and health.