The four-door BMW Gran Coupe, already widely recognized for aesthetic beauty and impressive driving performance raises the benchmark with the new 2016 BMW ALPINA B6 xDrive Gran Coupe.
This new coupe is refined, powerful, and beautiful to behold. The ALPINA design features blend seamlessly and stylishly into the surfaces and lines of the BMW 6 Series Gran Coupe, accentuating its dynamic, graceful silhouette. A new, more aggressive front spoiler and apron enclose the subtly-changed BMW kidney grille and shape the transition to the new hood with character chines.
Under the hood is a 4.4 liter V8 Bi-Turbo V-8 engine that delivers 600 horsepower at 6,000 rpm and maximum torque of 590 lb-ft at only 3,500 rpm. The new B6 xDrive Gran Coupe is capable of a maximum speed of 200 mph. With a 0 – 60 mph acceleration time of only 3.6 seconds, it is the fastest-accelerating BMW ALPINA model ever developed.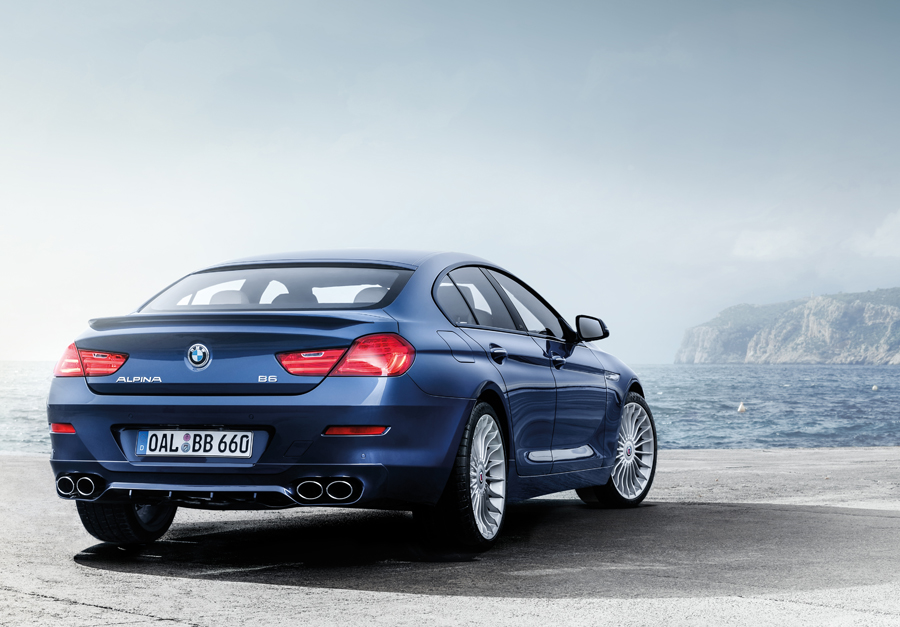 The advanced ALPINA SWITCH-TRONIC 8-Speed Sport Automatic transmission is perfectly tailored to the power and torque of the V-8 Bi-Turbo engine.
In Automatic (D) Shift Mode, the flexible blend of eight speeds and high torque makes for smooth gear changes only a torque converter can provide. Explicitly programmed for comfort, the B6 Bi-Turbo Gran Coupe glides effortlessly and efficiently at low engine speed and tall gears, offering unmatched cruising ability.
In Sport (S) Shift Mode, the transmission becomes significantly more dynamic, gear changes are executed faster and feedback becomes more direct. The system allows for multi-simultaneous downshifts in only milliseconds, wherein the transmission will skip several gears depending on engine loads and speeds to select the most favorable gear for optimum acceleration.
The Manual (M) Shift Mode allows full driver control over the transmission. The ALPINA SWITCH-TRONIC buttons are ergonomically mounted on the rear of the steering wheel, their actuation allowing the driver to shift up or down as required. A unique feature of the transmission software in Manual (M) Shift Mode in combination with the selection of Sport+ or DSC OFF Mode using the Driving Dynamics Control button is the cancellation of automatic upshift function. In this mode of operation, the transmission will maintain the selected gear up to maximum engine speed and will not automatically upshift to the next gear. This is desirable in certain driving situations, for example during especially dynamic driving on roads with multiple tight hair-pin corners, or on race track segments featuring pronounced elevation change.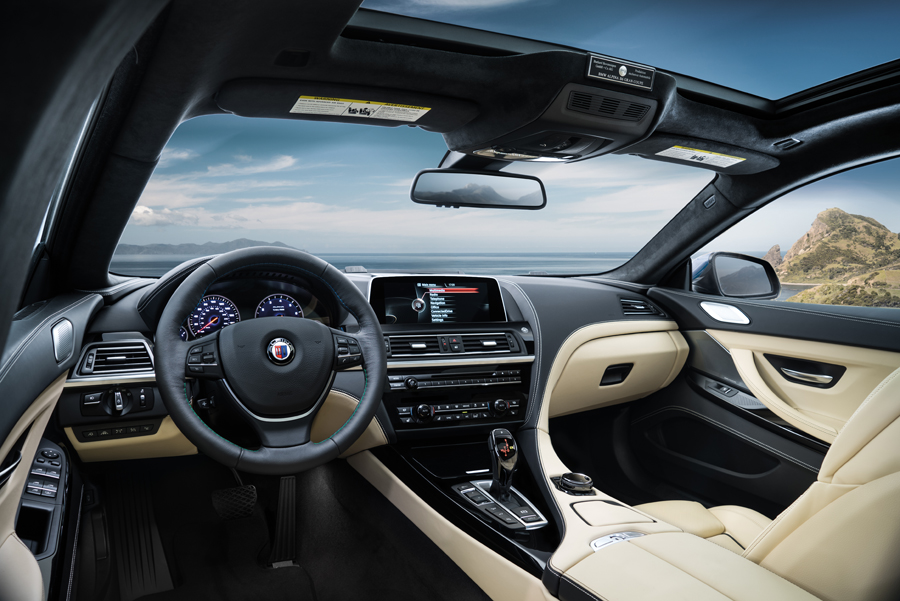 The B6 xDrive Gran Coupe's chassis and suspension technology build upon the basis of a BMW double-wishbone front suspension and integral rear axle. Furthermore, it utilizes sophisticated electronic suspension technologies including Dynamic Damper Control (adjustable, adaptive shock absorbers) and Adaptive Drive (BMW Active Roll Stabilization). This allows the driver to change the chassis and suspension settings distinctly between Comfort+, Comfort, Sport, and Sport+ using the Driving Dynamics Control rocker switch.
Inside, the new B6 xDrive Gran Coupe has a comprehensive, comfort-orientated range of standard equipment, a luxurious interior, and only the highest-quality materials. Nappa leather and a leather instrument panel remain standard in addition to essential features such as electric comfort seats. The BMW Navigation system with BMW ConnectedDrive services is also standard. Blue ALPINA instrumentation, an ALPINA steering wheel covered in hand-stitched LAVALINA leather, the ALPINA production plaque overhead, door sill trims with blue illuminated ALPINA lettering, and the classic ALPINA luxury wood trim in Myrtle or Piano lacquer – these are some of the exclusive features of the B6 xDrive Gran Coupe's interior.
The BMW ALPINA B6 xDrive Gran Coupe is available as a special-order vehicle with capacity-limited production.
Tweet us @mochamanstyle or leave a comment on our Facebook Page to share your thoughts on this article. Follow us on Instagram @mochamanstyle
Frederick J. Goodall is the Editor-in-Chief of Mocha Man Style, media spokesperson, event host, photographer, and a top social media influencer in Houston, TX. He likes to write about fashion, cars, travel, and health.