Ford continues to push the envelope with its performance vehicles. Engineers and designers are feverishly working on the Blue Oval's plan to bring more than 12 performance vehicles to customers around the world through 2020. The onslaught began in January when Ford unveiled three new performance vehicles at NAIAS including the Mustang Shelby 350GT, 2017 Ford Raptor, and the jaw-dropping Ford GT. The trend continues with the introduction of the all-new Ford Focus RS.
"The RS line has a proud history of technical breakthroughs," said Raj Nair, group vice president, Global Product Development, Ford Motor Company. "It's a great example of our passion for innovation through performance, and creating vehicles that make people's hearts pound."
Sporting a dramatic exterior design that delivers enhanced aerodynamics and cooling. Designed with a more powerful and muscular character, the Ford Focus RS will be offered in a choice of four-coat metallic finish Nitrous Blue, Shadow Black, Magnetic Grey, and Frozen White.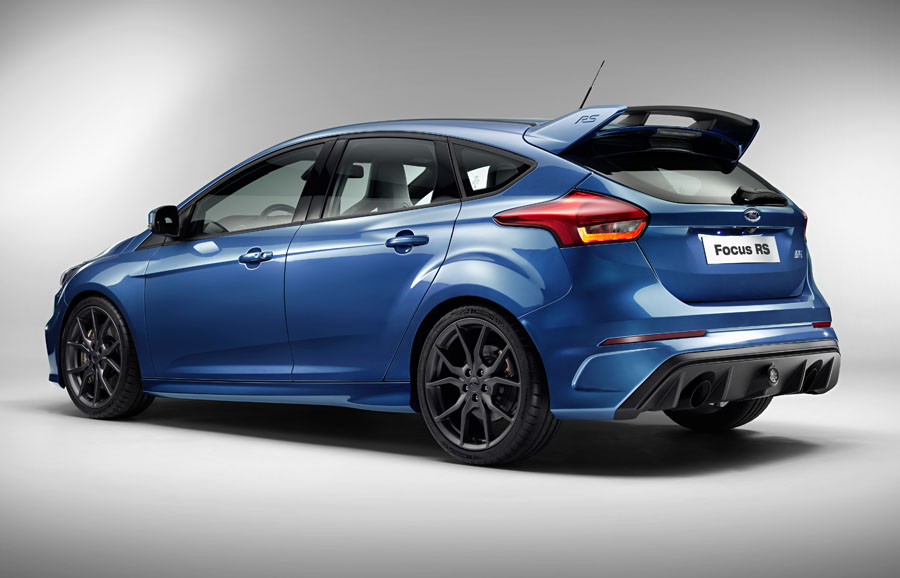 The high-performance hatchback's EcoBoost engine shares its fundamental structure with the all-aluminum four-cylinder engine in the all-new Mustang. This engine has, however, been significantly upgraded through a comprehensive package of design changes to deliver a projected output well in excess of 320PS. Ford Performance All-Wheel-Drive with Dynamic Torque Vectoring delivers a new level of handling capability and driver enjoyment, combining outstanding traction and grip with unmatched agility and cornering speed.
The all-new Focus RS also introduces advanced performance technologies and is the first Ford RS equipped with selectable Drive Modes – including an industry-first Drift Mode that allows controlled oversteer drifts – and Launch Control.
"This is the ultimate Focus – stunning to look at and entirely fit for purpose," said Joel Piaskowski, director, Design, Ford of Europe. "RS models have always been striking, high-performance cars where function is paramount. This new Focus RS is true to that heritage."
Inside, the Ford Focus RS features racing seats, a performance steering wheel, and a high-tech dash that includes Ford's SYNC connectivity system.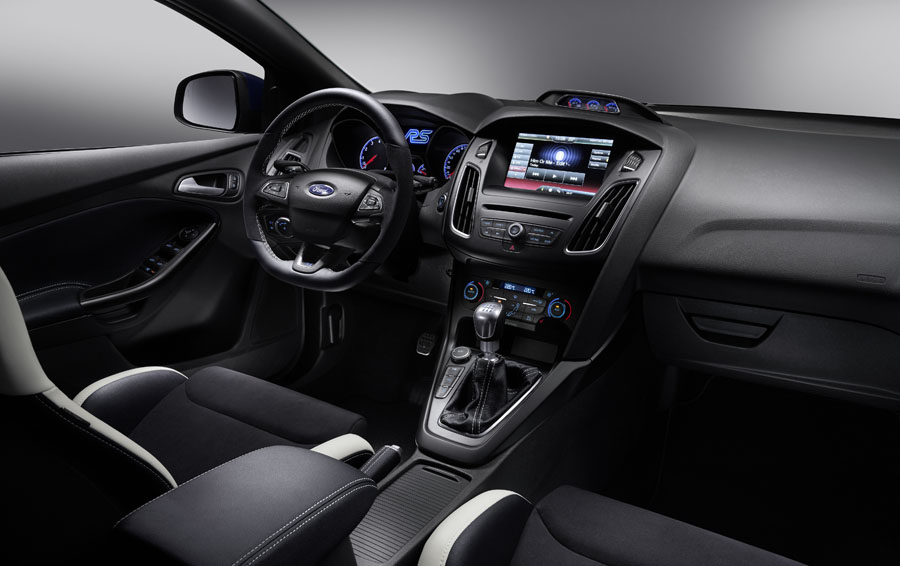 Developed by a small team of Ford Performance engineers in Europe and the U.S., the new Focus RS is the third generation of Focus RS cars, following models launched in 2002 and 2009. The 30th car to wear the legendary RS badge, the Ford Focus RS will be built in Saarlouis, Germany, from late this year.
This is the first-ever Ford RS vehicle to be sold in the U.S. and will be offered in markets all over the world.
"Customers have begged for the Focus RS to come to the United States for years," said Raj Nair, group vice president, Global Product Development, Ford Motor Company. "And now we can say that they are getting one of the most innovative, powerful, and best-looking RS cars ever."
Tweet us @mochamanstyle or leave a comment on our Facebook Page to share your thoughts on this article. Follow us on Instagram @mochamanstyle