In Texas, trucks are king. More Texans drive pickup trucks than drivers in any other state; 20 percent of motor vehicle registrations versus 12 percent national average. That's why manufacturers have scrambled to design trucks specifically for Texans. In 2002, Ram Truck was the first manufacturer to offer an exclusive edition for the state – The Ram Lone Star edition. The Ram Lone Star edition is by far the brand's best-selling model in Texas, accounting for nearly 40 percent of the half-ton mix. Since the Lone Star's debut, Ram has sold more than 230,000 of the Texas-only models (Ram has also been named Truck of Texas by the Texas Auto Writers Association).
In 2010, Ram introduced the Ram Laramie Longhorn edition, a luxurious truck with impeccable leatherwork and interior detail. Now Ram has stepped up their game with the introduction of the Texas Ranger Concept Truck. The Ranger edition is identified by unique Texas Ranger badging designed to represent the Mexican five-peso coins from which Ranger badges are tooled. Representative of those star-and-wheel badges, large five-pointed milled-aluminum emblems are mounted to the front driver and passenger-side fenders. A third milled-aluminum Texas Ranger badge adorns the concept truck's tailgate. Each of the four polished-aluminum 20-inch wheels also gets a milled-aluminum Texas Ranger center cap.
The Texas Ranger edition is painted in a Bright White and Bright Silver Metallic two-tone color scheme.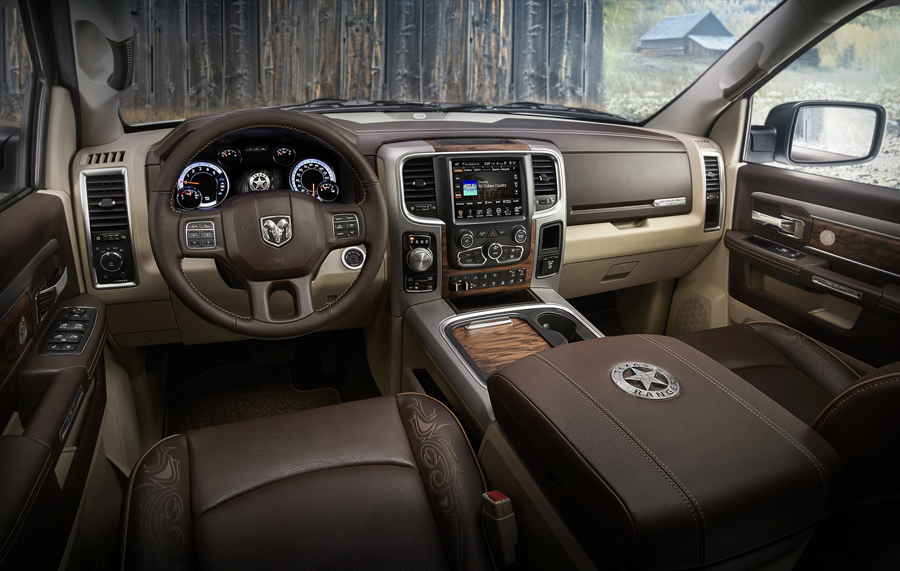 The interior of the Ram Texas Ranger concept is also loaded with Ranger design cues. Among the most notable are four real Mexican five-peso silver coins inlaid within the wooden portions of the door bolsters. Front doors have the obverse or "heads" side and rear doors contain the reverse or "tails" side of the coin. The Canyon Brown and Tan leather seats, wood-grain finishes, and tooled-metal details add a touch of refinement to this special edition pickup truck.
Although the Ram Texas Ranger edition was designed as a one-of-a-kind concept that will tour Texas and help build awareness for the Texas Rangers Hall of Fame and Museum, officials have not ruled out a possible production run. If it does become a production vehicle, the Ram Texas Ranger edition will be a worthy contender in the competitive Texas truck market.
Tweet us @mochamanstyle or leave a comment on our Facebook Page to share your thoughts on this article. Follow us on Instagram @mochamanstyle