I've driven several cars in the Kia lineup and I've been impressed by their performance. However, I must admit that I was surprised when I learned about Kia's racing team because I never associated the brand with motorsports. After spending a day watching the Kias race at the Circuit of the Americas, I've become a convert.
In 2010, Kia partnered with Kinetic Motorsports, to develop a world-class racing team. With the launch of the 2010 Forte Koup, a vehicle that dramatically different from previous Kia vehicles, Kia and Kinetic Motorsports moved forward with plans to let the world know what Kia's vehicles were capable of. To showcase the performance, reliability, and quality of the Forte Koup, the team placed it on the track to compete against other vehicles in its class.
In that inaugural year of racing, Kia learned a lot about motorsports and what it takes to win.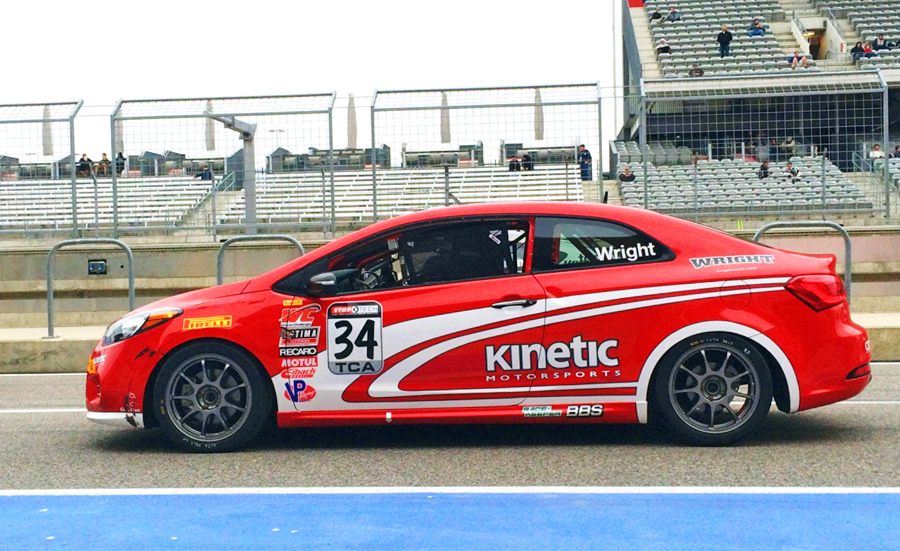 They took those lessons and apply them to Kia's most popular vehicle, the Optima. Kinetic Motorsports and Kia worked together to turn the sedan into a world-class race car that is capable of competing in the Pirelli World Challenge Championships. In 2012, the Optima held it's own against heavy hitters in the world of motorsports like Acura, Aston Martin, Chevrolet, Ford, and Porsche. Kia's race cars captured two pole positions, two victories, and six podium finishes.
At Circuit of The Americas, I spent time in the Kia Racing trailer with the crew and drivers, Ben Clucas and Mark Wilkins. The team showed me the Optimas they would be racing and explained what it took to get them race-ready.
"The Optima was already a very capable car," said Clucas. "It was solid right out of the factory. We only had to make a few enhancements to the engine, add some Pirelli tires, and do some bodywork. The only major alteration we had to do was install a sequential manual gearbox because the stock Optimas don't have a manual option. We had to get special permission from the race authorities to make this modification."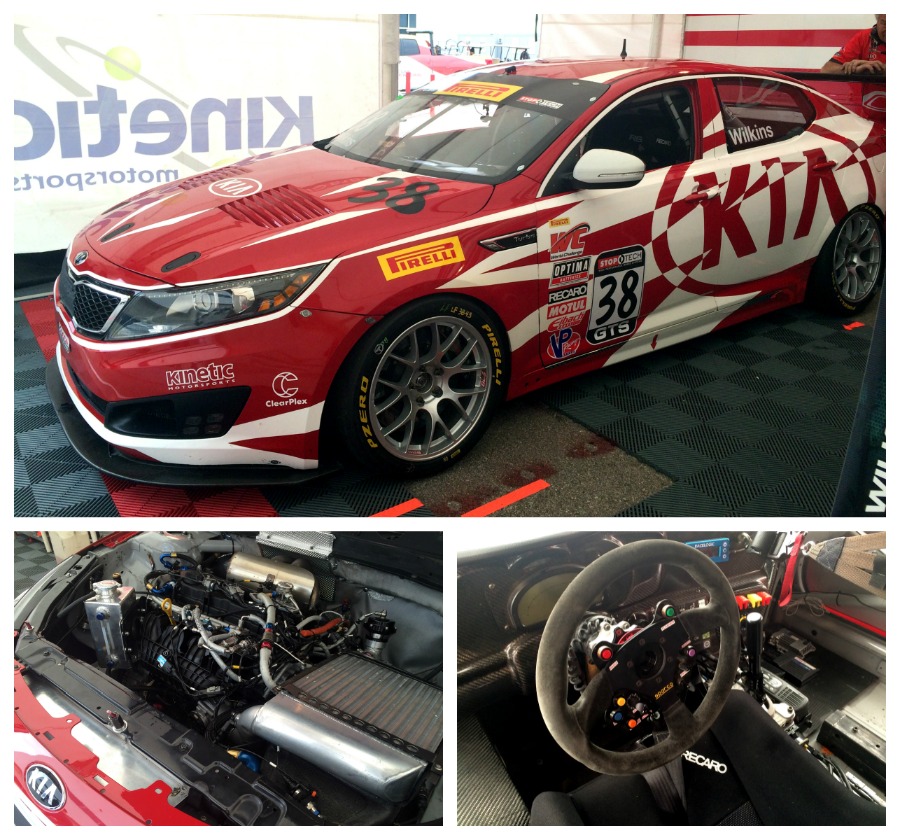 Kia Racing's defense of the Grand Touring Sport (GTS) Manufacturer Championship got off to a strong start with second and fifth-place finishes during the Pirelli World Challenge (PWC) season-opening weekend at Circuit of the Americas (COTA) in Austin, Texas. Clucas, the pilot of the No. 36 DonorsChoose.org Kia Optima turbo, followed up a top-five finish in Saturday's round one with his first-career PWC podium in Sunday's rain-soaked round two.
"The Kinetic team made numerous changes in a very short period of time following the Sunday morning practice session to get us ready to race in the rain – so many changes, actually, that we thought we might be late getting the cars on the grid," said Clucas. "But the team did a great job of setting up for the wet track, so it made my job much easier when the race began. The Kia Optima is really good in the wet; it's just a challenge getting the power down with minimal wheelspin coming off the corners, but I'm very pleased to get some solid points on the board for Kia as we start our defense of the GTS Manufacturer Championship."
In addition to a top-five finish in round one, Clucas also earned the "Hard Charger Award" for moving up the most spots on track – starting eighth and finishing fifth. It was exciting to watch him make his moves on the track and overtake Mustangs, Camaros, and other muscle cars. I was most impressed that he did it in a front-wheel-drive car.
Teammate Wilkins, in the No. 38 B.R.A.K.E.S. Kia Optima turbo, battled hard all weekend, finishing seventh and sixth in rounds one and two, respectively. He suffered a broken front shock absorber in round one, which took him out of podium contention, yet still managed to claim the "Move of the Race" with a phenomenal overtaking move exiting turn one.
"We fought hard all weekend, but never really got ourselves completely dialed into where I could contend upfront for a win. It was a real challenge, but we'll be back and ready to go in St. Pete," said Wilkins. "It was a good weekend overall for points for Kia, and I'm proud of Ben for capturing his first podium in this series – the first of many, I think. He's got a lot of talent, and I look forward to a great season with him as my teammate."
In addition to the factory-backed GTS Optima program, the Kinetic Motorsports privateer TC-A Kia Forte Koup program kicked off the first three rounds of their season at COTA. Defending class champion, Wolfe, in the No. 36 Richard Wolfe Trucking Kia Forte Koup, scored two podium finishes during the weekend, including a win in round three on Sunday in the rain.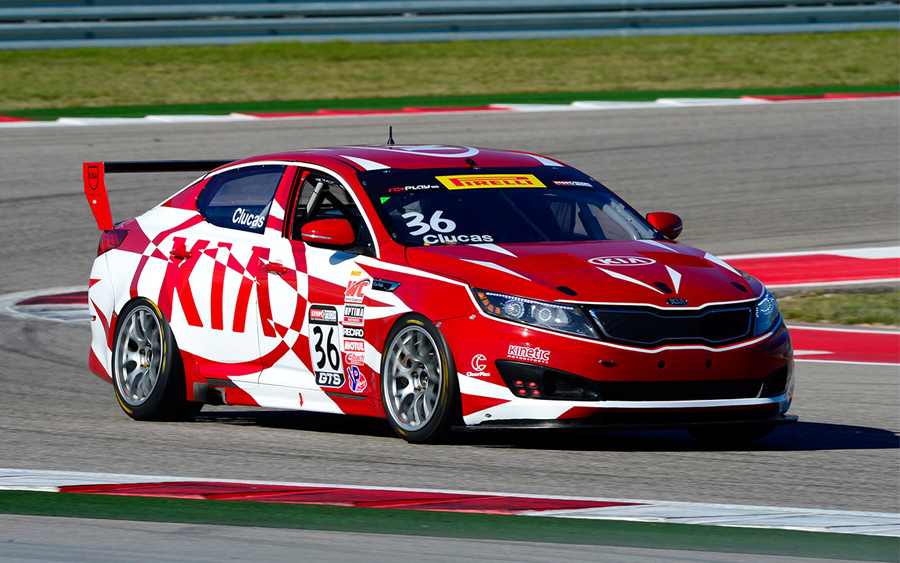 In addition, Kinetic Motorsports' privateer Kia Forte Koup program, which claimed the Touring Car A (TC-A) class Manufacturer Championship for Kia last year, also started the season off in fine style, scoring two podium finishes, including a win for Jason Wolfe – last year's Touring Car A (TC-A) Driver Champion and Rookie of the Year.
* * * * *
Tweet us @mochamanstyle or leave a comment on our Facebook Page to share your thoughts on this article. Follow us on Instagram @mochamanstyle
Frederick J. Goodall is the Editor-in-Chief of Mocha Man Style, media spokesperson, event host, photographer, and a top social media influencer in Houston, TX. He likes to write about fashion, cars, travel, and health.