This post is sponsored by Discount Tire. All opinions are my own.
Every year, I rack up thousands of miles on the road.
As an auto journalist, I have to drive between Houston, Austin, San Antonio, Dallas, and Galveston to cover car shows, manufacturer events, and auto races.
To maintain this demanding schedule, I prepare my car for road trips by getting regular tune-ups, oil changes, brake checks, and tire inspections and rotations.
Recently, I had to travel to Austin to cover a race at the famed Circuit of the Americas.
On the way to the race, I noticed that my air pressure warning light was on.
I was losing pressure in the passenger-side rear tire.
I'm a bit paranoid about my air pressure because I've had several blowouts in my lifetime and I hate changing tires on the side of the road because of the inherent danger associated with it.
Thankfully, there was a Discount Tire store a couple of miles from my house.
I entered the store and the salesperson greeted me with a smile.
I told him the problem and we went outside to have a look at the tires.
As we approached the car, we could hear a hissing sound.
Upon closer inspection, we discovered the problem.
A shard of concrete was embedded in my rear tire.
Although my car warned me about the air pressure problem before it became serious, many older cars don't have a warning indicator.
If your car doesn't have a pressure sensor, be on the lookout for these symptoms of low air pressure:
Pulling or vibration that seems unnatural.
Ticking sounds, which will be especially audible at slow, parking lot speeds.
A bulging sidewall and/or excessively hot tire indicates a slow leak.
Sometimes the tire can be repaired, but if the puncture is close to the tire's sidewall, it will have to be replaced.
That was the case with my car.
The salesperson told me the patch would not adhere properly and would come off after a few miles of driving.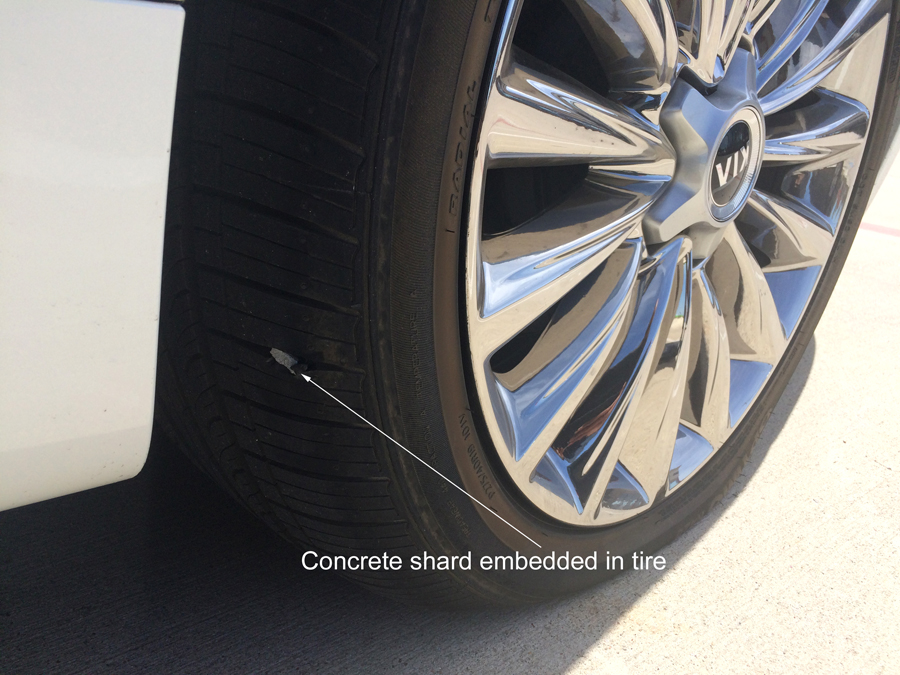 Since the tire couldn't be fixed, we went back inside to search for a replacement tire.
The salesperson searched the inventory and couldn't find a match because the tires on the Kia K900 were an unusual size.
He called several local stores but came up empty.
Therefore we had to order the tires and have them installed another day.
In the meantime, the salesperson had a technician inspect the rest of my tires and install the spare (I had a full-size spare and I didn't have to worry about driving on a donut).
After the inspection, the technician gave my tires a clean bill of health and I was ready to drive to the race.
Be sure to schedule your free tire inspection and air pressure check at Discount Tire.
Failure to maintain the correct air pressure can result in poor gas mileage, reduce tire life, affect vehicle handling, and cause vehicle overload.
The inspection only takes a few minutes and can help keep your car in top shape.
Tweet us @mochamanstyle or leave a comment on our Facebook Page to share your thoughts on this article. Follow us on Instagram @mochamanstyle
Frederick J. Goodall is the Editor-in-Chief of Mocha Man Style, media spokesperson, event host, photographer, and a top social media influencer in Houston, TX. He likes to write about fashion, cars, travel, and health.