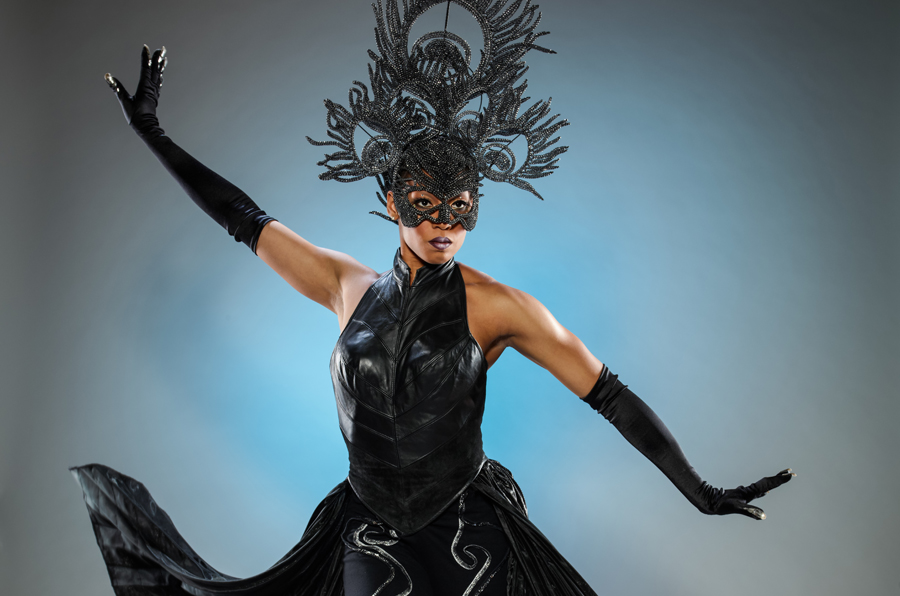 A Cirque du Soleil show is a feast for your senses. You will marvel at the gorgeous costumes, the intriguing music, the graceful dancing, and the amazing feats of strength, flexibility, and athleticism. Cirque du Soleil's newest show, Amaluna, featuring a cast that comprises 70% women, gives you all of that and more.
Loosely based on Shakespeare's The Tempest, Amaluna invites the audience to a mysterious island governed by Goddesses and guided by the cycles of the moon. Unlike the island in The Tempest, Amaluna is solely inhabited by women (and a mischievous lizard man). Their queen, Prospera (i.e, Prospero from The Tempest), directs her daughter's coming-of-age ceremony in a rite that honors femininity, renewal, rebirth and balance which marks the passing of these insights and values from one generation to the next.
In the wake of a storm caused by Prospera, a group of young men lands on the island, triggering an epic, emotional story of love between Prospera's daughter and a brave young suitor. But theirs is a love that will be put to the test. The couple must face numerous demanding trials and overcome daunting setbacks before they can achieve mutual trust, faith and harmony.
As expected Amaluna delivers plenty of excitement with high flying acrobatics, contortionists, and a pulsating soundtrack performed by an all-female band with a lead guitarist who can shred with the best of them. However, the show seemed to lack any emotional connection. I found myself wondering why I should care for any of the lead characters. The story-telling lacked depth and simply didn't draw me in. I was also a bit confused by some of the comedic interludes between set changes. While they were entertaining and allowed the actors to interact with the audience, they did little to move the story forward.
Fortunately, Amulana's visuals more than made up for these shortfalls.
The talented cast of mostly ex-gymnasts represents seventeen different nationalities all represented by flags at the entrance of The Big Top. They managed to meld their talents and cultures into a beautiful montage of grace and skill. While the highly-flying, fast-paced acts keep the audience on the edge of their seats, I was drawn into the quieter moments of the show. The water bowl scene with the daughter and her suitor, for example, was fascinating to watch. The scene not only had all of the elements that have made Cirque du Soleil's shows so popular, but it also had an intimacy that drew me into the character's world.
Although Amaluna has a strong female slant, it is a show that will appeal to both men and women.
"I wanted to create a show with women at the center of it," said Director Diane Paulus. "Something that had a hidden story that featured women as the heroines."
Amulana succeeds in this area by presenting strong female characters who can hold their own on stage. I only wish that their story wasn't lost in the spectacle of the show.
Cirque du Soleil: Amaluna
Directed by Diane Paulus. Tickets: $40 -$290. Run-time is about 2 hours 10 minutes, including a 25-minute intermission. Presented through March 22 at Sam Houston Race Park. Visit Cirque du Soleil: Amaluna for ticket information.
*     *     *     *    *
Tweet us @mochamanstyle or leave a comment on our Facebook Page to share your comments on this article.
Subscribe to Mocha Man Style on Feedio for daily updates in your inbox.
Fashion Feb 12, 2020
Art, Living, & Design Jan 23, 2020
Health, Fitness, & Grooming Dec 20, 2019
Letter from the Editor Dec 1, 2019