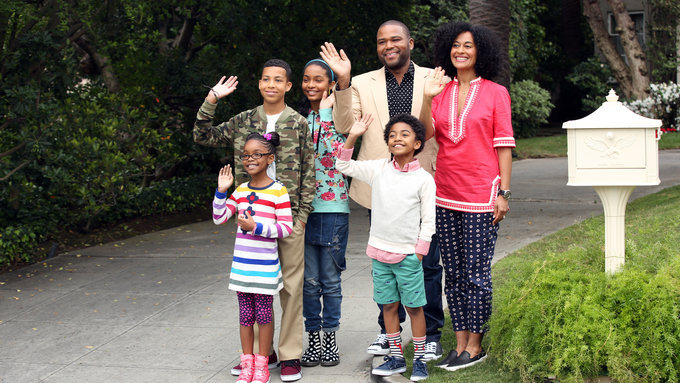 I feel as if "black-ish" is the story of my life. Like Anthony Anderson's character, Andre Johnson, I also grew up in a poor neighborhood and eventually achieved the "American Dream" of landing a high-paying job and owning a house in the suburbs.
I can fully relate when Johnson says, "The only problem is, whatever American had this dream probably wasn't where I'm from. And if he was, he should have mentioned the part about how when brothers start getting a little money, stuff starts getting a little weird."
As I sent my daughter to private school, ballet lessons, and soccer practice, I began to wonder if I had achieved this dream at the expense of my culture. After this bit of soul-searching, I made a conscious effort to fill my house with African-American literature, music, and art.
However, I still didn't feel as if I was doing enough to keep my family connected to our culture. I was conflicted because I also wanted my children to experience the fullness of this American life without being pigeonholed or having to worry about race as an issue.
Anderson expresses this dichotomy throughout the new sitcom, black-ish (ABC, 9:30 ET/PT). Whereas his character, Johnson, is proud of his accomplishments, he wonders if they've caused him and his family to forget what it means to be black.
Johnson, who works at an advertising agency, is on the verge of a major promotion. Although he is thrilled by the prospect of being an executive at the company, his joy quickly turns into despair when he starts to wonder if he was promoted simply because of his race.
This event sets off a chain reaction that causes Johnson to question what it means to be black in America. The breaking point comes when Johnson discovers that his son is trying out for field hockey and wants to change his name and have a bar mitzvah.
Johnson has a meltdown and declares that he wants to family to be "not black-ish, but black." From that point on, Johnson is on a quest to help his family to become more black by any means necessary.
black-ish is sure to be compared to The Cosby Show. However, the similarities don't go much further than the shows' being about an affluent African-American family.
Whereas The Cosby Show played it safe and focused on universal family-related themes, black-ish treads on racial issues and stereotypes that The Cosby Show wouldn't dare touch (to be fair, The Cosby Show did address racial issues; however, the approach was more subtle).
Because of its candor, I wonder how the general public will respond to the show. While it is funny, the show's topics could make people a bit uncomfortable.
But that's what good TV should do. Shows like "All in the Family" were successful because they forced us to face our own prejudices and have a dialogue about them. black-ish has the opportunity to continue this tradition.
---
Tweet us @mochamanstyle or leave a comment on our Facebook Page to share your thoughts on this article. Follow us on Instagram @mochamanstyle