I've owned a couple of SUVs in my lifetime. Both were relatively small and suited my needs as a single guy. Things changed when I got married and had kids. Suddenly a small SUV was inadequate for my family of five. I spent a week with the 2014 Toyota Sequoia to find out if it could suit my current lifestyle.
The Sequoia is a big, rugged vehicle – the Chuck Liddell of SUVs. It's the kind of SUV that makes puny subcompacts shiver in their chassis. The Sequoia's macho exterior will make you want to drive to the top of Mt. Everest in search of a Yeti (note to Toyota – Design a Yeti Edition for 2015). It's that tough. I think I may have preferred to hunt an abominable snowman instead of what I actually did with the Sequoia – shuttle 6 teenage girls around Houston.
My daughter decided to have a slumber party to celebrate her 13th birthday. She invited five of her closest friends and planned several activities including going to the movies, having dinner at her favorite restaurant, and getting their nails done. If she had planned to do all of these things around the same time, that would have been cool. However, she decided to space them out throughout the day. Therefore I had to make several trips between my house and various locations.
The Sequoia's interior space was a God-send. With two captain chairs in the second row and a bench seat in the third row, all of the girls fit comfortably inside. My daughter, unfortunately, had to sit in the front with me instead of in the back with her friends. She was upset about it until she realized that she could use the Entune system to DJ their mobile party. She synced her phone, opened her Pandora app to her Ariana Grande station, and started cranking out the jams.
I must admit I was a bit disappointed by the size of the Sequoia's touch screen. It was so small that it was almost laughable. Considering the size of the vehicle, I would have expected a much larger interface. My daughter didn't seem to care about the size of the screen, though. She was only interested in dancing and singing with her friends as I drove them to their first destination.
I dropped the girls off at the movies and spent the next two hours getting a feel for how the Sequoia drove. The Sequoia is powered by a 5.7-liter V8 engine with 381 horsepower and 401 pound-feet of torque. That's enough power to take your whole family to the lake towing a decent size boat (I towed a small watercraft and had no problems). Although the Sequoia shares underpinnings with the Toyota Tundra, it has a smoother ride. The four-wheel independent suspension improves the handling and helps to keep the vehicle stable. However, these refinements don't take away from the Sequoia's ruggedness. At its core, it's still a truck and it feels like one.
After the movie ended, I picked up the girls and took them to the restaurant. At dinner, I learned several things:
Katniss Everdeen rules!
K-Pop is huge among the middle school crowd.
Texting is necessary even if you're sitting next to each other.
Teenage girls giggle a lot.
When we loaded the car, I challenged the girls to a musical exchange. For every song they played, they'd have to listen to a song I liked. They were skeptical at first but finally acquiesced. I bounced between the 80s on 8, The Groove, Lithium, and Back Spin on the Sirius Satellite Radio. The girls didn't groan as much as I thought they would. In fact, they discovered a few songs that they liked.
While I waited on the girls to get their mani/pedis, I did some work on my laptop. I stored my 15″ computer in the massive middle console. Whereas the size of the touch screen was disappointing, the size of the storage console more than made up for it. If you ever capture a Yeti, It could probably fit inside. The Sequoia turned out to be a great mobile office. It is spacious with USB ports and power outlets. If a barista came standard, I'd never have to go to Starbucks again.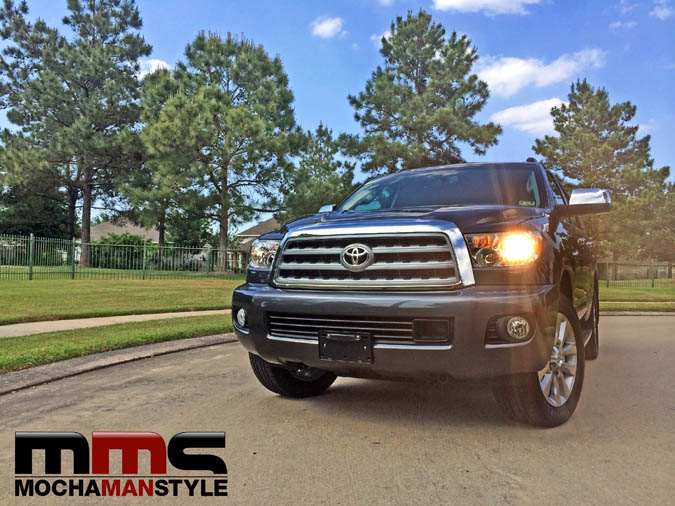 After they were done, the girls got back into Sequoia to continue their giggle-fest. We drove back to my house and I parked in the cul-de-sac. My neighbor walked over to me and placed his hand on my shoulder.
"You're a braver man than me," he said. We both chuckled as we watched the girls go inside.
The 2014 Toyota Sequoia will make you feel like you can conquer any challenge from scaling Mt. Everest to chauffeuring a group of giddy teenagers. If you want a truck-based, full-size SUV, with lots of space and power, the Sequoia is an excellent choice.
2014 Toyota Sequoia Limited price as tested: $60,295.00
Tweet us @mochamanstyle or leave a comment on our Facebook Page to share your thoughts on this article. Follow us on Instagram @mochamanstyle