It's always a big deal when a car manufacturer launches a new vehicle.
As the brand that created the luxury-utility crossover category with the original midsized RX model in 1998, Lexus is quite adept at developing innovative products.
Its latest innovation, the 2015 Lexus NX, is poised to entice a new generation of auto enthusiasts who demand luxury, performance, and utility.
I joined several automotive journalists in Seattle, WA to test drive the new Lexus NX. It had been over a decade since I last visited Seattle and I was eager to see how the city had changed.
On the day I arrived, we spent the evening learning about the vehicle while partaking in the finest craft brews that Seattle had to offer.
The 2015 Lexus NX will debut in two versions, the NX 200t with a turbocharged 2.0-liter four-cylinder engine and the NX 300h hybrid.
In addition, Lexus will offer the more rakish NX F SPORT, with its aggressive grille, special wheels, black exterior mirrors, and exclusive interior trim with front sport seats.
After listening to the product overview and viewing photos of the F SPORT model, I knew that I had to get behind the wheel of that vehicle.
I've driven the IS F and I wanted to see how Lexus applied the F SPORT experience to a compact SUV
The next day, I made a bee-line to the F SPORT model.
The iridescent grey paint glistened in the sunlight and drew me towards it like a moth to a flame.
However, I wasn't the only one smitten by the alluring F SPORT.
"Oh, I see you got here first." I looked over my shoulder to discover, Chris, a smartly dressed journalist from San Francisco.
"It is the best-looking one on the lot," I said. "We can ride together if you don't mind."
"That would be splendid," said Chris. "You can drive first."
Stepping into the Lexus NX felt like stepping into a sports car.
The bold instrument panel, leather-wrapped steering wheel, paddle shifters, and racing-inspired seats combine made me giddy with excitement (I don't usually get giddy, but the interior had that effect on me).
Chris and I immediately noticed one new feature, the Remote Touch Interface (RTI), which replaces the previous joystick with a touchpad in the center console.
We both hated that joystick and were glad to see it gone. However, we were ambivalent about the RTI.
It seems like a good idea, but I will have to interact with it some more to determine if it is actually an improvement.
My goal for the test drive was to recreate Sir Mix-A-Lot's video for his song, "Posse on Broadway." Unfortunately, my plan was foiled by two factors:
Lexus had already planned a route for us.
Chris had no idea who Sir Mix-A-Lot is.
I relented and input the approved coordinates in the Navigation system.
Lexus has upgraded this system with some significant improvements such as predictive traffic information, detour preview, ETA calculation, low-fuel coordination with nearby fuel stations, and 3D and bird's eye map views with 3D building views.
As we drove, Chris and I talked about several topics including cars, mobile technology, and Chris' hometown of London.
The Navigation system kept interrupting our conversation with traffic updates and route recalculations.
Chris and I had a running joke about the Navigation system's nagging us like a British nanny. We fully expected the voice to start scolding us for ignoring her (maybe Lexus will add some A.I. capability in the next version).
On the highway, I switched the dial to Sport mode and floor it. While it didn't perform as well as the IS, I was impressed by the NX's acceleration and speed.
As we neared our destination, Snoqualmie Falls, I asked Chris his opinion on the World Cup results.
"I really have no opinion," he replied. "I hate soccer. I moved to the U.S. hoping to never hear about it again."
*** Awkward silence ****
"Do you want to listen to the Active Sound Control?" I said to change the subject. This feature enhances the auditory experience by amplifying engine sounds through a dedicated speaker.
"Sure," he said. "Let's see if it makes a difference."
Chris and I were thrilled to hear the engine's roar, but the NX's target market (think Millennials who like mountain biking and Starbucks) may consider this feature to be extraneous.
When we arrived at the Falls, Chris and I snapped a few photos and went back to reclaim our vehicle. We could have chosen one of the other models to test, but we were addicted to the F SPORT performance.
I exited the lot and drove the NX pretty aggressively through the winding roads.
The engineering team's racing experience comes through in the way the 2015 Lexus NX handles curves.
Although the NX is more top-heavy than the IS, it held the road tightly and made smooth transitions through the turns and into the straight-a-way.
I looked over at Chris and I could tell that he was a bit nervous as I raced around the bends.
"Don't worry," I said trying to offer some comfort. "I've raced a Ferrari on a track before. I got this."
During my joyride, the Nanny, I mean Navigation system, kept telling me that I was going the wrong way.
"You disregarded the GPS so you could drive down these roads, didn't you?" Asked Chris.
"Yep," I said. "You'd better take the wheel before she puts me in the naughty chair."
On the way back, we stopped near a lake to take a few photos of the NX. While photographing the vehicle, we caught the attention of a local resident who looked like "The Dude" from The Big Lebowski.
"Hey, man," he said as he sauntered towards us with the urgency of a guy who was being chased by a kitten. "What kind of car is this?"
We proceeded to tell him all about the NX and he nodded as if we were gurus spewing knowledge from atop Mt. Rainier.
"That's cool, man," he said. He walked around the vehicle a few times, looked inside, and stood still as if he were pondering the mysteries of the universe. He then gave us a detailed critique of every aspect of the car:
The Dude's Likes
Overall styling especially the front and tail lights.
Interior design
Cargo space
Wheels
The Dude's Dislikes
Backend. He thinks it's a bit too bulbous.
Front grille. He prefers more subtly.
Too similar to RX. He didn't see a good market position for this vehicle.
The Dude even gave us his estimate for pricing, around $42,500 for the F Sport Model.
He also thinks that Lexus should market the NX to senior citizens who appreciate luxury but want a simpler lifestyle, or teenagers with rich parents.
We'll have to wait until fall to see if Lexus abides.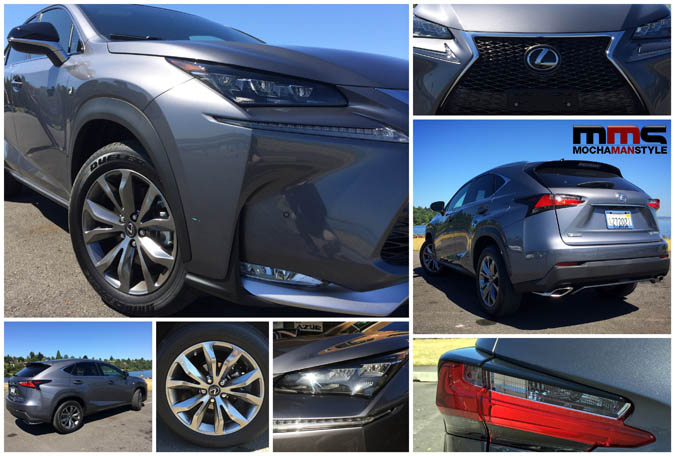 Overall, I enjoyed driving the new 2015 Lexus NX F SPORT. It was fun, nimble, and comfortable.
Although some of the design features may alienate some consumers, I'm glad to see Lexus taking a few risks in a segment populated by boxy SUVs.
The NX F SPORT successfully combines Lexus's tradition of luxury with modern styling and aggressive performance.
---
Tweet us @mochamanstyle or leave a comment on our Facebook Page to share your thoughts on this article. Follow us on Instagram @mochamanstyle
Frederick J. Goodall is the Editor-in-Chief of Mocha Man Style, media spokesperson, event host, photographer, and a top social media influencer in Houston, TX. He likes to write about fashion, cars, travel, and health.