I like speed.
Whether it's racing a Ferrari or riding a roller coaster, going fast is my favorite.
However, my need for speed had only been satisfied on land (I don't count commercial flights because I can't feel the speed) until I was introduced to the Sea-Doo Spark personal watercraft.
Sea-Doo invited me, along with a few other journalists and digital influencers, to Miami to test the Spark.
After a thorough safety briefing, I selected my craft and prepared to push it to its limits. I chose a 2-up Sea-Doo Spark with a Rotax 900 ACE1 engine and Intelligent Brake and Reverse (iBR) system (more on that later.)
I expected the craft to be heavy and cumbersome, but I was pleasantly surprised by how light it was. I was able to maneuver the Sea-Doo Spark without additional assistance.
Sea-Doo Spark Overview
I was initially struck by the Sea-Doo Spark's looks.
The sporty watercraft is sleek, compact, and stylish (looking good on the water is very important especially in a place like Miami).
Sea-Doo's wide range of colors, decorative wraps, and seating options let you customized the Spark to suit your taste and personality.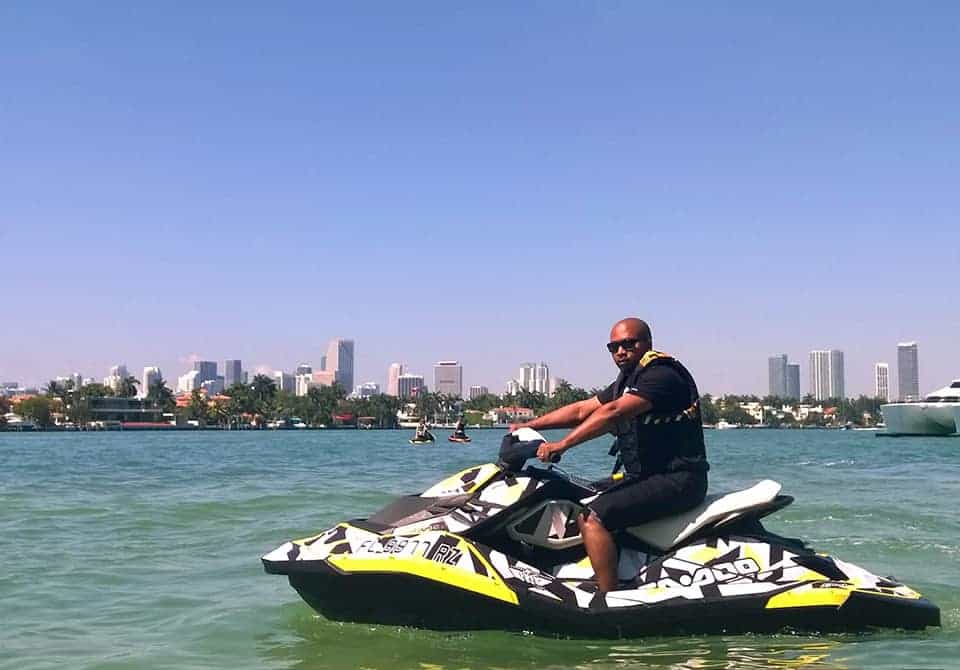 To start the Sea-Doo Spark, you have to insert a cord into the craft and secure it to your life jacket then press the start button and you're off.
Sea-Doo obviously considered ergonomics when they were designing the seat and handlebars. Sitting on the vehicle was comfortable and stable.
Sea-Doo Spark Performance
I was a bit tentative as I left the shoreline because I had never ridden a personal watercraft before and I was unsure of what to expect.
I felt a jolt of excitement whenever I squeezed the throttle and the watercraft lunged forward.
I took several laps around the water to become acclimated to the vehicle and the controls.
As I rode, my confidence increased. I kept the Sea-Doo Spark in Comfort mode, with a top speed is 20 mph.
While this mode was fun, I wanted to see what the Sea-Doo Spark could really do.
I switched to Sport mode and the Sea-Doo Spark felt like an entirely different vehicle.
It was fast, reaching speeds of 40 mph, nimble, and aggressive.
Forty miles per hour may not sound very fast, but when you're plowing through waves, turning on a dime, and catching some air, you feel it.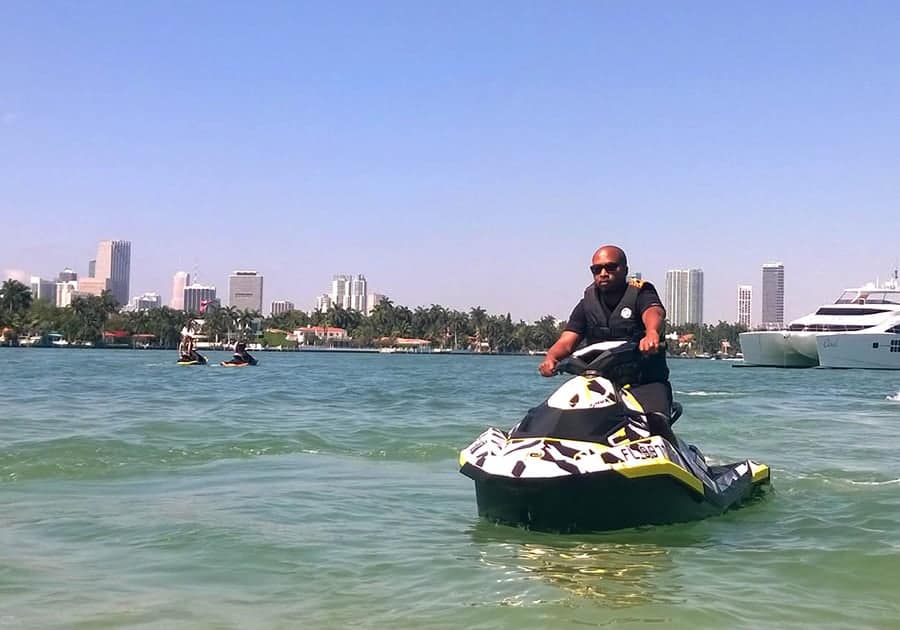 When I had my fill of fun and excitement for the day, I brought the vehicle back to shore.
Earlier I mentioned the Intelligent Brake and Reverse system. This is a killer feature that sets the Sea-Doo Spark apart from other watercraft. The system helps riders stop up to 100 feet sooner on the water.
Just squeeze the brake lever on the left side of the handlebar and the vehicle comes to a halt. When the watercraft is stopped, you can squeeze the brake lever to go in reverse.
This feature makes docking safe, simple, and effortless.
Final Thoughts on the Sea-Doo Spark
The only concern I had about the Sea-Doo Spark was how it would fare in a collision with a bigger watercraft.
On the day we tested the vehicles, the waterway was crowded with many people who seemed to have little regard for safety.
While I was pleased that the Sea-Doo Spark's maneuverability allowed me to easily avoid the other vehicles, I did wonder how it would withstand an impact. Thankfully, I didn't find out.
If you're in the market for playful, fuel-efficient, and stylish watercraft, you should consider the Sea-Doo Spark.
Starting at $4999, it delivers fun, control, and speed at a great price.
---
Tweet us @mochamanstyle or leave a comment on our Facebook Page to share your thoughts on this article. Follow us on Instagram @mochamanstyle