Let's get this out of the way right now – the Nokia Lumia 1520 is big. And by big, I mean ginormous. Unless you regularly wear cargo pants, carrying this phone around is going to be a slight challenge. However, if you don't mind having a couple of inches of phone sticking out of your pocket, the Nokia Lumia 1520 offers some great features that will offset its size.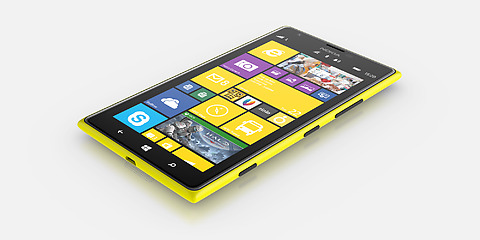 The 6″ IPS LCD screen with 1920×1080 full HD resolution immediately draws you in. It's a joy to watch videos, surf websites, and view photos on the gorgeous display. Colors are rich and deep and the screen works well in various lighting conditions including bright sunlight.
The Nokia Lumia 1520 is powered by a quad-core Qualcomm Snapdragon 800 processor and 2GB of RAM. For those who don't know what that means, allow me to translate – this phone is blazing fast. Web pages load instantly, graphic-intensive games run smoothly, and apps open without any lag. The device's 3,400mAh battery is hearty enough to withstand regular usage. I managed to make it through most days without having to recharge until it was time for bed.
My favorite thing about the Nokia Lumia 1520 is the camera. It has a 20MP sensor with PureView technology. Nokia's Pro Cam camera app gives you total control over your shots including setting exposure, ISO, white balance, and shutter speeds. The camera performed great in bright sunlight and dimly lit rooms (I spent a week in Las Vegas and I had a chance to experience all of these conditions repeatedly).
While photographing a Porsche at an auto show, I felt someone looking over my shoulder. I turned around to see a young man staring at my screen.
"Your photos are so much better than mine," he said showing me his shots on his iPhone 4S. We compared shots and agreed that the 1520's shots were far superior.
I also recorded portions of a Macklemore and Ryan Lewis concert with the 1520. The video was clear and the audio was decent.
Because of the size of the photos and videos, I installed an SD card to store the files. You can also set up the device to automatically send the files to your OneDrive account.
One thing that I disliked about the camera was the lag between shots. Although the lag isn't very long, it is noticeable and caused me to miss a couple of shots. In defense of the 1520, I was shooting solely in RAW and that may have accounted for the lag.
While the Nokia Lumia 1520 has a lot going for it, it still suffers one major drawback – apps. I managed to find the apps I use most often – Instagram, Twitter, Aviary, Pandora, Facebook, but people who are eager to try the latest apps will be disappointed. There are many apps that will replicate the functions of popular apps, but trying to find them isn't easy. On the flip side, the Nokia Lumia 1520 does come with preloaded with Office and Xbox integration. And the built-in Storyteller app is great for creating content to share with friends and family.
If you can get past the lack of apps and the size of the Nokia Lumia 1520, you will be rewarded with a powerful device with long battery life, beautiful graphics, and one of the best cameras on the market.
Tweet us @mochamanstyle or leave a comment on our Facebook Page to share your thoughts on this article. Follow us on Instagram @mochamanstyle