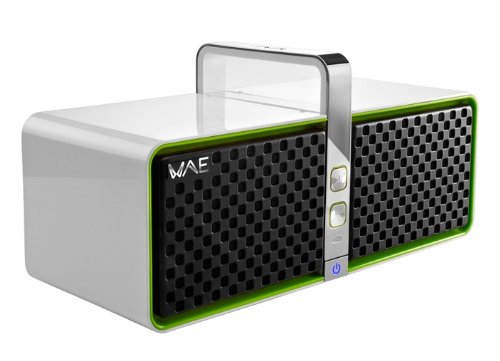 As my wife placed the star upon the top of the tree, I couldn't think of a better time to play seasonal music on my early Christmas present – the Hercules WAE (Wireless Audio Experience) Bluetooth Speaker.
I took the device out of the box and connected it to my mobile media device in less than five minutes. The first song I played was "Silent Night." I was pleasantly surprised by the rich sounds emanating from the speakers, but I had a feeling that the night would be far from silent as I gave the WAE a run.
My playlist contained various musical genres from country to jazz to hip-hop. Blake Shelton's vocals sounded particularly robust on the WAE and the bass line in 50 Cents "In Da Club" was thumping thanks to the built-in equalizer. Although the WAE (around $170) is priced lower than many of the competing Bluetooth speaker devices. It is obvious that Hercules placed a lot of emphasis on delivering a quality sound to its customers.
While I was impressed by the speaker's sound, I was a bit disappointed by its aesthetic design. It looks like an old school cassette player from in the eighties. I almost felt compelled to place it on my shoulder and get a Kangol and shell-toe Adidas.
Where the WAE lacks in appearance, it more than makes up in functionality. The device has a range of about 30 feet. I was able to place my media player in one of our upstairs bedrooms and I almost made it to the garage before I started losing connection. As an Android user, I was delighted to find out about the app which allowed me to control the speaker from my phone. The app also gave me access to thousands of Web radio stations. And the lithium-ion delivers 15 hours of playing time at medium volume.
Overall, this is a great gift for the music lover and budding audiophile. For not a whole lot of dinero, the WAE delivers a sound experience that is suitable for listening to Christmas music with your family or a holiday party with friends.
Tweet us @mochamanstyle or leave a comment on our Facebook Page to share your thoughts on this article. Follow us on Instagram @mochamanstyle