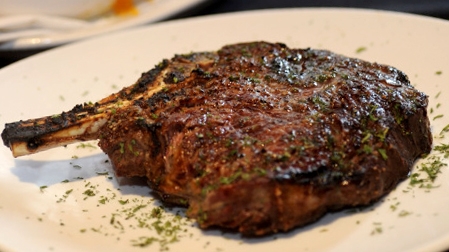 My wife and I recently celebrated our 16th wedding anniversary and we wanted to celebrate with a nice, romantic dinner. We rarely get to go to fancy restaurants because our three children keep us busy.
Houston is filled with great restaurants and when we do have an opportunity to go out on a date, we're overwhelmed by the choices. After much debate, my wife and I settled on Fleming's Prime Steakhouse & Wine Bar (disclosure: Fleming's comped our meal) because it was located in one of our favorite areas of town, CityCentre.
We arrived at the restaurant where we were greeted by our server Arturo. He led us to a cozy, romantic table in the corner. The restaurant's decor was subtle and the lighting was conducive to a romantic evening. When we settled into our chairs, Arturo offered us a choice of black or white napkins. We chose the black napkins. Arturo gave me the wine list and offered a few suggestions. Based on his recommendation, I tried Three Saints Pinot Noir. My wife had the Loosen Bros. Riesling.
Arturo came back a few minutes later to tell us about the specials and take our appetizer orders. I selected the Shrimp Bisque and my wife ordered the Fleming's Salad.
I was a bit disappointed by the bisque because it lacked the depth of flavor that I'm accustomed to. My wife, however, thoroughly enjoyed her salad which consisted of candied walnuts, dried cranberries, tomatoes, onions, herbed crostini. It was fresh and flavorful. I actually put my bisque aside and started sharing her salad. Arturo offered to replace my bisque with something else, but I declined. I was ready to move on to the main course – steak!
I love ribeye steaks and I couldn't wait to indulge in a medium-rare Prime Bone-in Ribeye. My wife ordered the Petite Filet Mignon (Note #1: As a Texan, I believe no steak should be petite. Note #2: My wife ordered her steak well-done which is grounds for divorce in Texas).
My steak was delivered on a sizzling hot plate. I took in the aroma for a couple of minutes before cutting into the steak. The steak had a nice crust that gave the meat a little crunch and a smoky flavor. I cut into the perfectly cooked steak and marveled at the marbling and juicy interior. Fleming's seasons its steaks with kosher salt, black pepper, butter, and parsley. Although I enjoyed the simplicity of the seasonings, I would have liked the steak to have bolder seasonings. Nevertheless, I consumed each tasty morsel with delight.
I refused to taste my wife's steak because I have an aversion to steaks that are cooked more than medium-well. She seemed to like it, though. We also ordered asparagus and mushrooms for our side orders. Both were okay, but nothing to write home about.
We ended the meal with dessert. I wanted to try the chocolate lava cake, but I was too full to eat it by myself. We settled on the carrot cake – a three-layer dessert with cream cheese frosting topped with a drizzle of dark rum caramel. The carrot cake was decadent and my wife and I battled each other for the last bite.
Throughout the meal, our server Arturo was attentive and provided impeccable service. His professionalism and humor made our evening memorable.
Tweet us @mochamanstyle or leave a comment on our Facebook Page to share your thoughts on this article. Follow us on Instagram @mochamanstyle