The first time I heard Vintage Trouble's music, I nearly had a wreck.
I was driving down the road listening to a local Indie Rock station when "Nancy Lee" came on. I was instantly mesmerized by lead singer, Ty Taylor's soulful voice. I fumbled around for a minute to fish out my phone so I could use the Shazam app. That's when I heard the car horns and swerved back in my lane just in time to avoid an accident. I quickly pulled into a parking lot to finish listening to the song and discover my favorite new band.
Vintage Trouble, Ty Taylor (vocal), Nalle Colt (guitar), Richard Danielson (drums) and Rick Barrio Dill (bass), formed in 2010. Their self-released debut album, The Bomb Shelter Sessions, rocketed to the top of Amazon's UK charts (No. 1 "R&B Album" and No. 2 "Rock Album"). I immediately purchased it when it was available in the U.S. and played almost non-stop.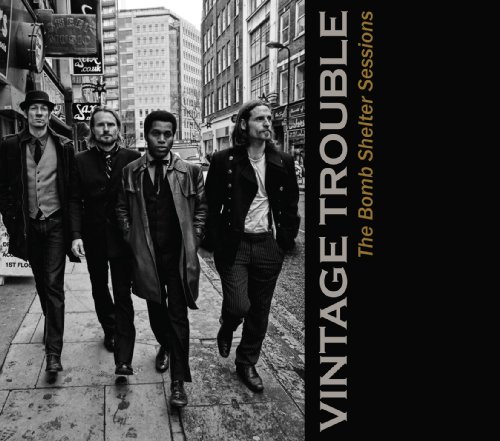 I was excited to discover an updated and repackaged version on the album, "The Bomb Shelter Sessions (Encore Edition)." The new album contains additional songs, a live recording, and a music video.
The three bonus tracks add another layer of depth to the original album. "Pelvis Pusher" reminds me of Wilson Pickett's "Land of 10,000 Dances" and is guaranteed to make you get up and get down. "Run Like the River" makes you feel as if you are white-water rafting down a river of funky rhythms. "Total Strangers" draws you into Vintage Trouble's world and gives you a taste of the band's energetic live performances (You can see the band perform live on The Tonight Show with Jay Leno on Tuesday, January 15, 2013)
If you want to restore your faith in humanity, listen to the ballads "Gracefully," "Run Outta You," and "Not Alright By Me." Taylor's voice is a blend of Sam Cooke, Aretha Franklin, Wilson Pickett and Etta James with sprinkles of heartache, passion, and love thrown in for good measure. But it's the song's lyrics that will really move you and touch your heart. Taylor has a gift of writing songs that describe the human condition with perfectly crafted words and clever phrases. Of the three ballads, "Gracefully" is my favorite. The song describes how love can lift you out of the depths of despair and give you the confidence to stand tall and face the world. It has become my personal theme song.
As much as I love Taylor's voice, I'm equally enthralled by Colt's guitar tone. I'm an amateur guitarist and I enjoy listening to players who combine rock, soul, and blues styles. The blistering opening track, "Blues Hand Me Down," gives you a taste of Taylor's wicked playing style. Throughout the album, Taylor holds down the rhythm with interesting flourishes that complement Taylor's vocals. It often seems like the two of them are having a musical conversation that we get to eavesdrop on.
Now back to "Nancy Lee," the song that nearly killed me. Taylor wrote this song from his father's perspective. It describes how his dad must have felt when he was courting his mother. Whenever I hear this song, I think of my own parents and imagine what their early romance must have been like. When Taylor sings, "I don't just want/I need you, Nancy Lee," you believe it in your soul and feel it in your bones. In an NPR interview, Taylor said that his greatest gift to his mother before she died was inviting her to a concert where thousands of people were singing her name.
"The Bomb Shelter Sessions (Encore Edition)" is available on iTunes and Amazon. To learn more about Vintage Trouble, you can visit their website, follow them on Twitter, and connect with the band on Facebook or YouTube.
Tweet us @mochamanstyle or leave a comment on our Facebook Page to share your thoughts on this article. Follow us on Instagram @mochamanstyle
Frederick J. Goodall is the Editor-in-Chief of Mocha Man Style, media spokesperson, event host, photographer, and a top social media influencer in Houston, TX. He likes to write about fashion, cars, travel, and health.