These grooming essentials will keep your dad looking good, feeling good, and smelling good.
BEARD KING – The Official Beard Bib

Beard Bib by BEARD KING is the only men's grooming tool that reduces manual cleanup and allows for an easy disposal. Designed with a sleek self-packing pouch to easily stowed away or brought on the go when traveling.
Bespoke Post Subscription Box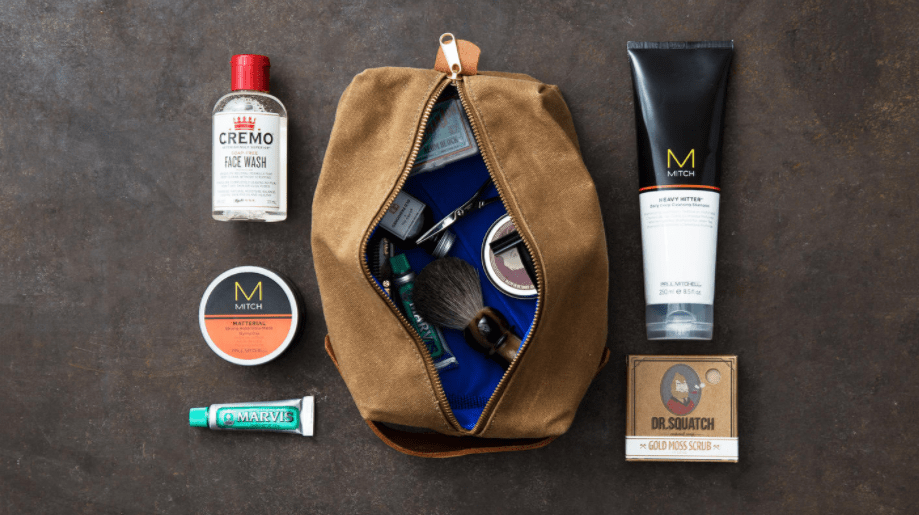 Each month, Bespoke Post releases new boxes: themed collections of unique goods to upgrade your dad's life. The Refresh box, for example, features a set of grooming essentials stored in a Canvas Dopp Kit.
Art of Shaving Sandalwood Carry-on Kit
The Art of Shaving Sandalwood Carry-on Kit contains the essentials for a close and comfortable shave while your dad is on the go. The pouch is designed with a zip-top closure for secure transport and is ideal for packing into carry-on luggage. Contains: Pre-Shave Oil Pump (1 fl. oz.), Shaving Cream Pump (1.5 fl.) oz., Badger Shaving Brush, After-Shave Balm Pump (1 fl. oz.).
Kiwi Select Shoe Care Set



This ten piece Kiwi Select Shoe Care set features a first-class wooden valet box with foot pedal. Includes two tins of Kiwi Select premium paste polish in black and brown, two 100% horsehair brushes, two soft shine cloths, two shoe daubers and one shoe horn.
Bevel Shaving System
The Bevel Shaving System provides a clean, smooth shave and a premium grooming experience. It helps to prevent razor bumps and irritation because it doesn't cut below the skin level. Oil, cream and balm help to protect, hydrate, and even out skin for smoother, clearer results.
Wahl Comfort Grip Pro Clipper
As a self-sufficient man, your dad will appreciate a gift that allows him to cut his own hair. The Wahl Comfort Grip Pro Clipper has a more compact size and soft grip handle for easy-of-use and comfort. While the clipper may be small, it has big power with Wahl's proprietary high torque rotary motor for no-snag cutting and an 8-foot industrial power cord. Its 12 attachment guards will help dad achieve goof-proof haircuts, as well as quick touchups.
BILT Soaps & Body Washes
BILT products are made with premium ingredients that men need for clean, healthy skin. The hefty 8 oz. bar soaps and generous 16 oz. body washes are formulated with natural vegetable bases, shea butter for moisture, and Vitamin E for antioxidant protection. BILT is also defined by what it doesn't offer: all BILT products are free of parabens, sulfates, and gluten, and products are never tested on animals.
Click Banner for more Father's Day Gift Ideas
Tweet us @mochamanstyle or leave a comment on our Facebook Page to share your thoughts on this article. Follow us on Instagram @mochamanstyle