I must admit that I haven't been a fan of Disney's turning animated films into live action films. However, the Jon Favreau directed "The Jungle Book" won me over. Although the movie was beautifully shot, what made me really enjoy the film was the cast – Lupita Nyong'o, Idris Elba, and Giancarlo Esposito.
I have the same warm and fuzzy feeling about Disney's latest live-action feature, "The Lion King."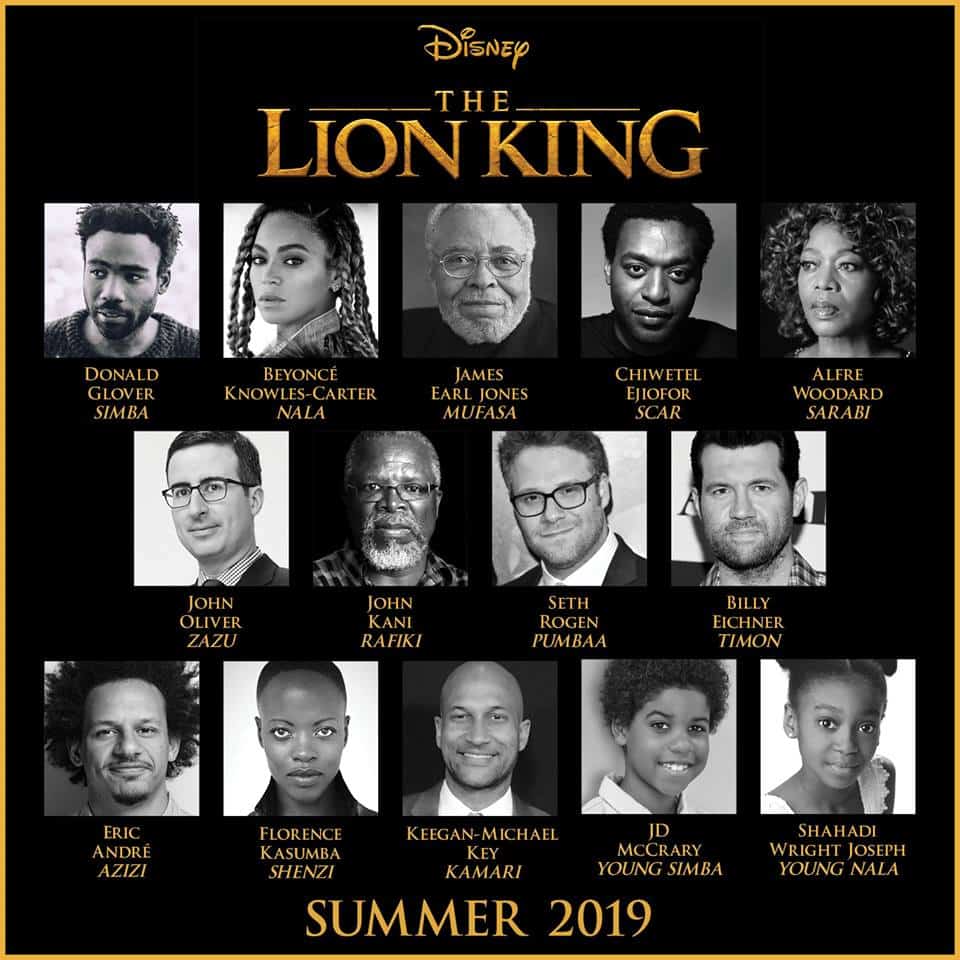 Jon Favreau returns to the helm to direct "The Lion King" with an all-star cast that includes:
Donald Glover

as future king Simba

Beyoncé Knowles-Carter

as Simba's friend-turned-love interest Nala
James Earl Jones, reprising his iconic performance from Disney's 1994 animated classic, as Simba's wise and loving father, Mufasa
Chiwetel Ejiofor as Simba's villainous uncle Scar
Alfre Woodard as Simba's no-nonsense mother, Sarabi.
JD McCrary as Young Simba
Shahadi Wright Joseph as Young Nala
John Kani as the wise baboon Rafiki
Florence Kasumba as Shenzi
Eric André as Azizi
Keegan-Michael Key as Kamari.
"It is a director's dream to assemble a talented team like this to bring this classic story to life," said Favreau.
In case you're unfamiliar with the 1994 film (and if you are, shame on you), "The Lion King" is the story of a young lion cub, Simba, who idolizes his father, King Mufasa, and takes to heart his own royal destiny. However, Scar, Mufasa's brother—and former heir to the throne—is not a fan of his new rival. The battle for Pride Rock is ravaged with betrayal, tragedy, and drama, ultimately resulting in Simba's exile. With help from a curious pair of newfound friends, Simba will have to figure out how to grow up and take back what is rightfully his.
"The Lion King" will be released in theaters on July 19, 2019.
Tweet us @mochamanstyle or leave a comment on our Facebook Page to share your thoughts on this article. Follow us on Instagram @mochamanstyle