Each year, U.S. News & World Report ranks the best jobs to help job seekers at every level take advantage of new opportunities and make smarter career decisions.
Health care related jobs dominate the list of the 100 Best Jobs due to a combination of high salaries, low unemployment rates and better work-life balance. For the first time, orthodontist tops the list while dentist moves to the No. 2 spot. Computer systems analyst is No. 3 followed by nurse anesthetist at No. 4.
In 2016, health care related jobs also top the list of the Best Paying Jobs. With an average salary of $246,320, anesthesiologist is the No. 1 Best Paying Job, followed by surgeon and oral maxillofacial surgeon. While these jobs require advanced degrees, not every highly ranked job involves extensive schooling or work experience.
Jobs in the technology sector, one of the fastest growing industries, also remain valuable. Computer systems analyst leads in technology, followed by software developer at No. 2 and web developer at No. 3.
The U.S. News Best Jobs report features rankings and information on more than 100 jobs in 12 sectors. New this year, U.S. News added six industry specific rankings: engineering, science, maintenance & repair, education, health care support and sales & marketing.
The methodology for 2016 Best Jobs is comprised by data from the U.S. Bureau of Labor Statistics to identify jobs with the greatest hiring demand. Jobs were then scored using seven component measures including 10-year growth volume, 10-year growth percentage, median salary, employment rate, future job prospects, stress level and work-life balance.
Check out the infographic below for more details on the rankings and visit U.S. News & World Reports for the full list.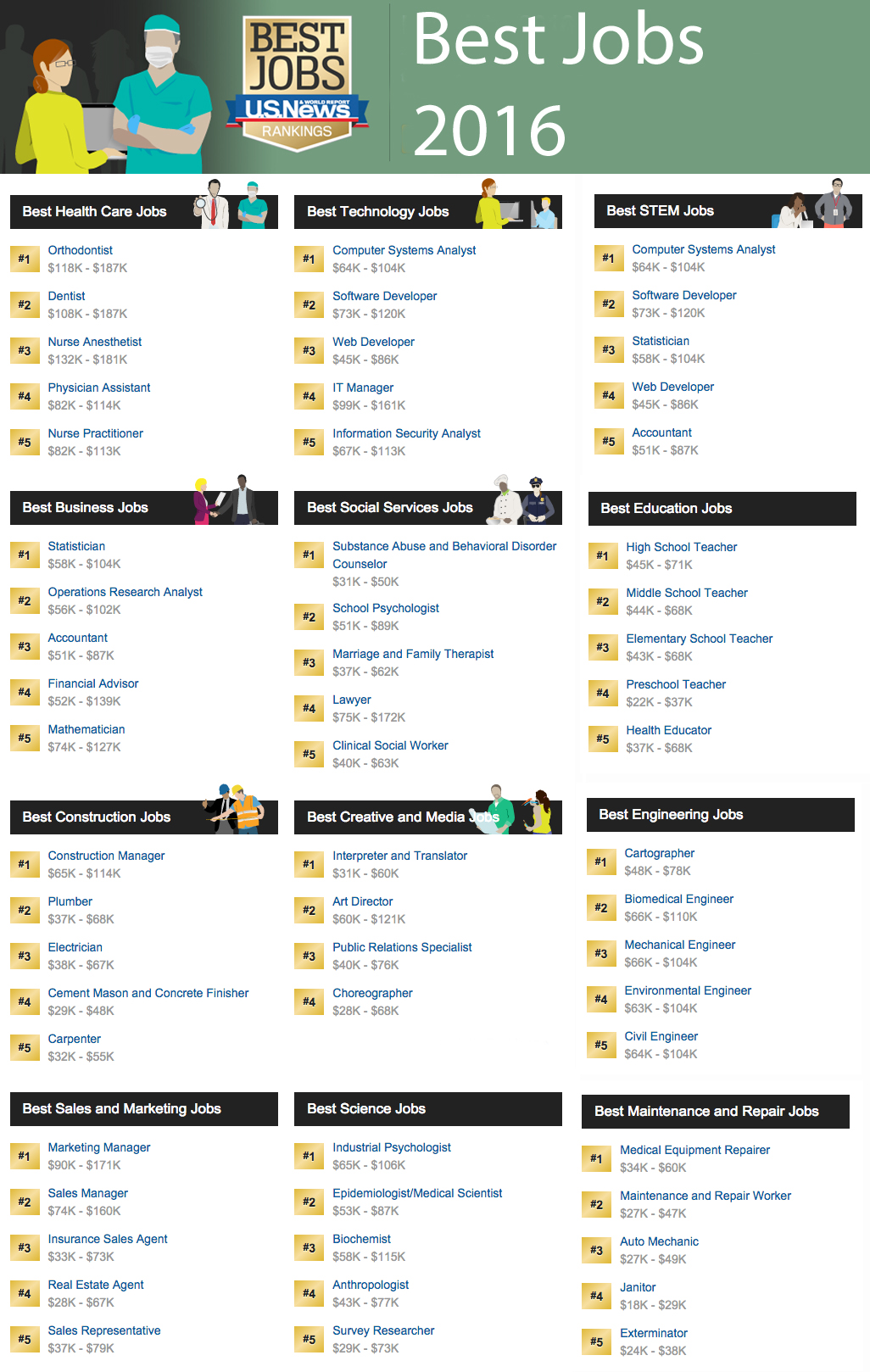 Tweet us @mochamanstyle or leave a comment on our Facebook Page to share your thoughts on this article. Follow us on Instagram @mochamanstyle