I've been a comic book fan since I was a young child. Now that I'm a father, I can share my excitement with my sons. Not only do we make a weekly journey to the comic book store, but we also watch comic book related movies and TV shows, and collect action figures and memorabilia.
Each year my sons and I look forward to two events. The first is Free Comic Book Day. Taking place annually on the first Saturday in May, Free Comic Book Day is a single day when participating comic book specialty shops across North America and around the world give away a selection of comic books absolutely free to anyone who comes into their shops.
The second event is Comicpalooza – the largest annual, multi-genre, comic book, science fiction, anime, gaming, and pop culture convention in Houston. My sons and I have attended this event since 2012, and we have a blast every time. Last year I even dressed up as Doctor Who.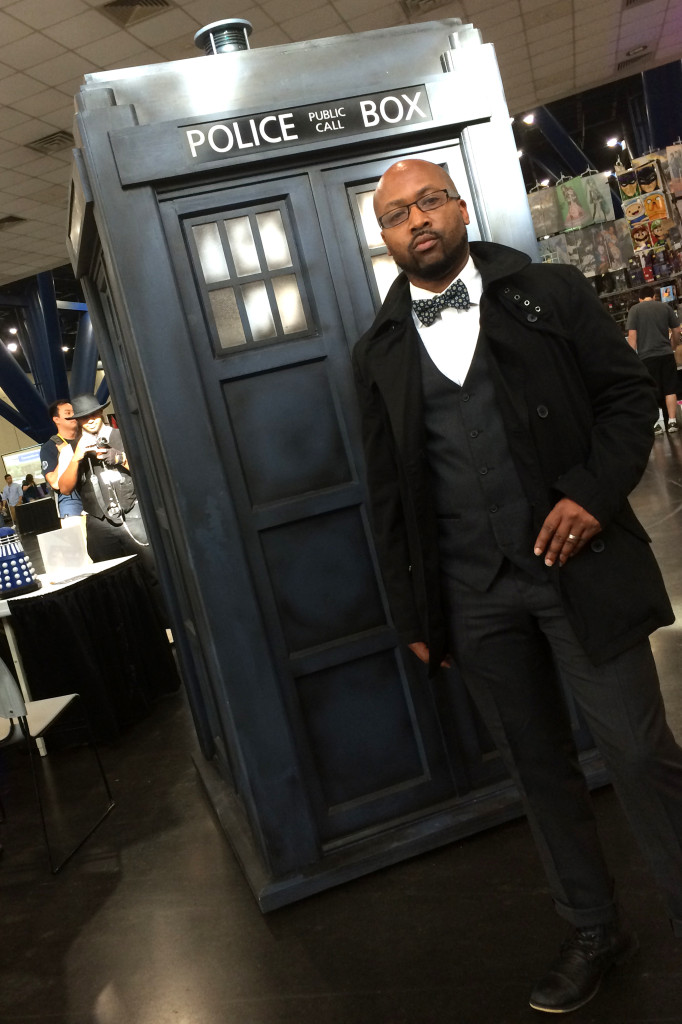 But Comicpalooza is more than cosplay. The four day event is loaded with educational content, entertainment, tech, art, and experiences. My son and I participated in Hollywood combat class where we learned how to recreate some famous fight scenes from movies, watched live wrestling and roller derbies, and painted game figures. We also attended a panel titled, "How to Get Your Mom to Read Comic Books."
This year's Comicpalooza (May 22-25) promises to be bigger and better. Celebrity guests include Stan Lee, George Takei, Marky Ramone, Jason Isaacs, Sting, Raymond E. Feist, Henry Winkler, Cory Michael Smith, Camren Bicondova, Linda Blair, and many other actors, artists and writers. In addition to comic book fare, There will also be a gaming hall where you can play popular RPGs, board games, miniature games, card games, and video games.
For the most up to date information on events, guests, admission prices and schedules, visit the Comicpalooza website and get discounted tickets with coupon code is HoustonNerdsUnite2015 (coupon code is only good at online ticket sales). – /
Giveaway

Mocha Man Style has partnered with Comicpalooza to offer one reader the chance to enter to win a Family 4 Pack of Tickets (retail value = $240). To enter the giveaway, answer the following question in the comments section or via Twitter (with hashtag #HoustonNerdsUnite2015 and @mochamanstyle):
Who is your favorite superhero or sci-fi character and why?
Additional Entries (These entries will be counted only after the required entry has been submitted. Leave a comment for each additional item you complete)
Like Comicpalooza on Facebook (5 additional entry)
Like Mocha Man Style on Facebook (5 additional entry)
Follow @mochamanstyle and @comicpalooza on Twitter and share this tweet: Enter the @comicpalooza Family Four Pack giveaway on @mochamanstyle http://bit.ly/1DdT57z #HoustonNerdsUnite2015 (1 extra entry per tweet – 5 per day)
Share any Mocha Man Style article via Twitter, Facebook, Pinterest, StumbleUpon, etc (1 extra entry for each share or comment – no limit)
The giveaway starts on Monday, April 20, 2015 and ends on Sunday, May 10, 2015 at 11:59 a.m. (CST), and is open to all Mocha Man Style readers, subscribers, and/or fans 18 years old and older in the continental U.S. and Canada. No purchase required. Relatives and employees of Goodall Family Media are not eligible to win. You are also ineligible if you've won a prize from this website within the past 30 days. One (1) winner will be chosen via Random.org and announced soon after the ending date. If a winner does not respond within 3 days, a new winner will be chosen.