Let me start by saying that Oprah's The Life You Want Weekend is focused on empowering women. For every man who was present at the event, there were at least 100 women. Going in, I realized that the content wouldn't have a strong fatherhood focus. However, I decided to listen to each speaker carefully and extract nuggets of wisdom that would help me on my ongoing quest to be a better dad.
After spending the weekend with Oprah and her panel of "trailblazers," I was inspired and motivated to make improvements in my life. Here are 6 powerful fatherhood lessons that I gleaned from their talks:
Be Intentional (Oprah Winfrey)
Oprah shared so much good advice that it was difficult to choose one thing to focus on. However, everything she discussed boiled down to one simple idea – be intentional in everything you do.
In the early days of The Oprah Winfrey Show, she booked a group of skinheads in an obvious attempt to boost ratings. During the show, she realized that the skinheads were using the platform as a recruiting tool. Afterward, she decided never to be used like that again. Instead, she made a firm commitment to intentionally use her show to positively impact people.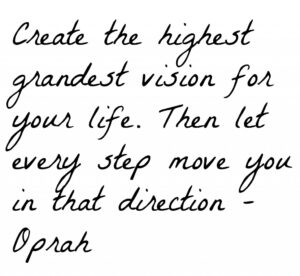 "When I became intentional about the show," she said. "That's when it really took off."
She also shared a story about Stevie Wonder's asking her to donate to his charity. She really didn't want to donate, but she was afraid that Stevie Wonder would tell everyone that she was a cheapskate.
"Although I was afraid of what he'd think of me, I decided to say no," she said. "To my surprise, Stevie simply said, 'Okay.' This taught me a valuable lesson about being intentional, saying no, and standing up for what I believe in. Prior to that, I was doing things just to please other people. That experience taught me to base my decisions on my values and beliefs rather than on other people's opinions."
I'm still working on being intentional in everything thing I do. It's so easy to go through the motions and live life on auto-pilot. Being intentional takes dedication and commitment.
If I want to be the best dad I can be, I must be willing to live my life in a way that shows my kids they are a priority. To do this, I must actively teach them values, encourage their hopes and dreams, listen carefully when they speak, celebrate their triumphs, and comfort them when they fail. All of this starts with me intentionally giving them my time and building a bond of trust. My kids are important to me and I intend to prove it with every action.
Keep Yourself Healthy (Deepak Chopra)
Although I know that being healthy is important, I don't always do the things that are necessary to stay healthy. As a work-at-home dad, I spend most of the day sitting at my desk staring at a computer screen. Sometimes, the only exercise I get is walking between my office and the kitchen to get coffee. Deepak Chopra convinced me to do better.
Listening to him talk about the connection between physical, emotional, and spiritual well-being motivated me to work on improving all three areas. Chopra gave a simple blueprint for living a healthy life: get enough sleep, eat well, meditate, exercise, and free yourself from emotional toxicity.
Like many dads, I often neglect myself because I'm so consumed by busyness. Chopra made me realize that I have to take care of myself in order to properly care for my family.
Count Your Blessings (Rob Bell)
When things go wrong in our lives, we typically ask, "Why is this happening to me?" However, we rarely ask this question when good things happen in our lives. We take blessings for granted.
Rob Bell taught me to be grateful for the simple blessings – waking up in the morning, spending time with my wife, eating breakfast with my children.
Having an attitude of gratitude is important to living a fulfilled life. I've decided not to take my blessings for granted because they are a gift from God.
Look for Beauty every Day (Elizabeth Gilbert)
Elizabeth Gilbert, author of the book, Eat, Pray, Love, explained how she learned to look for beauty in everyday moments. During a dark period in her life, she found herself leaning against a wall in a New York post office crying and praying. She asked God for direction and heard a voice tell her to go out and find something beautiful. Although she was perplexed by this answer, she complied. She stepped outside and immediately saw five Indian elephants walking down the street. Atop each elephant, was a showgirl dressed in all of her splendor. From that point on, Gilbert saw elephants everywhere – billboards, jewelry, TV, movies, books. It all came full circle when she found herself atop an elephant during her journey to India.
You don't need something as dramatic as a parade of elephants to show you how beautiful life can be. My children have shown me that there is beauty in everyday moments – a smile, a hug, a kiss on the forehead, a hearty laugh. Kids grow up so fast. If you don't pay attention, you will miss so many special moments. I've decided to never miss another one.
Forgiveness is Required (Iyanla Vanzant)
Iyanla Vanzant shared a story of how a trusted associate tried to embezzle money from her. Although she felt betrayed, Vanzant decided to forgive the person.
Forgiveness is not easy. Many people refuse to forgive someone who hurt them because they want the person to suffer. They feel as if forgiving the person is letting him or her off the hook. By withholding forgiveness, we end up suffering the most because we continue to hold on to the emotional scar, whereas the other person has probably moved on.
I know the power of forgiveness because I've made many mistakes as a father and husband. Knowing that I've been forgiven makes it much easier to forgive my children when they make mistakes. But the most powerful act of forgiveness was when I forgave my father for not being in my life. The moment I decided to let go of the hate and anger, I felt a huge burden being lifted from my life. As a result, my father and I have re-established our relationship.
A Parent's Touch is Powerful (Yamile Jackson)
Yamile Jackson (second to right) was the recipient of the Toyota "Standing O-Vation" Award. She was honored with a $25,000 grant for her dedication to helping parents to care for sick children.
Jackson's son, Zachary, was born three months premature, weighing less than two pounds. She was so upset when she had to leave him alone in the incubator every night that she created the Zaky, a product that allowed her to stay connected to her son.
"I made the first Zaky with a garden glove stuffed with beading," she said. "Each night, I slept with it to infuse it with my body's scent. I'd place it in the incubator with Zachary when I wasn't there so he could feel my love and know that I was always with him."
That simple act of love, not only gave her son comfort, but it also helped him to thrive.
Now Jackson donates Zakys to hospitals around the world to help parents maintain a physical and emotional connection with their sick children.
During the event, they showed a video of the parents and children whose lives were impacted by Jackson's creation. It took all of my strength not to start bawling during one scene when a father climbed into bed with his son who was suffering from leukemia. Watching him embrace his son showed the power of a parent's touch.
When I got home, I hugged my kids extra tight and promised to hug them as often as possible.
Tweet us @mochamanstyle or leave a comment on our Facebook Page to share your thoughts on this article. Follow us on Instagram @mochamanstyle