I love food. As a consequence, I spend a lot of time visiting different restaurants. When I'm at home, I'm either cooking or bingeing on Food Network shows. As I'm watching my favorite chefs prepare delicious meals, I often wonder where they like to go out to eat (other than their own establishments, of course). I'm quite certain that their palates are quite sophisticated and a trip to Applebee's simply won't cut it.
Knowing where the chefs eat would make dining out so much easier for me. In addition to using restaurant discovery/rating apps, I'd have the inside track on the best places to eat.
Urbanspoon has made my dream come true by compiling the Where the Chefs Eat list featuring favored dishes from notable chefs' favorite local spots. From delicious delis to neighborhood pizzerias, these top chefs' picks are sure to make your mouth water.
Alton Brown
I've been a fan of Alton Brown for many years. His show "Good Eats" combined history, science, humor, and food in an eclectic and fun way. Brown's favorite restaurant is Old Country Store in Lorman, MS. If you're looking for the best in Southern cuisine, you'd be wise to visit this restaurant. The place isn't much to look at, but the Fried Chicken, Mac and Cheese, Blackberry Cobbler, are divine.
Michael Tusk
Michael Tusk's Quince is one of the top-rated restaurants in San Francisco. Although Tusk spends his days creating elegant Italian fare for his patrons, he loves the BBQ oysters with chorizo found at The Marshall Store.
Bobby Flay
If I were a chef, I think my cooking style would be similar to Bobby Flay's. His ability to combine flavors and grill dishes to perfection is something I aspire to. Flay's favorite dishes hail from two places in his hometown of New York City: gelato from L'Arte de Gelato and true New York pizza from Mimi's Pizza (New Yorkers, feel free to weigh in)
Duff Goldman
Pastry chef supreme Duff Goldman, founder of Baltimore's Charm City Cakes and focus of the Food Network's "Ace of Cakes" show enjoys The Backstabber from Ike's Place in San Francisco, complete with Caesar, Halal chicken, marinated artichoke hearts, and provolone.
Jose Garces
The Iron Chef competition is always exciting when Latin cuisine master Jose Garces enters the kitchen. With a record of 16-7, he is a formidable opponent who is knowledgeable about food. When he's not competing, Garces likes to indulge in Dim Sum Garden's soup dumplings and marinated pork. It's hard to beat this Philadelphia restaurant when it comes to Asian cuisine..
Michael Chiarello
Michael Chiarello specializes in Italian-influenced California cuisine. Not only does he host two shows – Easy Entertaining with Michael Chiarello and NapaStyle, Chiraello also owns Chiarello Family Vineyards, Bottega Ristorante, and NapaStyle. This northern California native recommends trying the tapas at State Bird Provisions in San Francisco; his favorite dish is the quail.
Daniel Patterson
Daniel Patterson is the Chef/Owner of San Francisco's Coi Restaurant, acclaimed by Zagat as one of the "10 Best New Restaurants Of The Decade." This famous California chef raves about the Thai food from Hawker Fare in San Francisco.
Ricardo Zarate
Known for his Peruvian flair, Ricardo Zarate frequents Park's BBQ in Los Angeles to get his fix of Korean BBQ.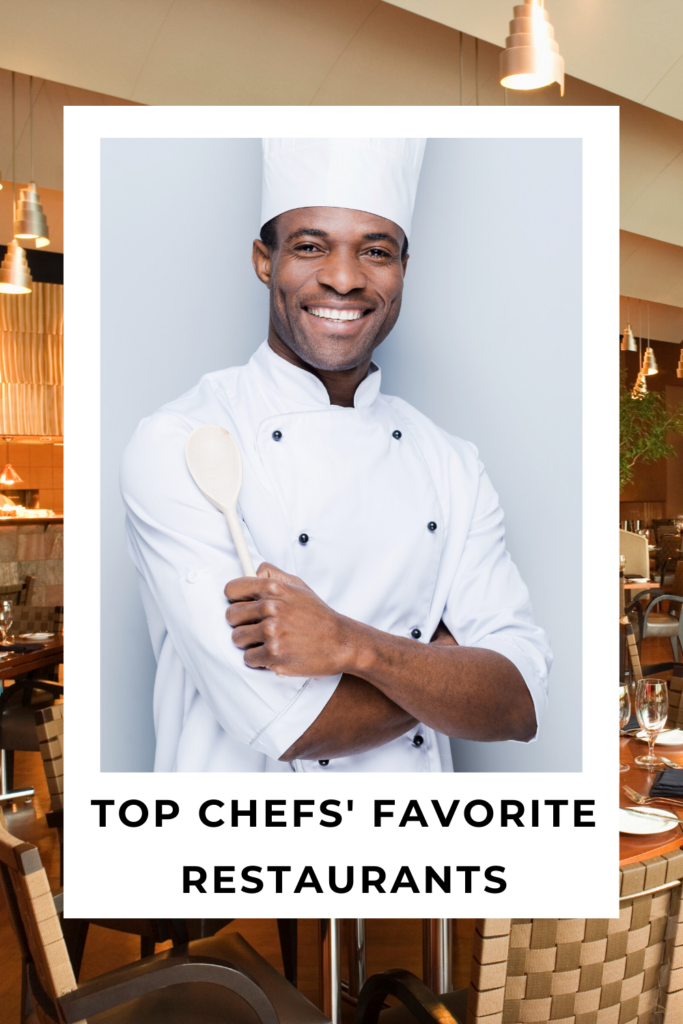 Tweet us @mochamanstyle or leave a comment on our Facebook Page to share your thoughts on this article. Follow us on Instagram @mochamanstyle