The stresses of work, finances, and raising kids can cause couples to become emotionally disconnected.
When that happens, it becomes easier to fall into the marriage affair trap.
Recent studies on marriage have discovered that 30% of men and 20% of women have been unfaithful.
These statistics are not very encouraging, but you can take steps to protect their marriage from infidelity.
If you commit to doing the following 8 things, you can protect your marriage and prevent an affair.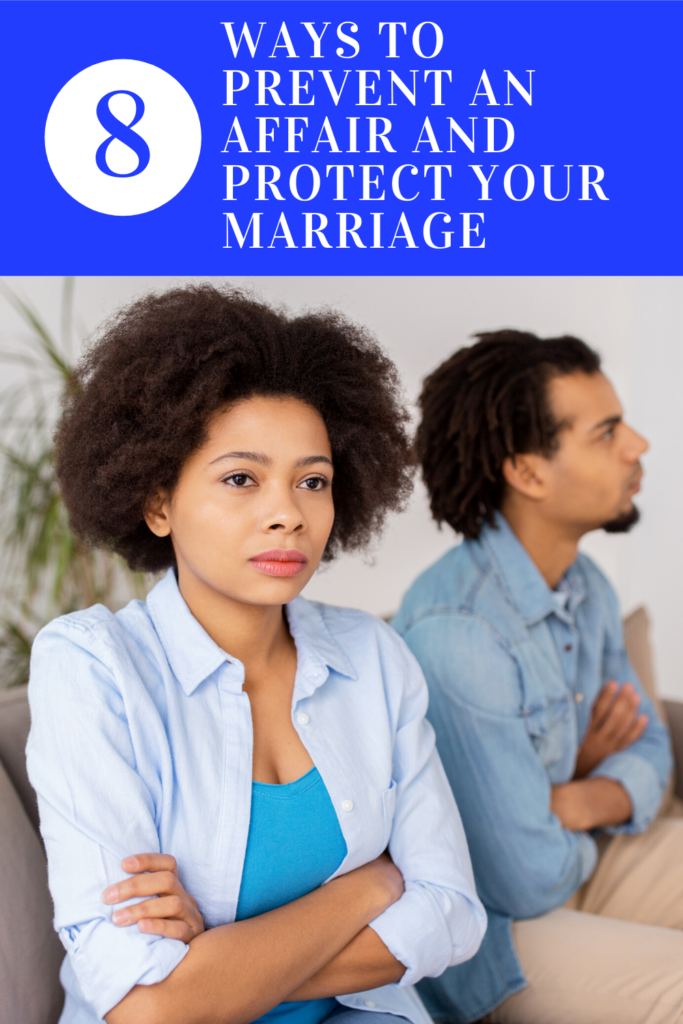 Prevent an Affair by Being Affectionate
It's important to maintain intimacy in a marriage.
Being affectionate is a great way to remain connected to your spouse. Hold hands, kiss, hug, and share quiet moments together.
Express your love for your spouse through your words and actions. Saying, "I love you" is just as important as giving your spouse an intimate kiss.
It's the small, daily love gestures that make a difference in a relationship.
Prevent an Affair by Showing Appreciation
One reason why people have extra-marital affairs is that they feel neglected and unappreciated.
Prevent these feelings from developing by showing your spouse the appreciation he or she deserves. Let your spouse know how important he or she is to you.
Tell your spouse how much you admire him or her. Say please and thank you. Encourage your spouse and compliment him or her regularly.
Most of all, demonstrate kindness on a daily basis.
If you're feeling under-appreciated, discuss your feelings with your spouse and deal with them together.
Prevent an Affair by Speaking Your Spouse's Love Language
If you haven't read Gary Chapman's book, The 5 Love Languages: The Secret to Love that Lasts, I highly recommend it.
You will learn how to identify your partner's love language and use this information to make your marriage stronger.
The five love languages are Words of Affirmation; Acts of Service; Receiving Gifts; Quality Time; and Physical Touch.
Speaking your spouse's love language will draw you closer and help you to increase intimacy and trust.
Prevent an Affair by Avoiding Risky Situations
Many relationships have been destroyed by Facebook and other social media sites.
It's okay to look up exes, but rekindling those old flames can be risky.
Don't share intimate details about your marriage with your exes and avoid situations where you are alone with members of the opposite sex.
What starts out as an innocent conversation or a simple meal together can lead to infidelity if you are experiencing problems in your marriage.
Having opposite-sex friends is fine, but make sure that your spouse knows who they are and is also friends with them.
If any of your friendships make your spouse uncomfortable, it's better to end the friendship than cause friction in your marriage.
Prevent an Affair by Being Accountable
Men and women need close friends in their lives who they trust.
Seek out a buddy with who you can be open and honest and have regular conversations about the state of your marriage, your temptations, and your emotional well-being.
Your accountability partner can help you sort through these issues and give you frank, objective advice.
Prevent an Affair by Communicating Your Feelings
One of the best ways to prevent infidelity in marriage is to talk about your feelings.
Many problems can be resolved by having an open, honest conversation with your spouse.
Problems arise when couples hold in their feelings and refuse to share them with their spouses.
Marriage is a safe place to discuss the intimate details of your life with someone who cares.
Prevent an Affair by Maintaining a Regular Sexual Routine
Experts in the field of human sexuality recommend that married couples have sex 2-3 times per week to maintain intimacy.
However, each couple must develop a frequency schedule that works for them.
Talk about your desires, fantasies, and needs. Don't neglect this important part of your marriage.
Prevent an Affair by Getting Counseling
Many couples avoid counseling because they are used to fixing problems on their own. But sometimes you need an impartial voice to help you gain perspective.
If you feel the desire to stray from your marriage, you should seek counseling immediately.
A professional counselor can help you and your spouse deal with marital problems and develop solutions to fix them.
Final Thoughts
Although these 8 suggestions are not fail-proof, they will give you the tools you need to prevent an affair and protect your marriage.
---
Tweet us @mochamanstyle or leave a comment on our Facebook Page to share your thoughts on this article. Follow us on Instagram @mochamanstyle
Marriage is tough.